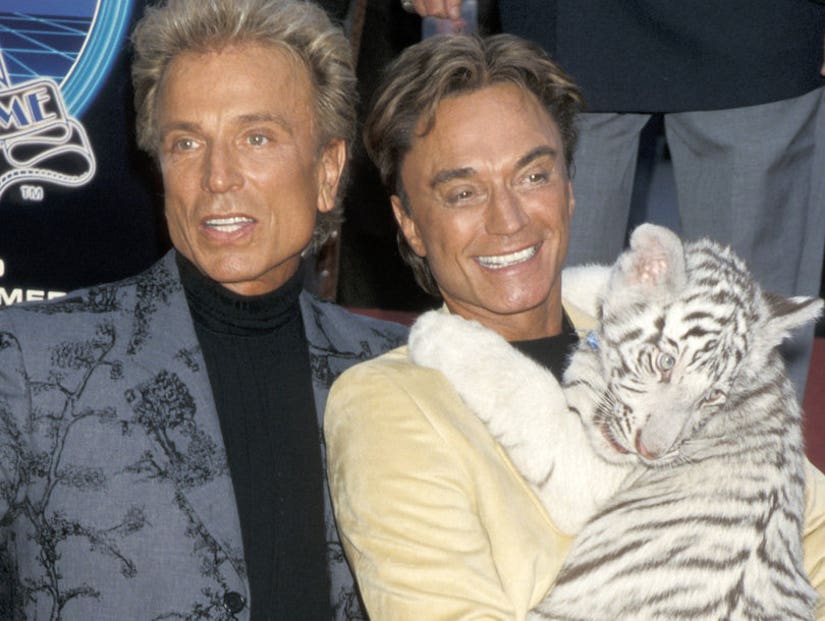 Getty
"This moment haunts me to my core and plagues me with overwhelming guilt."
It was a terrifying moment that will be forever ingrained in pop culture history.
15 years after Siegfried & Roy's world-famous Las Vegas show came to an abrupt and horrifying end, its tiger handler has finally opened up about who was to blame for the near-fatal attack on Roy Horn: Roy himself.
In a lengthy interview with The Hollywood Reporter, his first since the mauling, Chris Lawrence claimed the German magician had been spending less and less time with the tigers, eroding their bond, right up until the fateful night when he deviated from the routine, triggering a mauling from the 7-foot, 400lb tiger named Mantacore.
He accused his former bosses of staging a cover up, in an effort to preserve their brand; he claimed the duo put forth a romanticized version of events, in which Roy suffered a stroke on stage and the tiger attacked in a misguided attempt to save him. Roy did suffer a debilitating stroke, but Lawrence insists it was a result of the attack, not the cause of it.
Lawrence is also wracked by guilt for the role he played, admitting Roy was going to do the doomed-trick with a new cub that night — his 59th birthday — but Lawrence convinced him to use Mantacore instead.
The former trainer also opened up about the how he thought he was going to die that night himself, and PTSD he has suffered through ever since, including constant nightmares, alcohol abuse and even suicidal tendencies.
Lawrence said in the years leading up to the attack, Horn was spending less time in close contact with the animals; his constant routine of hand-feeding the cats and talking to them on his rounds became sporadic.
"Many of the handlers thought that Roy was treating the cats more like props than he was respecting them for who they were," Lawrence explained. "That can only work as long as there are no variables, which is impossible considering that you're dealing with a living, thinking animal."
"I am positive that Roy's diminishing relationship with Mantacore was a key factor in the attack."
The trick where everything went wrong was called The Rapport, in which Roy would interact up close with the tiger and even dance with it; for his birthday he wanted to use one of the cubs for a change as he thought it would "be cute"; but because a lot of the magician's famous friends were in the audience, Lawrence said he pushed for the more impressive adult cat.
"This moment haunts me to my core and plagues me with overwhelming guilt," Lawrence said. "I actually talked Roy into using the tiger that would ultimately maul him and end the most successful stage show in the history of Las Vegas."
Lawrence is also plagued by guilt for not intervening sooner, having spotted almost instantly that something was wrong; but he feared reprimand from his employers who were adamant trainers never be seen on stage for fear of breaking the illusion that the magicians alone controlled the animals purely through their "magical bond".
As soon as he was brought onstage, the usually "automatic" Mantacore almost immediately wandered far off his mark, which was "uncharted waters."
He claimed Roy then made a fatal error, which before now has never been disclosed.
"What Roy did was, instead of walking Mantacore in a circle, as is usually done, he just used his arm to steer him right back into his body, in a pirouette motion," he says. "Mantacore's face was right in [Horn's] midsection. By Roy not following the correct procedure, it fed into confusion and rebellion."
He said Mantacore's ears went noticeably erect, his whiskers became outstretched and his pupils dilated.
When the tiger bit at Horn's sleeve, Lawrence finally made a move, but slowly.
"I walked. I wouldn't even say briskly" he recalled. "I never ran after the cats. That could elicit an additional response."
After trying to tempt the tiger with meat, and grabbing his leash, Roy retreated — and Mantacore attacked, taking Lawrence with him.
"I vividly remember thinking, 'Here he comes,' and I experienced all of the things that you hear about prior to your death," he recalled. "It was very deceiving because it could've only lasted a few seconds but it seemed like an eternity. I remember experiencing a crippling guilt over the thought that I was going to be leaving my children without a father and cause them unimaginable pain that they were too young to understand."
But Mantacore only had eyes for Roy, biting his neck and dragging his unconscious body off the stage.
He survived after emergency surgery; but ever since then the now-74 year has had difficulty walking or even talking. The show was immediately shut down, and the USDA enacted new regulations on big cat exhibitions.
Lawrence said he provided a statement at the time, but it was never given to the USDA, and that he and all the other trainers were kept away from the government's inquiry.
"Siegfried & Roy's attorneys told us not to talk to any of them, or anyone for that matter, and that they would be releasing a joint statement to the USDA on our behalf," he claimed.
He even claimed that he was quizzed on whether he had been drinking that night — leading him to fear he'd be made a scapegoat.
"That cut me to my core," he said, "especially knowing what I laid on the line that night in my attempts to save Roy's life."
He claims that even after all these years, Roy has been shielded from the truth that his own actions caused the attack.
"I can guarantee they haven't shown him that video, they haven't tried to reality-check it," he claimed. "It would've had to be a private moment with Siegfried, if Roy had asked. Nobody else would've approached him with the hard truth."
Since that night, Lawrence has been suffering from PTSD and was diagnosed five years ago. "It's been 15 years, but I live it every day and every night," he said. "It'll never leave me."
"People can't see this injury. By all accounts, I look OK," he said adding he can't stand the smell of raw meat, can't watch big game nature documentaries and can't even pet the family's pet dog.
And there are constant nightmares: "They always end with me getting my throat ripped out, similar to Roy's neck being bitten, but amplified," he explained. "Most often it's by a tiger, but it has also been by an attacker with a knife. I wake up and feel the actual pain and cannot breathe."
He even once fled through a wheat field after suffering a paranoid vision that Seigfried and Roy had ordered his killing.
In 2009 the duo made their final Vegas appearance for a charity benefit, performing an illusion with a white tiger they claimed was Mantacore; Lawrence insisted he could tell by sight it was a more seasoned animal named Jaipur.