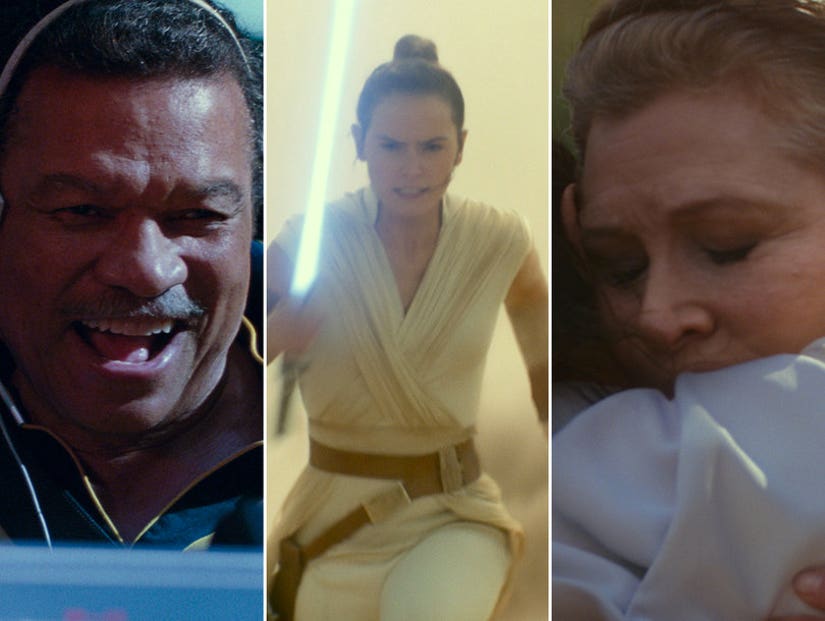 LucasFilm
The first footage from a galaxy far, far away has finally arrived online and we are READY.
The next "Star Wars" movie finally has a name ... and a trailer!
The first footage from "Star Wars: Episode IX: The Rise of Skywalker" debuted on Friday at Star Wars Celebration in Chicago and was, thankfully, simultaneously dropped online.
The teaser begins with a shot of Rey focusing on something in the distance and pulling out her lightsaber, which she inherited from Luke. In the distance, a TIE fighter approaches, seemingly with Kylo Ren inside. As this happens, there's a voiceover from Hamill: "We've passed on all we know, a thousand generations live in you now. But this is your fight."
From there, it's action shot after action shot, showing Kylo battling resistance fighters, Lando Calrissian back in the Millennium Falcon, new droids and an emotional moment with the late Carrie Fisher. It ends with a shot of a fallen Death Star and the sound of Emperor Palpatine's maniacal laugh.
The J.J. Abrams-directed film is being hailed as the "final installment of the Skywalker saga," with both Mark Hamill and Carrie Fisher returning. It remains unclear how Hamill, whose Luke Skywalker was killed off in "The Last Jedi," will be back -- but Fisher's scenes as General Leia Organa will be made up of unseen footage from the previous film.
During the panel, Abrams confirmed the movie is in the editing phase right now and things are "going pretty well so far." He said editing scenes with Fisher in them now is so "surreal."
Kathleen Kennedy and Abraham both added that this movie would be the last of a nine-film arc. "It also needs to work as its own movie," said Abrams, "This movie, it's about this new generation and what they've inherited, the light and the dark, and asking the question as they face the greatest evil, are they prepared, are they ready."
"What I will say is the movie doesn't pick up immediately after the last film, some time has gone by. In this movie, this is an adventure that the group goes on together," explained Abrams, after "The Last Jedi" separated most of the cast across the galaxy. "They are just the most wonderful together and that's the thing I'm most excited for you to see."
Kennedy said the last day of shooting was "emotional," but couldn't say more. "There were a few people on set," she joked.
Returning cast members include OG trilogy stars Anthony Daniels (C-3PO) and Billy Dee Williams, reprising his role as Lando Calrissian.
Of his return to the franchise, Williams said during the panel, "I'm a very lucky person, I didn't expect to be in this little adventure. I got lucky and ended up working with somebody that I have a tremendous regard for, J.J. Abrams, he's a beautiful young man, he's extraordinary."
"How did I find Lando again? Lando never left me," he added, as a photo of him back in his costume showed on the screens in the auditorium. He also made it clear he's sick of fans accusing him of betraying Han Solo.
While Lourd, Hamill, Driver, Gleeson and Nyong'o were MIA, everyone else mentioned above was in attendance. Newcomer Naomi Ackie was also in the house for her first Star Wars Celebration.
Ackie's character, Jana, looks like a total badass. When asked about rumors she's Lando's daughter, the actress didn't say much. "Listen, Lando is a very charming man, he could have children all over the universe," she replied. "That's all I'm saying."
Boyega teased Finn is a "full fledged Resistance sexy young man" in this movie, showing much love for his new costume. Of his two-time adversary, Captain Phasma, he also confirmed, "She dead." He also joked, "Finn is single and ready to mingle," making sure Poe's name also part of the "love pentagon" between his character, Rose and Rey.
"I think [Poe] takes his love for Finn very seriously," added Isaac.
Of Rey, Ridley confirmed that "the lightsaber that Rey inherited from Luke, lives." She was also asked if we may see any new Force powers in this movie, to which Abrams only teased some "extraordinary things" to come for the character. Of her relationship with Kylo, she only teased, "we'll have to wait and see" and confirmed there will be no more "semi-naked" Kylos.
Photos of new creatures and a working model of a new droid, Dio (no clue on the spelling there), were also presented during the panel. And, most importantly, Joonas (AKA Chewie) also confirmed that Porgs taste best fried.
The movie hits theaters just in time for the holidays, on December 20, 2019.