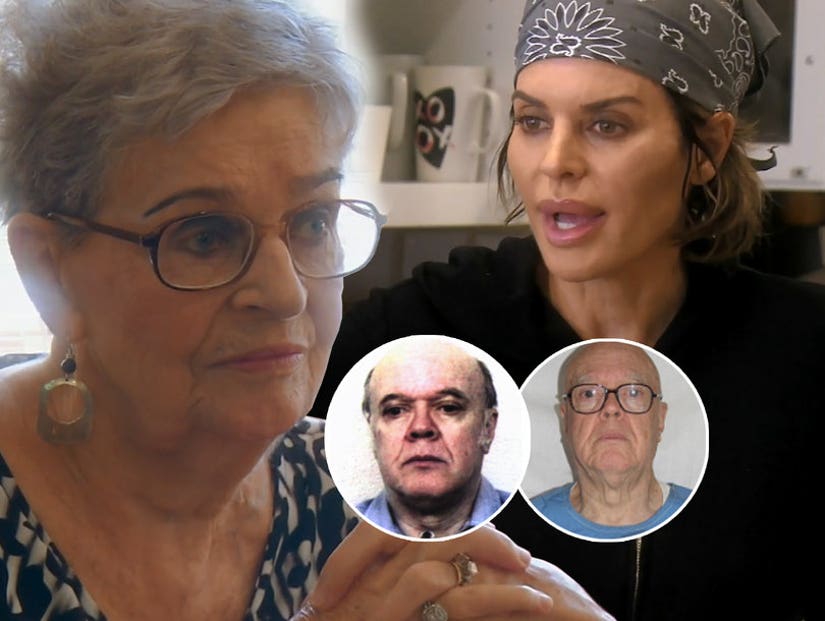 Bravo/Getty
"He was straddling me with a hammer in one hand and a knife in the other."
The serial killer who tried to murder Lisa Rinna's mom is still on death row today.
David Carpenter, AKA the Trailside Killer, has been awaiting execution for 34-and-a-half years in San Quentin State Prison in San Francisco.
The now 88-year-old was convicted in the rape and murder of seven women, though is suspected of having many more victims.
His first ever victim, Lois Rinna, luckily managed to escape with her life — three years before giving birth to Lisa.
"I was very lucky, very. I should not even be here. You shouldn't even be here," Lois said to her daughter.
"A few years before I was born, my mom was attacked by a man that she worked with," Lisa explained in a confessional; the co-worker had invited Lois to come see his new baby, and picked her up in his car.
But Lois quickly realized something was wrong when he turned down a deserted road.
"He tried to rape her," Lisa said. "He tried to kill her."
"I thought that was it... that I was going 'bye-bye', Lois recalled with admirable calm. "He was straddling me with a hammer in one hand and a knife in the other."
"David Carpenter straddling my mom at that point so he could see out the back window, and he went at my mom with a knife, and she grabbed the knife with her hand, and he saw the military police," she told him. "And then he reached in the back and got the hammer and tried to kill her, trying to kill her when he drove down."
"And then he somehow got out of the car and then the military police shot him in the stomach, and he didn't die."
Carpenter was convicted for the attempted murder in 1960, but was sentenced to just seven years. Upon release he was convicted again, this time for kidnapping, and got another seven years.
But after his second release, he went on a murder spree, stalking, raping and stabbing to death at least eight people — mostly young women in their teens and early 20s — among the hiking trails in state parks near San Francisco, earning him the moniker the Trailside Killer.
"I was the first one that he went to jail for," Lois recalled. "After he got out he then did all the murders."
"He became a serial killer," Lisa added. "He killed many people."
In 1988 he was convicted of multiple counts of rape and first degree murder, and sentenced to die in the gas chamber.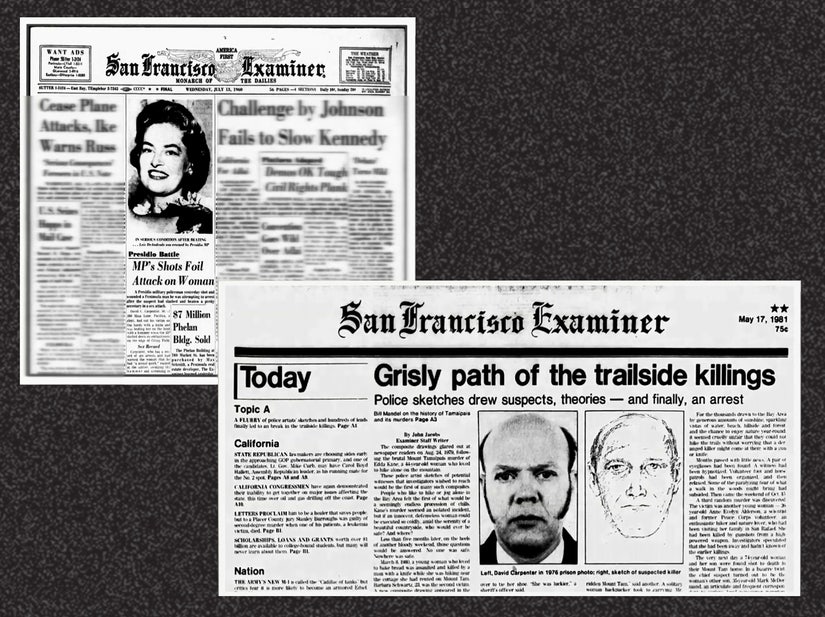 San Francisco Examiner
Capital punishment is still a legal penalty in the state of California; however all executions are currently halted indefinitely by an official moratorium ordered by Governor Gavin Newsom. The last death penalty to be carried out there was in 2006.
According to the LA Times, there are currently 737 inmates on death row in California.
On Tuesday's show, Lisa revealed she didn't learn about the attacks until she was 18, believing her mom had lost her sense of smell and had metal plates in her head because "some kid in a playground hit you on the head with a hammer" — a story her mom couldn't even remember concocting.
"When I had finally learned the truth, I had such great sadness and empathy for my mom knowing that not only did this happen to her but that she basically just stuffed those feelings for how many years," Lisa said. "She never dealt with it, she never talked about it, she never even told her daughter about it."
Nevertheless, she grew up "with a lot of fear": "My mom's stuff and attack is probably in my DNA. When I was in her womb, I picked it up," she surmised.
The reality star even believes it has affected how she has raised daughters Delilah and Amelia, whom she shares with husband Harry Hamlin.
"I'm very open and honest about how I am because I've been very much like that in my life and terrified [for] my children and what might happen to them, so I'm over-fearful," she explained. "But I am overly hyper-sensitive to walking by myself. I would never go into a garage by myself, like a parking garage. I grew up with a lot of fear, which I think has saved my life. I do. I think it's saved me on a lot of occasions."
"I must have put out such an energy that no-one would ever even f--k with me," she added. "It's really weird that I'm one of the only people that I know that was not raped or sexually harassed any way shape or form in my life."
Lisa admitted afterwards on "WWHL" that reliving her mom's story almost 60 years later brought her to tears.
"I haven't seen those headlines since I was 21 years old, so it really hit me tonight harder than it had in a long time," she said. "And I was in tears, and I thought my mom was so brave to be that open and honest on TV."