The "Game of Thrones" and "Aquaman" star appears to have shot the short video while on location filming the upcoming "Dune" adaptation.
"Goodbye Drogo. Bye Arthury Curry," Jason Momoa said in a surprising new video released to promote the use of recyclable aluminum cans for water over plastic water bottles.
To emphasize the change he's urging consumers and corporations to make, the former "Game of Thrones" star spent the video doing something he hasn't done since 2012, before his star-making turn as Khal Drogo in HBO's fantasy epic. He shaved.
"I just want to do this to bring awareness that plastics are killing our planet," Momoa said in the video as he began shaving his cheeks.
"I'm SHAVING this beast off, It's time to make a change," Momoa captioned the video on Instagram (though he cut that one off before the big reveal). "A change for the better ... for my kids, your kids, the world. Let's make a positive change for the health of our planet. Let's clean up our oceans, our land. Join me on this journey. Let's make the switch to infinitely recyclable aluminum."
The video shows Momoa walking through trash-strewn sand and rocks, likely in Jordan where he is currently filming the upcoming "Dune" remake. The actor portrays Duncan Idaho and it's a good bet he'll be clean-shaven for the role. Otherwise, he just set back production however long it takes him to grow that mane.
In production now, "Dune" is expected to be split into two films directed by Denis Villeneuve, with the first currently set for a November 20, 2020 release. Momoa stars alongside Timothée Chalamet, Rebecca Ferguson, Oscar Isaac and Josh Brolin and many others in Frank Herbert's sprawling sci-fi space epic first brought to the big screen by David Lynch in 1984.
While we wait, we can all check out Momoa's clean-shaven look in the screenshot below to try and get used to it. After all, his character has the dubious honor of being the only character to have appeared in all six of Herbert's "Dune" novels, so if this adaptation is a success, we may be seeing a lot more of him.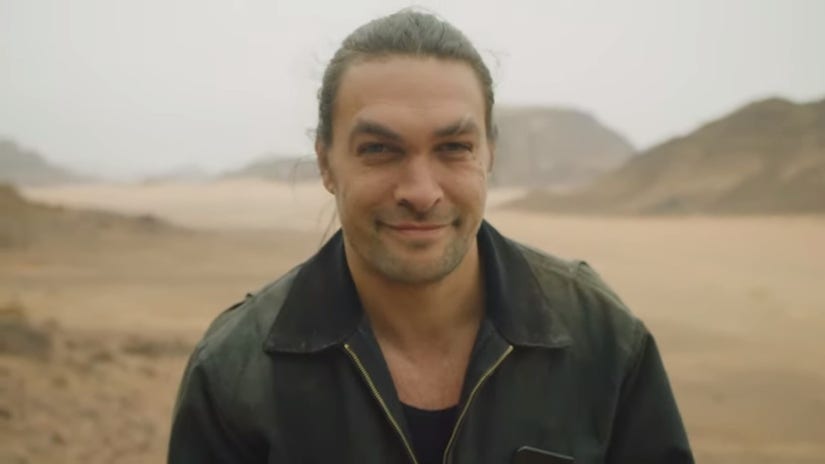 Jason Momoa/YouTube