"I stand by Daenerys. I stand by her! I can't not," Clarke says of the final episode.
In an interview with EW, the actress recalled the moment she first read her character's fate in the final script.
"What, what, what, WHAT!? Clarke said. "Because it comes out of f--king nowhere. I'm flabbergasted. Absolutely never saw that coming."
The moment Clarke found out her character would die
It was 2017 and Clarke, who had just finished filming "Solo: A Star Wars Story," sat down to read the script. "I got myself situated," she said. "I got my cup of tea. I had to physically prepare the space and then begin reading them."
Clarke swiped through the pages of the eighth and final season: Dany is not well-received during her arrival at Winterfell. She learns about Jon Snow's (Harington) true parentage. She is betrayed and experiences many losses (Rhaegal, Jorah, Missandei). Dany ultimately snaps and becomes The Mad Queen, murdering thousands of civilians in King's Landing via dragon fire.
And then, as we saw Sunday night in the series finale, Daenerys met with Jon in the Red Keep throne room, they kissed and then, after realizing what he had to do to stop Daenerys, Jon killed her.
"I cried," Clarke recalled. "And I went for a walk. I walked out of the house and took my keys and phone and walked back with blisters on my feet. I didn't come back for five hours. I'm like, 'How am I going to do this?'"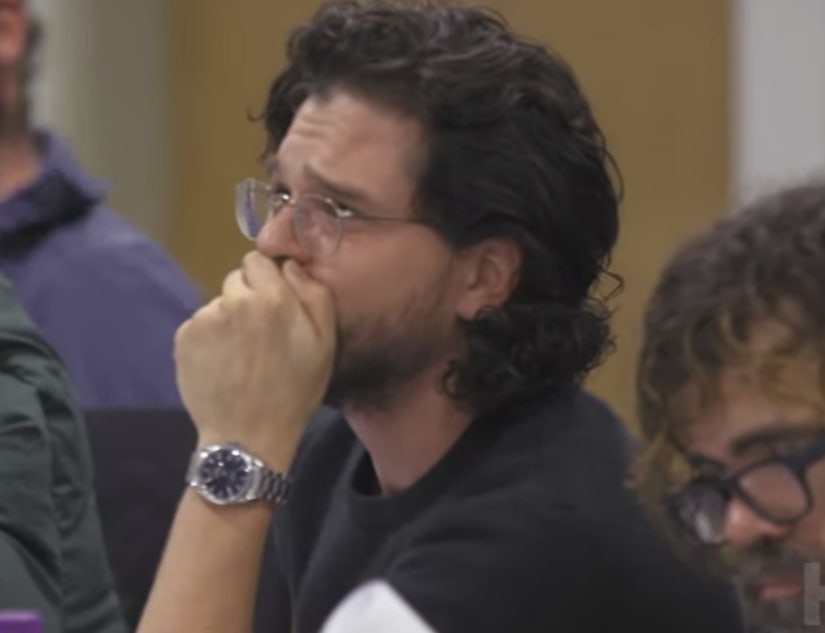 Helen Sloan/HBO
Unlike Clarke, Harington chose to wait to read the script at the table read. When the co-stars reached the twist together, Harington cried.
"I looked at Emilia and there was a moment of me realizing, 'No, no...'" he recalled.
"He was crying," Clarke added. "And then it was kind of great him not having read it."
"Have you ever seen a woman play a dictator?"
The eighth season has been met with much criticism, particularly in the treatment of the show's female characters. Harrington accurately predicted the fan's reaction as he said he worried the final two episodes would be accused of being sexist.
"I think it's going to divide," Harington said in the same EW piece. "But if you track [Dany's] story all the way back, she does some terrible things. She crucifies people. She burns people alive. This has been building. So, we have to say to the audience: 'You're in denial about this woman as well. You knew something was wrong. You're culpable, you cheered her on.'"
"One of my worries with this is we have Cersei and Dany, two leading women, who fall," he added. "The justification is: Just because they're women, why should they be the goodies? They're the most interesting characters in the show. And that's what Thrones has always done. You can't just say the strong women are going to end up the good people. Dany is not a good person. It's going to open up discussion but there's nothing done in this show that isn't truthful to the characters. And when have you ever seen a woman play a dictator?"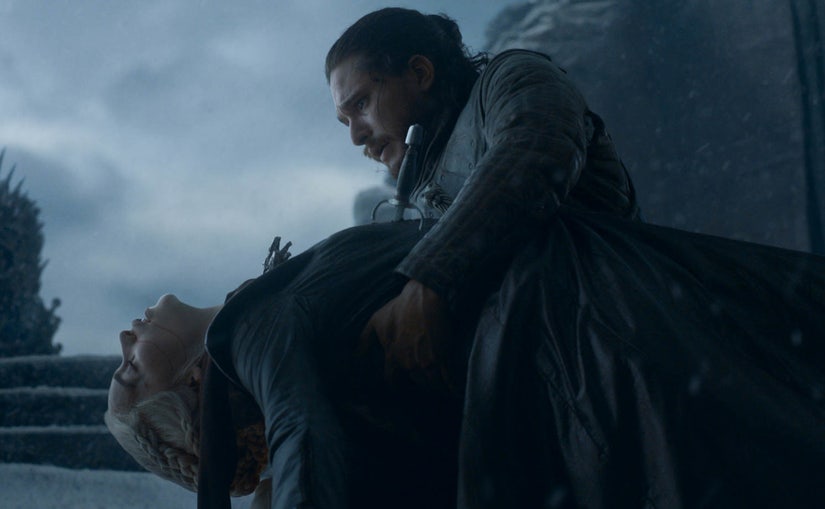 Helen Sloan/HBO
Daenerys' tragic ending along with her wild character arc left many fans angry and unsatisfied. Following Episode 5, "The Bells" -- when Dany went all "Mad Queen" with her dragon-bombing of King's Landing -- people wanted answers as to why this happened. According to the showrunners, Dany's descent into madness was teased throughout the series. Clearly in agreement, Clarke explained what she sees as her character's "internal journey".
"Since birth! She literally was brought into this world going, 'Run!' These f--kers have f--ked everything up, and now it's, 'You're our only hope.' There's so much she's taken on in her duty in life to rectify, so much she's seen and witnessed and been through and lost and suffered and hurt," she said. "Suddenly these people are turning around and saying, 'We don't accept you.' But she's too far down the line. She's killed so many people already."
"I can't turn this ship around. It's too much. One by one, you see all these strings being cut. And there's just this last thread she's holding onto: There's this boy. And she thinks, 'He loves me, and I think that's enough.' But is it enough? Is it? And it's just that hope and wishing that finally there is someone who accepts her for everything she is and... he f--king doesn't."
"I thought she was going to die," Clarke continued in her interview with EW. "I feel very taken care of as a character in that sense. It's a very beautiful and touching ending. Hopefully, what you'll see in that last moment as she's dying is: There's the vulnerability --- there's the little girl you met in season 1. See? She's right there. And now, she's not there anymore..."
"But having said all of the things I've just said..." she added. "I stand by Daenerys. I stand by her! I can't not."
Tyrion and Brienne on the horrors of 'the greater good' and the pursuit of power
According to Peter Dinklage, who played Tyrion Lannister on the series, the showrunners on set compared Dany's attack on King's Landing to the U.S. dropping nuclear bombs on the Japanese cities Hiroshima and Nagasaki, at the end of World War II in 1945, killing over 200,000 innocent non-combatants.
"That's what war is," Dinklage said according to EW. "Did we make the right choices in war? How much longer would [WWII] have gone on if we didn't make horrible decisions? We love Daenerys. All the fans love Daenerys, and she's doing these things for the greater good. 'The greater good' has been in the headlines lately...when freeing everyone for the greater good you're going to hurt some innocents along the way, unfortunately."
"The signs have actually always been there," Gwendoline Christie, who played Brienne of Tarth, added of Daenerys. "And they've been there in ways we felt at the time were just mistakes or controversial. At this time, it's important to question true motives. This show has always been about power and, more than ever, it's an interesting illustration that people in pursuit of power can come in many different forms and we need to question everything."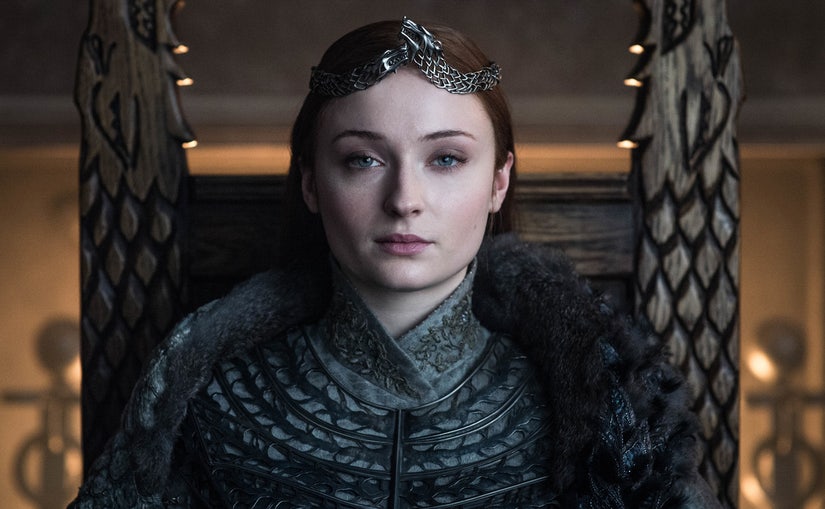 Helen Sloan/HBO
However, one of the more well-received moments in the finale was when Sansa Stark (Sophie Turner) became Queen of the North. Although many fans wanted Sansa to end up on the Iron Throne -- Bran Stark (Isaac Hempstead Wright) was eventually chosen -- Sansa's crowning was definitely one of the episode's highlights as she also declared the North an independent country.
But was Turner disappointed Sansa didn't end up on the Throne? "I wasn't bummed at all," the actress told EW in a separate interview. "Because ever since the end of season 1, Sansa has not been about the capital or being queen."
"She doesn't believe she could rule and doesn't want to," she continued. "She knows her place is in the North and she can rule the people of the North and rule Winterfell. She'd probably be capable [of being queen of the Seven Kingdoms] with the help of her family and advisors like Tyrion. But she has no desire to be ruler of all of the Seven Kingdoms."