"It was that moment where 'Teen Witch' became so much more important to me," Lively tells TooFab.
Part musical, part teen comedy and full camp, the 1989 camp classic "Teen Witch" probably isn't a movie that star Robyn Lively thought she'd still be talking about 30 years later.
The movie starred Lively as Louise Miller, the titular teenage spellcaster who uses a little bit of magic to turn herself into the school's "most popular girl." Her mission: to win the affection of Brad, "the red hot lover."
While speaking with TooFab about her work in Hulu's horror anthology series "Into the Dark" -- more on that here -- we just had to ask about the '80s film and she was more than happy to oblige. "You know like this is one of the projects that has become the most near and dear to my heart," said Lively, "because not only the fans ... well, yes, it actually is because of the fans and the fan following!"
The film, which opened up against "Pet Sematary" and "Field of Dreams," was a box office bomb, but over the years has developed one helluva following thanks to TV reruns, midnight showings and even stage adaptations. Clips from the movie -- especially the infamous "Top That" rap -- have gone viral and Robyn's own sister, Blake Lively, loves the film so much, Robyn performed the film's final dance number at their wedding.
For Robyn though, there's one fan moment that stands out above the rest.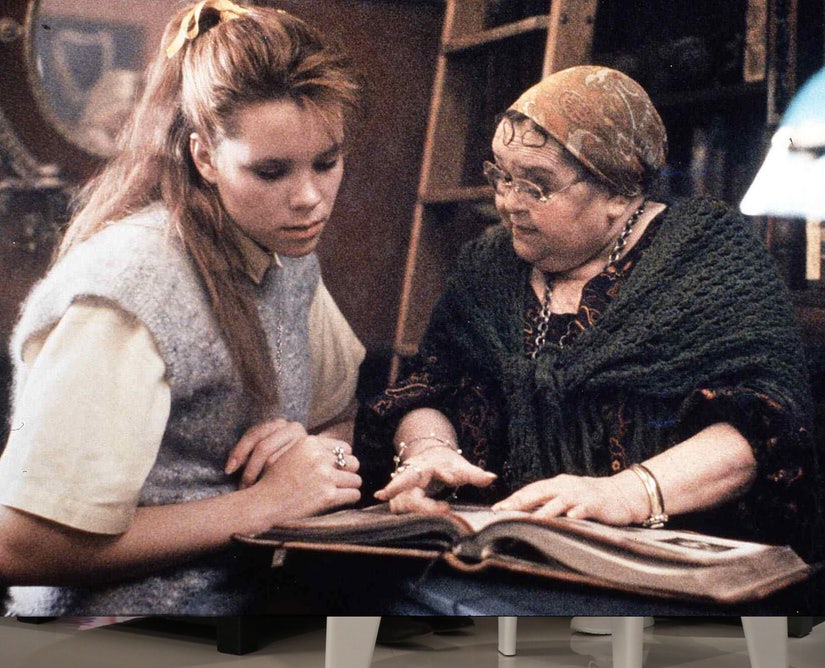 Alamy
"Years ago I did a screening, a midnight screening with Peaches Christ and it was the first one I did because Josh went to one -- Josh Miller, who played my younger brother -- and so I went," she explained. "And it was so phenomenal, I cannot begin to tell you."
"Then afterwards, this guy comes up to me. He was young, probably in his early 20s and he takes me by the hands and he holds my hands and he's got tears brimming in his eyes," she continued. "And he said, 'You have no idea how much you changed my life. You've no idea what the film got me through.' And it was that moment where 'Teen Witch' became so much more important to me."
Waiting for your permission to load the Instagram Media.
"I had no idea the impact and the significance that it had on so many people," added the actress, who said her Instagram posts about the movie "go bananas" and are filled with "hundreds and hundreds of comments ... some that honestly just make me cry."
"So, yes, it's got this great cult following and it's fun and campy, but then there's this other element that it has, that it really really touched people in such a profound way," she continued, "Or watched it while they were going through difficult times or someone close to them passing away, I mean, things like that."
When TooFab noted it was a form of escapism, Lively agreed. "It really is, that's exactly what it is. We never knew. You can't describe this film to anybody, how do you describe the tone of it?!"
Adding to the escapism, especially when watching it now, is all the retro '80s fashion. When Louise goes from bookworm to queen of the school, she gets a major makeover and a montage of killer outfits that still makes us jealous. Seriously, revisit it above.
"By the way, so many of those clothes were actually my own personal clothes, so that was really fun," Lively told TooFab.
As for her favorite looks? "Well, you can never go wrong with a denim jacket, big shoulder pads, that was one of my favorites," she explained.
"I'll tell you when I felt really cute," she added with a laugh. "I think I felt probably the most special in the blue dress. That was probably my favorite. It was such an epic scene. Everything about it. I felt beautiful and I loved playing those two different roles -- where I was unpopular and the nerd -- and, again, being 15, 16 years old, you're pretty self aware at that time. I loved being able to transform."
Check out the blue dress scene below and rock out to "Finest Hour." And, yes, this is the dance she recreated at her sister's wedding.
And catch Lively in "Into the Dark: They Come Knocking" on Hulu now.