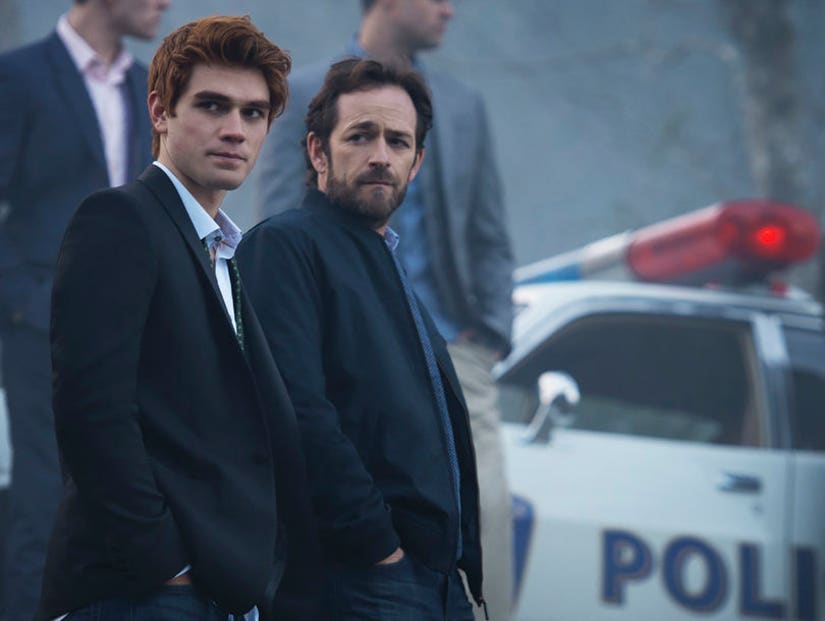 CW
Roberto Aguirre-Sacasa says the tribute episode was "hard" and "emotional" to film, but one of the show's best.
UPDATE at 4:00pm PT on 7/21/19: During the show's Comic-Con panel, it was announced that Luke's "Beverly Hills, 90210" costar Shannen Doherty will also guest star in the tribute episode, the first of the new season.
According to Aguirre-Sacasa, Shannen being on the show "is something that Luke wanted to happen since season one." He added, "They were such good friends, and when we were putting together this tribute episode, we wanted to make it as special as possible, and so we asked Shannen to do a pivotal, super-emotional role. She read the script and immediately said 'yes.' It's very impactful."
When "Riverdale" returns in the fall, the new season will begin with a standalone episode in honor of the late Luke Perry and his character, Archie's father, Fred Andrews. The actor played the character until his tragic death in March.
Speaking with the cast at Comic-Con on Sunday, before the show's presentation later in the day, showrunner Roberto Aguirre-Sacasa said the episode -- one of the few things they've completed on Season 4 so far -- is "wonderful," but wasn't easy to film.
"The first episode back is basically a standalone episode, it's set on July 4th in Riverdale and it's a tribute to Luke, it's a tribute to the character of Fred," he told TooFab.
"We had the table read two weeks ago. I've been in television probably 12 or 13 years, I've never experienced a table read like that," he continued, revealing it was the first time everyone was in the same room following Perry's death.
"We shut down production after Luke passed and the day we resumed production, we had two stages going, Cami and KJ were on one stage and Lili was shooting all that stuff where the Black Hood was chasing her in the high school," he explained. "We were all scattered, we weren't there as a big group and we all came together and a lot of us starting crying."
Of the shoot for the Season 4 premiere, he added, "It was really emotional. I wasn't up in Vancouver for all of the shooting, but I know it was hard." According to the showrunner, the footage he's seen is "wonderful," saying that he hopes "it will be a real tribute and honor to Luke, that's the goal."
Star KJ Apa shared a bit more about the episode, titled "In Memoriam," which he says shows Archie dealing with the loss of his dad. He said Camila Mendes' Veronica will be "a really solid rock" for his character and "all of the core four are really tight" through the grieving process.
"A lot of my focus in the first two weeks of filming has been all about the first episode, which is all focused on Fred and Archie's dealing with that," he continued.
He said he also has a lot of scenes with Molly Ringwald, who plays Archie's mom Mary. "I think we're finally gonna be able to dive deeper into Archie's relationship with Mary, which we never got to see," he added, "I think it's going to be a beautiful way to tell that story as well, between Archie and Mary."
Apa then explained that "the loss of Fred brings a lot out of everyone, a lot of memories they had with Fred. It also explains why Archie is such a selfless person as well, because there's so many stories being told about Fred, they realize, wow, Archie gets these personality traits form his dad."
"Archie's always helping people, he's always putting himself first, he's always looking out for his friends and I think Fred growing up was the same way," said Apa. "It's a beautifully written script and I think it's our strongest episode so far."
"Riverdale" returns for Season 4 on Wednesday, October 9.