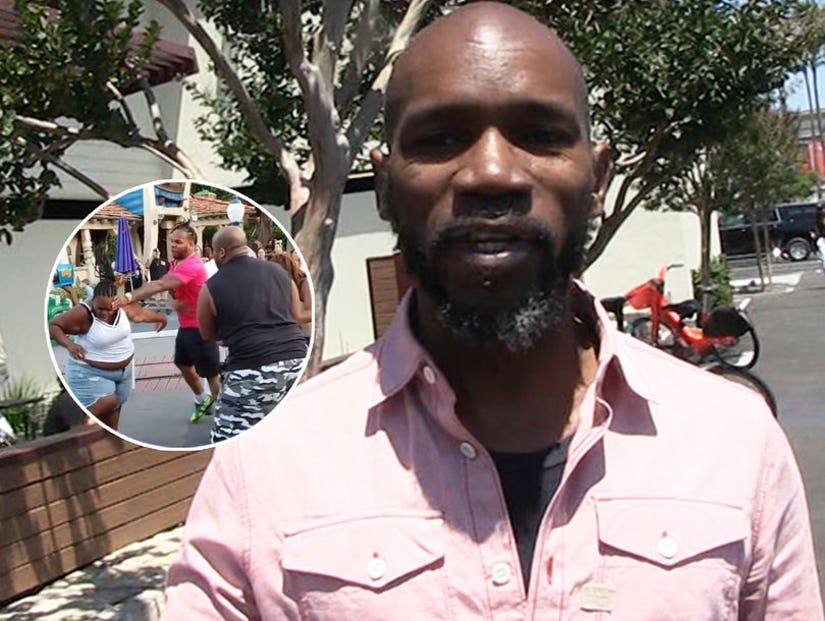 TooFab / YouTube
The family were hit with a slew of felonies after their disgusting fracas at Mickey's Toontown.
Disneyland may be the happiest place on Earth -- but it's certainly not the safest.
That's according to comedian Ian Edwards, who was left wondering where all the security was during the infamous Toontown family brawl that went viral recently.
"I feel like that fight went on so long. Security at Disneyland is not tight," he said. "It is not the safest place on earth."
"Like there's cameras, there's people slapping people, for like an hour. I never even finished watching the whole [video] — where's the security at?"
He added: "I'm not going there. Like the cops come quicker in the hood... and they don't come quick there. Yeah, I'm not going to Disneyland. I don't feel safe. Forget that."
The shocking video, posted earlier this month, showed a family fracas that saw men hitting female members of their family, dragging them by the hair, spitting in each other's faces, and shouting "I'm ready to go to jail tonight", all while guests and their children looked on in horror.
Asked if he would have jumped in when he saw men hitting women, Edwards admitted he was too confused to even figure out what was going on.
"I was confused. How would I jump in when I saw the same dude slap another chick and then the chick he was with, he slapped her," Joe Rogan's frequent podcast guest said.
"So, I'm like are y'all together or not together? Or did the guys want to hit their women, and then plan this fight between themselves so that they all have an excuse to hit each other's women for each other? I don't know what's going on."
"I was confused, yeah. And I don't have the time to watch that 20 times to figure it out. So, just know the security at Disneyland is not tight."
On Tuesday, three members of the family were hit with a slew of felonies, the Orange County District Attorney's Office announced.
Avery Desmond-Edwinn Robinson, 35, of Las Vegas, is facing five felony charges and nine misdemeanors for attacking his sister, brother-in-law and girlfriend, endangering his child and three other children who were with them, a statement revealed.
He is also accused of assaulting a Disneyland employee with his vehicle after the family was escorted out of the park by Disneyland security. He faces a maximum of seven years and four months in state prison if convicted on all charges.
His sister Andrea Nicole Robinson, 40, is facing five misdemeanor charges of battery and assault for attacking her brother, his girlfriend, and a Disneyland employee.
Her husband Daman Petrie, 44, faces one misdemeanor count of battery, accused of punching Avery his brother-in-law's girlfriend in the face during the melee.
The statement also claims that while they were being kicked out of the park, Avery attempted to hit a Disneyland employee with his car, and threatened to kill his sister and her husband.