Barry Williams (Greg), Maureen McCormick (Marcia), Christopher Knight (Peter), Eve Plumb (Jan), Mike Lookinland (Bobby) and Susan Olsen (Cindy) join forces with HGTV to make the house all Brady inside and out!
It's one of the most iconic and instantly recognizable houses in television history, and now fans will get a chance to make a return visit with the very stars who helped make it famous in HGTV's "A Very Brady Renovation."
Fans wondering what the network was up to when they scooped up the house after it went up for sale in 2018 later learned it was for one of the most bizarre and ingenious home renovation show concept of all time, one we now have even more details about thanks to the show's TV Critics Association 2019 summer press tour panel on Thursday.
Not only will fans get to step back in time and see how the real Brady house -- or at least the one used for exterior shots -- looks today, but they'll get to do it with all six of the Brady children, who converged on the house in November 2018 to film this very special project.
Barry Williams (Greg), Maureen McCormick (Marcia), Christopher Knight (Peter), Eve Plumb (Jan), Mike Lookinland (Bobby) and Susan Olsen (Cindy) are all coming back for the project, which will see them revitalizing the exterior of the home with an even bigger treat in store for the inside.
While the outside of the home is mostly as people remember, the cast and crew never shot inside, meaning the interior was never quite set up in the same way as the sets used to depict the Brady family home on the television series. By the time this home renovation is done, though, it will be the Brady house inside and out!
Coincidentally, but probably not, this new venture coincides with the 50th anniversary of the classic sitcom, which aired from 1969 to 1974, followed by all kinds of revivals over the years.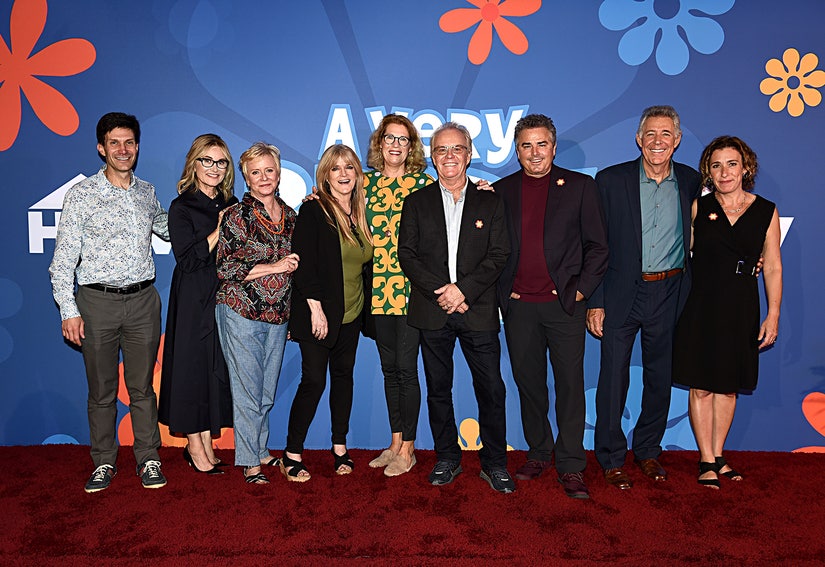 Getty
The project itself was clearly a labor of love and a huge leap of faith for HGTV, who secured the house before getting a single cast-member on board. "There are so many elements that had to come together to make this thing work," Williams said at Thursday's panel, via E!. "It was crucial that we have everybody, if we didn't have every single person on this stage on that show, no show. Very hard to do, amazing that it was done."
But it was the very fact that this was not just another revival that helped convince everyone to get on board. "What resonated with me the most was that it was a different take on Brady," Plumb explained. "They weren't asking us to come back and play Brady Bunch characters again. It was, 'Let's explore what the house will look like if we can make it in real life."
As the entire cast assembled this week to talk about what it was like returning to a piece of the project that defined so much of their younger years, they also revealed how the project turned into a tribute to their co-stars who have since passed.
"We are the surviving members of the cast, and we can feel the presence of Robert Reed, Florence Henderson and Ann B. Davis in these rooms that are being created," said Williams. "We can on the share their presence and what a significant part of our show they were."
Plumb revealed that HGTV painstakingly reviewed every episode of the original show to determine plans for transforming the interior of the house to match what was seen on the show. And to keep things fun, each Brady kid had their own room to focus on, keeping it secret from the others until they'd finished.
The cast, who are obviously not home renovation experts, will be working alongside HGTV stars to realize this unique Brady dream. And for anyone worried that there was just no way to fit that two-story Brady interior inside that split-level ranch house, you just wait!
And while you're waiting, speculate about what HGTV could do with it now that they have a perfect replica of the "Brady Bunch" house, inside and out. HGTV President Jane Latman promised reporters that there is a plan.
"A Very Brady Renovation" kicks off Monday, September 9 at 9 p.m. on HGTV.