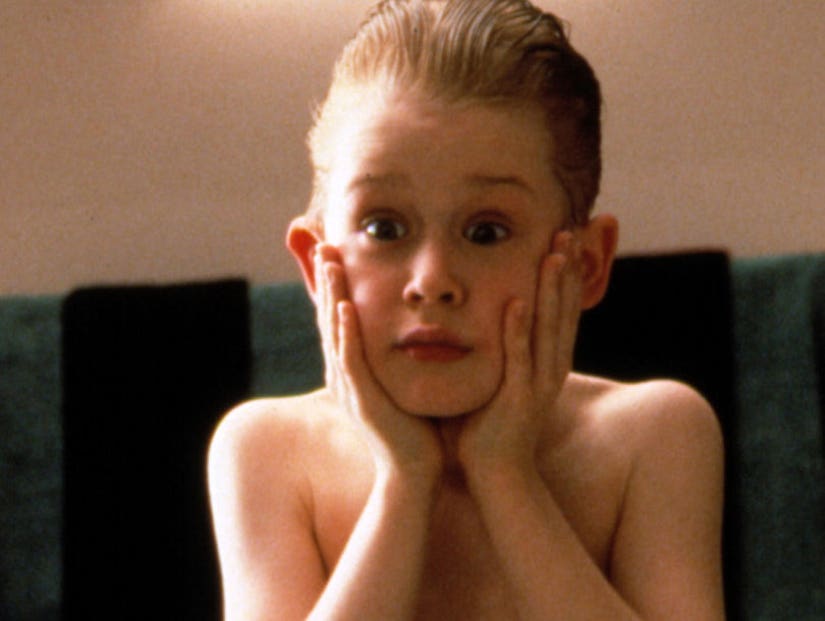 Everett Collection
The news stung fans like freshly applied aftershave.
Macaulay Culkin has some thoughts about Disney's plan to reboot "Home Alone".
The former child star shared a hilariously unsettling image on Wednesday, captioned: "This is what an updated Home Alone would actually look like."
In it the 38-year-old is sat in a couch grimacing in a pair of grubby boxers, his gut protruding, surrounded by greasy takeaway food, his laptop and — perhaps most impressively of all — a Nintendo 64 controller.
Just a day earlier Disney CEO Bob Iger revealed that the House of Mouse is preparing to milk some of the properties it picked up in its recent $52billion acquisition of 21st Century Fox -- Culkin's 1990 classic comedy among them.
Among the franchises he said were headed for its new streaming service Disney+ are "Night At the Museum", "Diary of a Wimpy Kid" and "Cheaper By the Dozen"... but it was the thought of a new "Home Alone" that had Twitter the most upset.
"Disney wants to reboot #HomeAlone Nobody wants this. Want proof? There are 4 sequels to Home Alone that nobody cares about," one fan wrote. "The first movie was perfect. No reboot or sequel will ever recapture the magic that was the orginal.""Don't remake #HomeAlone, Macaulay Culkin's is perfect! The new generation can watch the old ones, it's not like it was an old sci-fi with shitty graphics, they don't need a remake," another insisted. "Get some new ideas, Hollywood, DAMN."Many more wondered how a reboot would even work plot-wise, with many of the plot holes lovingly overlooked in the original making even less sense with modern technology involved.In the John Hughes written-and-produced comedy, Culkin plays eight-year-old Kevin McAllister, who is accidentally left behind when his family go on holiday, and who must defend his suburban mansion from the Wet Bandit burglars Harry (Joe Pesci) and Marv (Daniel Stern).
Grossing $476million off its $18million budget, it was the highest-grossing live action comedy film of all time — until it was dethroned by"The Hangover Part II" in 2011 — and the highest-grossing Christmas film of all time until 2018's "The Grinch." It also made 10-year-old Culkin a household name worldwide.Iger did not specify what format the reboots would take, nor when they would arrive on Disney+ (which itself launches on November 12); he only said they would be "reimagined" for "a new generation."In the acquisition Disney also scooped up a number of high-profile franchises, including "The Simpsons", ""X-Men", "Fantastic Four", "Deadpool", "Avatar", and "Planet of the Apes".
Don't remake #HomeAlone, Macaulay Culkin's is perfect! The new generation can watch the old ones, it's not like it was an old sci-fi with shitty graphics, they don't need a remake! Get some new ideas, Hollywood, DAMN 😩 pic.twitter.com/GeTBdgjwET

@AmesEST19xx
Disney wants to reboot #HomeAlone Nobody wants this. Want proof? There are 4 sequels to Home Alone that nobody cares about.
The first movie was perfect. No reboot or sequel will ever recapture the magic that was the orginal. pic.twitter.com/tvJMTiUJSl

@BaconKnight
**_Got a story or a tip for us? Email TooFab editors at tips@toofab.com._**