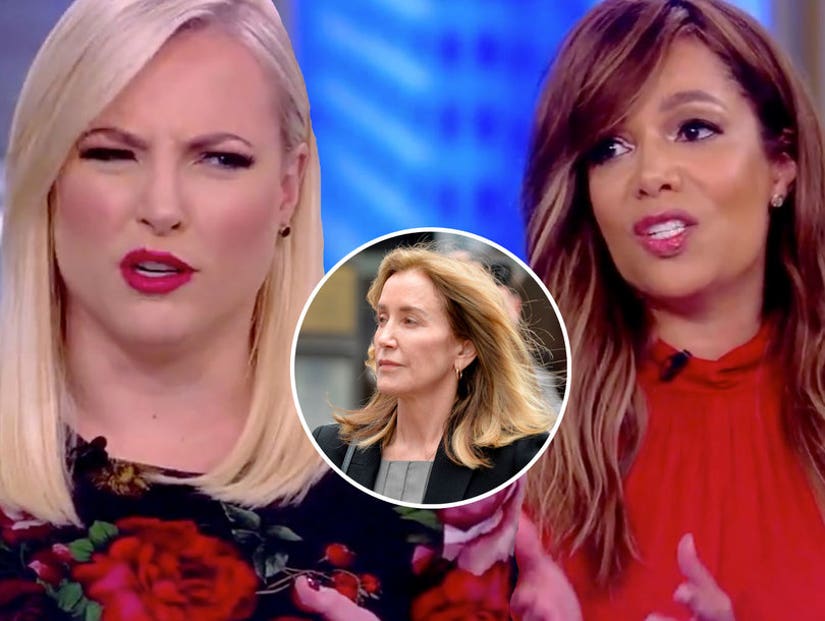 ABC/Getty
Sunny Hostin also argues why Huffman deserves more than a month behind bars.
As part of her sentencing memorandum that was filed Friday, the "Desperate Housewives" star wrote a letter to the judge explaining why she got involved in the admissions scam as well as her regret and "utter shame" for participating in the scheme. In it, she said she felt like she was a "bad mother" if she didn't take part in the scam, while her attorney sent their own letter recommending she get no prison time -- just 1 year probation, 250 hours of community service and a $20k fine. The prosecutors are only recommending one month behind bars.
The morning show panel, however, did not agree either sentence would be enough.
Bringing up the case of Tanya McDowell -- a homeless woman who was arrested for first-degree larceny and sentenced to five years in prison after listing a different address to enroll her then 5-year-old son in a nearby school -- Sunny Hostin argued Hoffman certainly deserved a longer sentence.
"The prosecutors are saying one month and she's saying that it's too much time. That is not too much time, I think," said Hostin. "She's arguing that this is a victimless crime and it isn't because another kid didn't get into that school. Her kid took a seat that another kid deserved and that's a problem."
"She changed the life of someone else that was more deserving of the spot and I think that's the problem," she continued. "This judge has to send a message to the community that this isn't right. She had wealth, privilege and platform and she didn't use it appropriately."
Joy Behar agreed, saying Huffman is "rich, she's entitled and she tried to game the system."
She also wasn't feeling the letter of support Huffman's husband, William H. Macy, wrote either. "This whole rap the husband's giving about how hard it was to be a mother or something, welcome to the club okay?" she added, "Who wrote that speech? It's like something out of Desperate Housewives.'"
Meghan McCain also had a problem with some of the points in Macy's letter, saying, "Struggling to be a mom doesn't mean you break the law, I had a hard time even understanding what the hell William H. Macy's talking about."
"I don't understand the logical connection," she continued. "They are the poster children for what everyone hates about white privilege and she deserves to go to jail for a long period of time, for over a month!"
In his letter, Macy also said their daughter Sophia has been plagued by nightmares from "the FBI agents waking her that morning [of her mother's arrest] with guns drawn." Hostin took issue with that as well.
"The other problem I saw with his letter was he said something about how the FBI came in in the morning with guns drawn and how his other daughter cant sleep at night. He sort of makes this argument that we are not that kind of criminal," she said. "So it's, yet again, this sort of privilege like don't treat us like that."
"Well, you are a criminal, you've pled guilty and that's not gonna ring well for the judge either," Sunny continued. "What kind of criminal are you? Shouldn't you be treated the same as any other criminal?"
Huffman formally pled guilty back in May. The actress admitted to paying mastermind Rick Singer $15,000 to correct her daughter's SAT scores, one of his "side door" options for sneaking offspring of affluent parents into colleges.