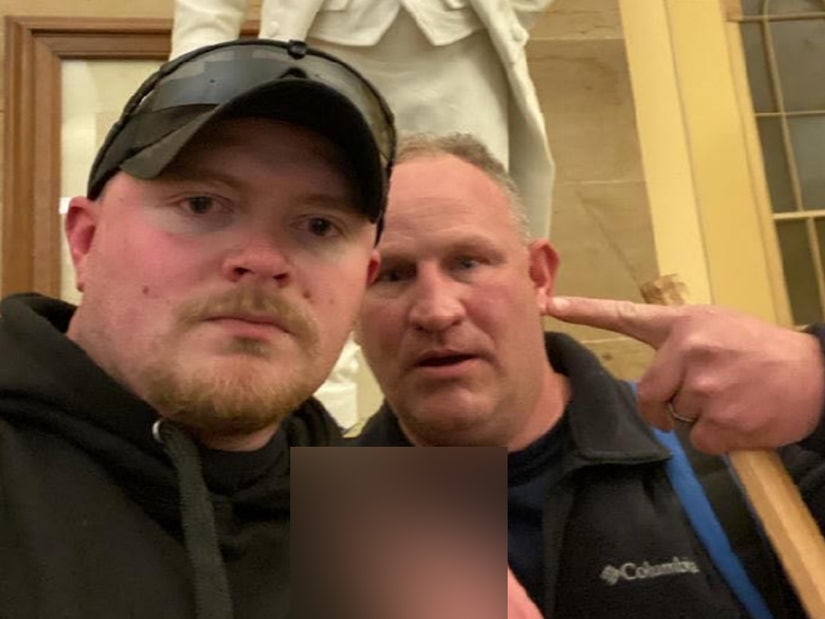 U.S. Department of Justice
"If you are too much of a coward to risk arrest, being fired, and actual gunfire to secure your rights, you have no words to speak I value," he wrote in his "joke" Instagram post.
Both officers have been fired.
Rocky Mount Police Department announced in a statement on Tuesday it was terminating the pair, effective immediately.
While the police department said it normally did not comment on personnel matters, the "very public nature" of the situation warranted it.
"We hear those who have communicated their anger and frustration about the actions of
these individuals or our response to those actions," it said. "There is no playbook for dealing with what occurred on January 6."
"Our officers are held to high standards for how they conduct themselves on and off-duty and we are proud of the dedication and sacrifice made to keeping our community safe," it added. "The process we have gone through reinforces how seriously we aim to uphold these standards and how important it is to communicate that the department works in the best interest of everyone's safety."
"The events of the past few weeks have been challenging for our town, as they have been for the entire nation. The actions by two have driven our beautiful town into the national spotlight in ways that do not reflect our whole community and the people who call Rocky Mount home."
Original story 1/14/2021 9:06 AM
Two off-duty Virginia police officers have been charged in connection to the Capitol Hill riots.
Jacob Fracker and Thomas Robertson posted selfies from inside the Capitol building during the invasion January 6, which quickly spread on social media.
The pair claimed they had taken the pictures "as a joke" to let family members know they were okay, having been let into the building by fellow officers.
However the US Attorney's Office in DC and the Counterterrorism Section of the Department of Justice's National Security Division didn't find it so funny. They announced on Wednesday both men had been arrested and charged with one count of knowingly entering or remaining in any restricted building or grounds without lawful authority, and one count of violent entry and disorderly conduct on Capitol grounds.
Robertson had posted the selfie on Instagram, in which they stood in front of the John Stark statue and flipped the bird.
"PS. Here's the picture in question and I am f****** PROUD of it," he wrote. "It shows 2 men willing to actually put skin in the game and stand up for their rights. If you are too much of a coward to risk arrest, being fired, and actual gunfire to secure your rights, you have no words to speak I value. Enjoy your feel good protests and fame. I'll simply accept a 'Thank you' for the very blanket of freedom that....."
Per the DOJ, he also stated on social media that "CNN and the Left are just mad because we actually attacked the government who is the problem and not some random small business ... The right IN ONE DAY took the f***** U.S. Capitol. Keep poking us."
Fracker meanwhile had taken to Facebook in a since-deleted post to declare: "Lol to anyone who's possibly concerned about the picture of me going around... Sorry I hate freedom? Sorry I fought hard for it and lost friends for it? [shrug emoji] Not like I did anything illegal, WAY too much to lose to go there but, y'all do what you feel you need to."
"And a foot note: I can protest for what I believe in and still support your protest for what you believe in... just saying... after all, I fought for your right to do it...."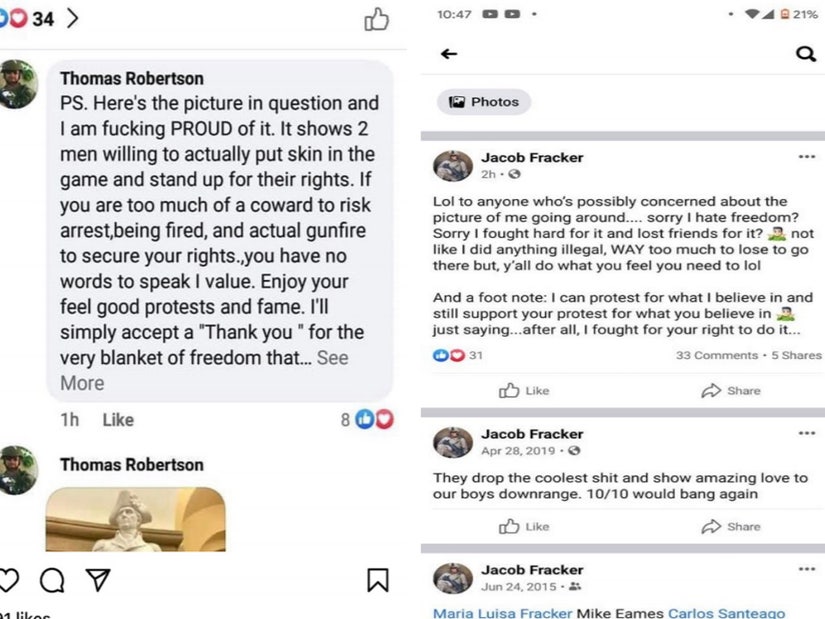 U.S. Department of Justice
But before the charges were brought, Sergeant Robertson had told ABC13 the photos were just taken as a joke.
He claimed they were allowed into the building through an open door by Capitol Police, who asked them to stay inside the roped areas, and even gave them water.
He said they remained inside for just ten minutes.
"There was absolutely no indication that we were anything but welcome to check out certain places," Robertson said. "We did not participate in any violence or property damage."
The Sergeant added he would never participate in any activity that put law enforcement officers in danger.
Both officers had been placed on paid leave pending both the federal and local Rocky Mount investigations.