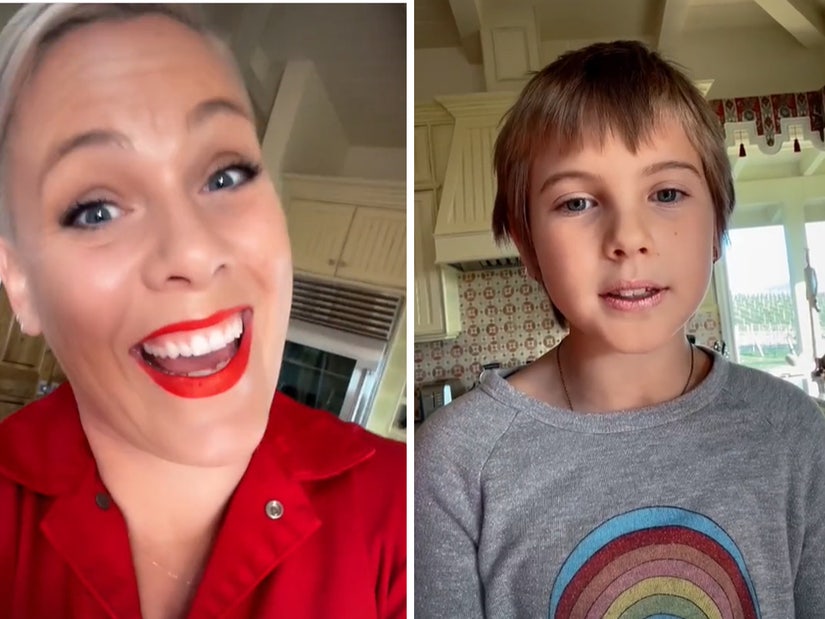 TikTok
update 2/10/21 7:28 am pt
Pink's son Jameson has also shown off his singing talents.
A few hours after Pink made her TikTok debut by posting a video of her daughter Willow performing an original song, the singer shared another clip, this one featuring her 4-year-old son, Jameson, singing as well.
"This one is trouble," Pink captioned the TikTok.
The clip began with the "What About Us" singer talking to someone off-camera, presumably Willow, as Pink said, "Hold on, I'm teaching Jameson a song, your song!"
Pink, who appeared to be filming, then began flawlessly singing her daughter's song, "Cover Me in Sunshine." The pop star fed the lyrics to Jameson, who then recited the lyrics, putting his own unique, grittier spin on the tune.
After Jameson finished, Pink asked her son, "What version is that?" It's unclear exactly what Jameson said in reply, but Pink laughed in response.
While Jameson's vocal style might be a bit different than his older sister's, fans still praised him in the comments, writing that his cover of Willow's song was "the metal version."
Check it out in the video, above!
Original Story: 2/9/21 12:15 pm pt
Pink has clearly passed down some of her talent to her offspring.
On Tuesday, the singer joined TikTok, making her debut by sharing a sweet video of her 9-year-old daughter, Willow Hart, singing a song called, "Cover Me in Sunshine."
The short clip opened to Willow telling her mom, "Or I can sing 'Cover Me in Sunshine.'"
The 9-year-old then broke into song, showing off her impressive pipes.
"Cover me in sunshine / Shower me in good times," she sang in the clip. "Tell me that the world's been spinning / Since the beginning and everything will be alright / Just cover me in sunshine."
After she finished, Willow threw a little sassy snap to the camera. Pink then turned the camera to herself. "Okay!" she said with a smile and a laugh.
Fans applauded Willow's talent in the comments section.
"So vocals run in the family I see," a person wrote. "The next Pink is born," another added.
"Adorable and so talented," a user commented, while other fans called Willow's voice "beautiful" and "absolutely stunning!"
"Finally! Thanks for joining us!," a person said, before joking, "WILLOW IS COMING TO END CAREERS!"
Willow showed off her singing talent back in December when she performed with Pink during ABC's "The Disney Holiday Singalong." The two sang a duet of Nat King Cole's "The Christmas Song." She also performed with her mother for "A Million Dreams" from "The Greatest Showman: Reimagined" (see below).
Pink shares Willow and Jameson, 4, with husband Carey Hart.