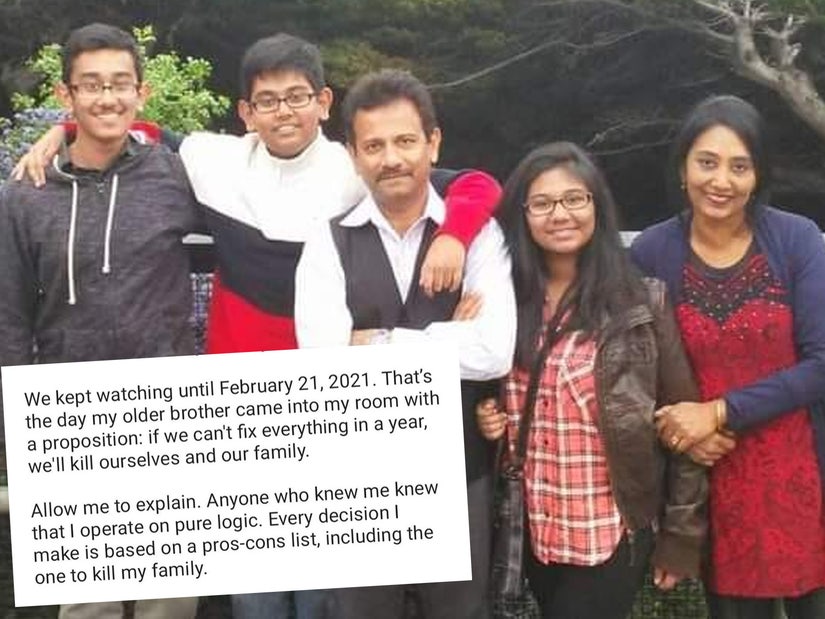 Facebook/Imgur
Plotting out his twisted logic in a note posted to Instagram, Farhan Towhid also ranted against how The Office ended.
The six people who died have been identified: 19-year-old twins Farhan Towhid and his sister Farbin, their 21-year-old brother Tanvir, their parents Iren and Towhidul Islam, and the children's grandmother Altafun Nessa.
Police believe Farhan and his brother Tanvir carried out the massacre before killing themselves.
On Monday investigators confirmed that the younger brother had posted a suicide note on Instagram, explaining the twisted logic behind his actions. While his Instagram account has been disabled, the note was widely shared online.
In it, he details four "very important issues" he has encountered in his life: 1 - difficulty getting help; 2 - people not understanding what real depression is; 3 - The Office should've ended when Michael left; and 4 - Gun control in the US is a joke.
"Hey everyone. I killed myself and my family," he begins. "If I'm going to die, I might as well get some attention."
He details how he began cutting himself, remembering the exact date he started, using a craft scissors in the tenth grade, before moving on to knives and doing it several times a week. He laments how those who knew about his depression would only offer to help, but not really mean it, as dealing with a depressed person is "a lot of work."
"The only people who really stick around are those who are obligated to," he said. When he finally opened up to his father, he said he "worked his ass off trying to help", getting him diagnosed and medicated, and enrolling him in a teen mental health camp.
Things improved; he lost weight, gained friends and "became f------ cool", excelled at computer programming and "somehow managed to get a girlfriend who was far out of my league."
"My life was perfect, but that didn't change the fact I was depressed," he wrote adding that while doubling his medication worked for a while, it was only temporary. "Every solution was always temporary."
After confessing his thoughts to his suitemate at college, he said he was kicked out of the dorm, and dropped out entirely shortly afterwards; he and his brother then spent a lot of time watching TV shows; it is at this point the note takes a sharp turn into a rant about Steve Carrell's character in The Office.
"This leads me to my third major point: The Office should've ended when Michael left," he wrote, praising the show but lambasting how it ended.
"We kept watching until February 21, 2021. That's the day my older brother came into my room with a proposition: if we can't fix everything in a year, we'll kill ourselves and our family."
"Allow me to explain. Anyone who knew me knew that I operate on pure logic. Every decision I make is based on a pros-cons list, including the one to kill my family."
He goes on to theorize that the meaning of life is happiness, and if one cannot be happy there was no point in living. He then surmises that if he were to just take his own life, his family would spend the rest of theirs in misery and guilt.
"I know I said I operate on logic, but the one emotional aspect of my life is the only reason I'm here. I love my family. I genuinely do. And that's exactly why I decided to kill them."
After originally planning to wait a year, he said they realized there was no point. "Why not wait a month?"
"The plan was simple. We get two guns, I take one and shoot my sister and grandma, while my brother kills our parents with the other. Then we take ourselves out."
"I would say that the only hard part of the plan was getting the guns, but that would be a lie."
Which brought him to his fourth and final point: "Gun control in the US is a joke."
He said his brother simply had to go to the gun store, say something about home defense, sign some forms, and that was it. When asked if he had any mental health issues, he simply replied "no." He needed no proof to show he wasn't on medication — which he was.
"Literally anyone can get a gun if they haven't been officially diagnosed,'" he wrote. "Thanks for making the process so easy."
He said he used his last few moments to get rid of all his money, trying to donate to GoFundMes, lashing out at the company for listing the already well-funded campaigns at the top.
"And now we're here," he concluded. "Well I guess my family and I aren't, but you get the point."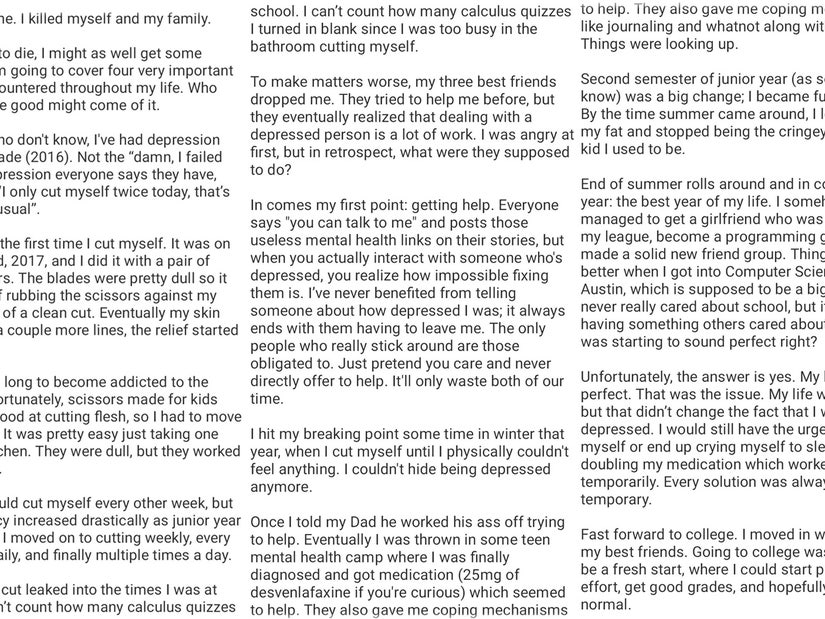 Imgur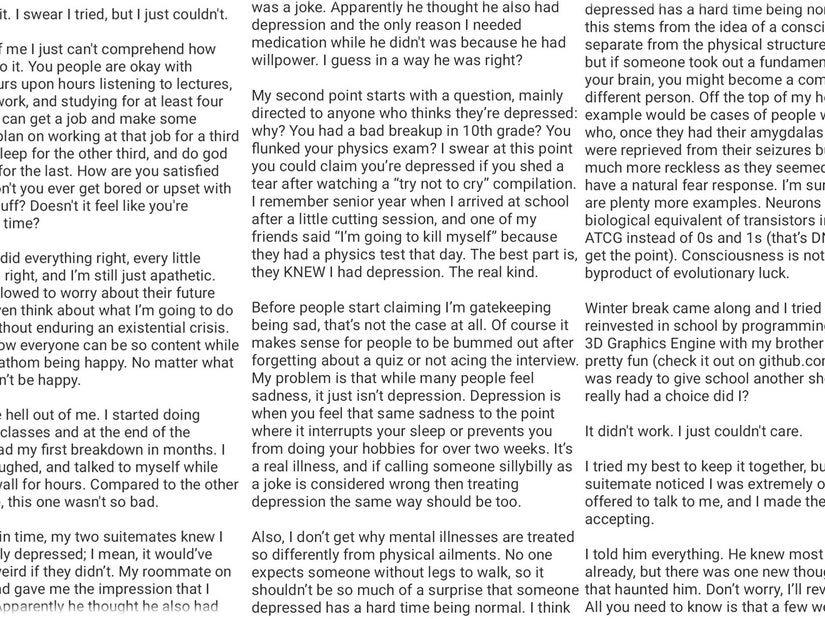 Imgur
Imgur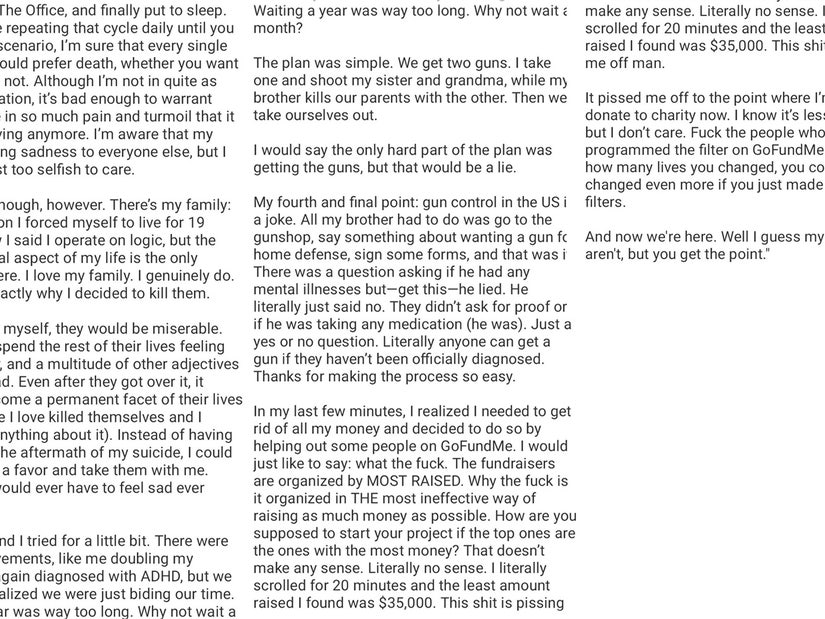 Imgur
If you or someone you know is struggling with depression or has had thoughts of harming themselves or taking their own life, get help. The National Suicide Prevention Lifeline (1-800-273-8255) provides 24/7, free, confidential support for people in distress.
original story 4/5/2021 12:51 PM
Six members of the same family in Texas are dead in what police believe was a murder-suicide pact.
Allen Police Department said they were called to a home on Pine Bluff Drive in Allen at 1 AM Monday morning to perform a welfare check.
They said a family friend had called 911 because they were concerned at least one person in the home was suicidal, WFAA reported.
When officers arrived, they found six people dead; two brothers, an older sister, their mother and father, and a grandmother. They did not reveal how they died.
Police did not specify the ages of the deceased, except that they ranged from 19 years and up.
While the motive was not immediately clear, Sgt Jon Felty told KRLD they believed the teenage brothers had a murder-suicide pact.
"It looks like two teenage sons entered into an agreement that they we're going to commit suicide, and that they were going to take their family members with them," he said.
He confirmed that there was no further threat to the public.
Investigators have not specified when the killings took place, but believe it happened some time over the weekend.
Police had no record of any previous trouble at the home of the family, who emigrated from Bangladesh.