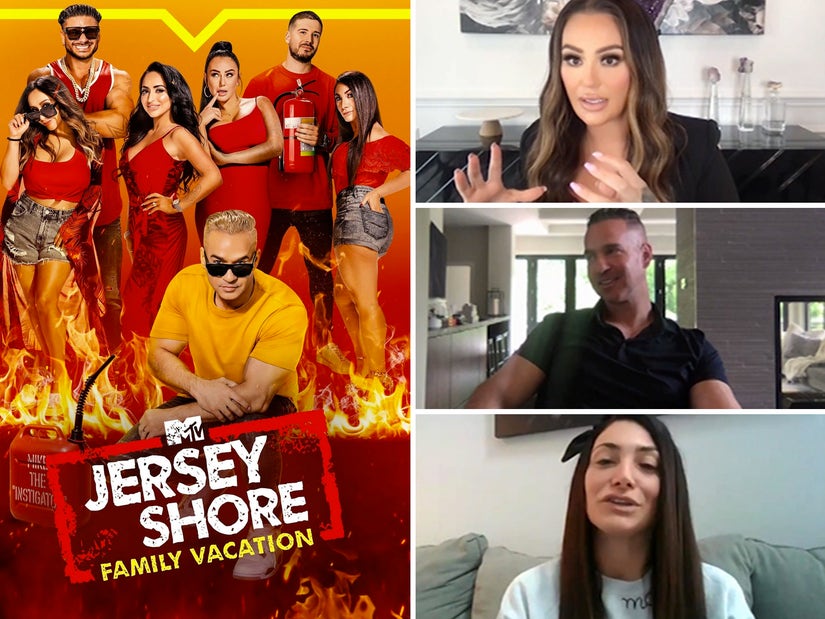 MTV/TooFab
Mike, JWoww and Deena say that when "anyone's decision in our group affects others ... somebody's going to call you out."
TooFab caught up with the trio after previewing the first episode of the season, which wastes no time getting into Angelina's marriage woes. A super-tease for the season also makes it clear that Pivarnick's wedding speech fiasco will also rear its ugly head again -- after Jenni, Deena and Nicole "Snooki" Polizzi all slammed her on social media earlier this year when Angelina was accused to leaking the speech to the press.
"Yeah, the resurrection of the wedding speech. It's just a sore spot, so anytime you hear that it was done -- something you don't like is done -- intentionally to hurt you or things of that nature, it can really bring out feelings and we're very vocal women and unfortunately those feelings were caught on camera," Jenni told TooFab.
"They're authentic, that's how we feel," she continued. "It makes for a great show but it also feels a little like that picture, that you're burning on fire during it."
Added Deena: "It all plays out on camera so you will see from the beginning to the end."
Though it seemed like the cast was all on pretty solid terms with each other at the end of the previous season, Farley said that those roller coaster emotions just come with the territory of being on a reality show.
"At the end of the day, we are making a show. We have to revisit things. It's weird because we'll film a season and finish and get over it and then we have to watch the season. You start tweeting, you start defending yourself, raw emotions get brought up and you're right back into it," she explained.
"I guess we're blessed to not learn from our past mistakes because we keep getting new opportunities to keep filming. I guess if we learn from those mistakes, we wouldn't have a show," she added. "But at the same time, it's just us being us and we're, I guess, unfortunate enough to not learn stop doing that, stop taking it to Twitter and grow the f--- up. But here we are."
And while Mike has come a long way from his party boy days on the show -- getting married, sober and becoming a father -- the trailer flirts a bit with him possibly reverting back to his "Old Situation" ways. Specifically, he's seen stirring the pot in Angelina's divorce drama, seemingly accusing her of cheating.
"It's definitely a very messy season, I think for all of us. But at the same time, I don't think I would say old Situation is back," he told TooFab.
"I think it's more so that if anyone's decision in our group or in our family affects others, there's gonna be myself or Jenni or somebody's going to call you out and say that your decisions have affected us, our family and how we're moving forward and I think that's what you see," he continued. "You see someone's decisions in the group affect all of us, there's been inconsistencies that come to light with a certain cast member's story and you see how we navigate that to the end of the season and how we get through it."
At this point, "Jersey Shore Family Vacation" has aired for more seasons and episodes than the original "Jersey Shore" series -- and shows no end in sight. When asked if they've started thinking about an "endgame" at all, the three made it clear they're in for the long haul.
"I'm comfortable with the way the situation is now. Our story continues," said Mike. "We've turned 15 minutes of fame into 15 years and if the fans and the ratings and people are still watching, we're going to make good TV. That's how I feel."
He also joked, "We're also like 15-20 years younger than the Housewives, so ..."
Angelina said the group is "forever changing" and pointed to Pivarnick's life as one reason why the show should keep going.
"Angelina's going through a divorce. I wanna see her next chapter as a fan, I want to see her trying to be single, find a relationship, do it all over again," said Jenni. "Our stories are forever changing and I feel like that's enough to keep us going."
"Jersey Shore Family Vacation" returns this Jerzday, June 23, on MTV.