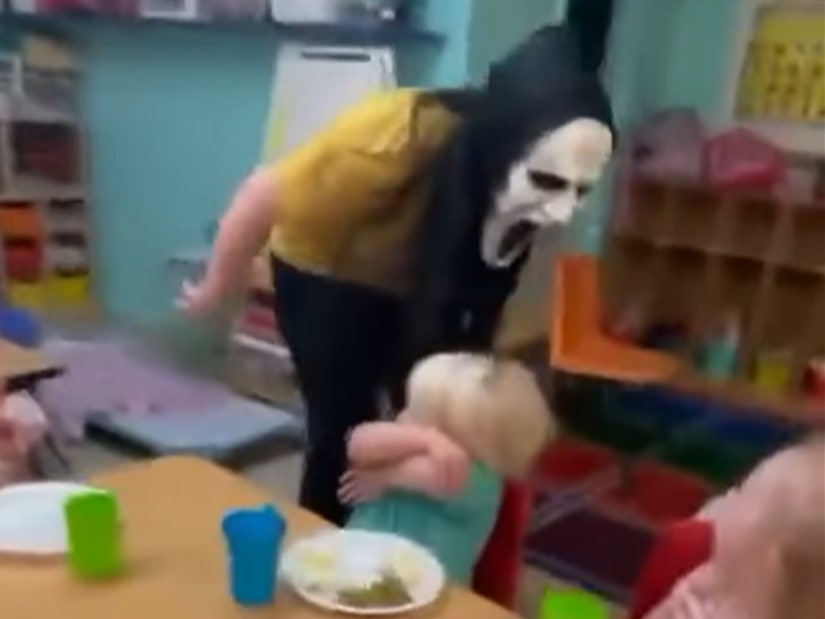 Facebook
"CLEAN UP!" one of them screamed at the kids, before chasing them around with the mask on.
update 9:45am PT October 20, 2022
Five daycare workers have been charged after video appearing to show some of them scaring children under their care with a Halloween mask went viral on social media.
"On Monday October 17, 2022 the Monroe County Sheriff's Office, the County Prosecuting Attorney, and the District Attorney met with the parents of the children involved in the incident at Lil' Blessings Child Care and Learning Center and informed them of the possible criminal charges the law would allow them to pursue," said Monroe County Sheriff Kevin Crook in a statement to ABC. "Parents were also given an opportunity to share information they had gathered with MCSO Investigators."
Per ABC, at least one set of parents signed felony abuse affidavits and a judge issued warrants for five of the center's employees, identified as Sierra McCandless, Oci-Anna Kilburn, Jennifer Newman, Shyenne Shelton and Traci Hutson.
McCandless, Kilburn, Newman and Shelton each face three counts of felony child abuse, while Hutson faces two misdemeanors -- failure to report abuse and simple assault against a minor.
"I hope you're enjoying jail and I hope you realize what you have done is serious," a mother of a child who attends the daycare told ABC. "It is not a joke and it is nothing to laugh at."
Four workers at a Mississippi daycare have been fired after video showing them scaring the living daylights out of the children in their care went viral on Facebook.
Last week, a trio of videos started making the rounds on social media, showing an employee at Lil' Blessings Child Care & Learning Center running around the building in an off-brand "Scream" mask.
In the footage, the masked employee chases after the children, shouting, "You best be good!" and "Clean up!" at them as they run, hide and cry in sheer terror. Another employee can be seen telling their masked coworker which kids were good or bad -- at one point telling her, "They're supposed to be cleaning up, monster!"
The unmasked employee can be seen laughing as well, as the children cry and scream hysterically -- while the one in the mask gets right up in the sobbing kids' faces.
The videos were reportedly filmed in September and last Tuesday, before the owner of the daycare found out about them on Wednesday morning. The owner, Shiela Sanders, told Northeast Mississippi Daily Journal that the workers had been let go.
"I contacted my licensure, and she has gotten involved," Sanders said. "The people that did those acts are no longer with us. They were fired. I wasn't here at the time and wasn't aware they were doing that. I don't condone that and never have. I just want to say it's been taken care of."
According to the Daily Mail, a woman claiming to be the employee behind the mask posted a video to Facebook exclaiming that she's "not a child abuser."
'It wasn't meant to harm anybody and it wasn't ill-intentioned. I didn't go in there with intentions to literally traumatize those children," she said. She also claimed she brought the mask to work to scare a coworker, before it was then "used inappropriately."