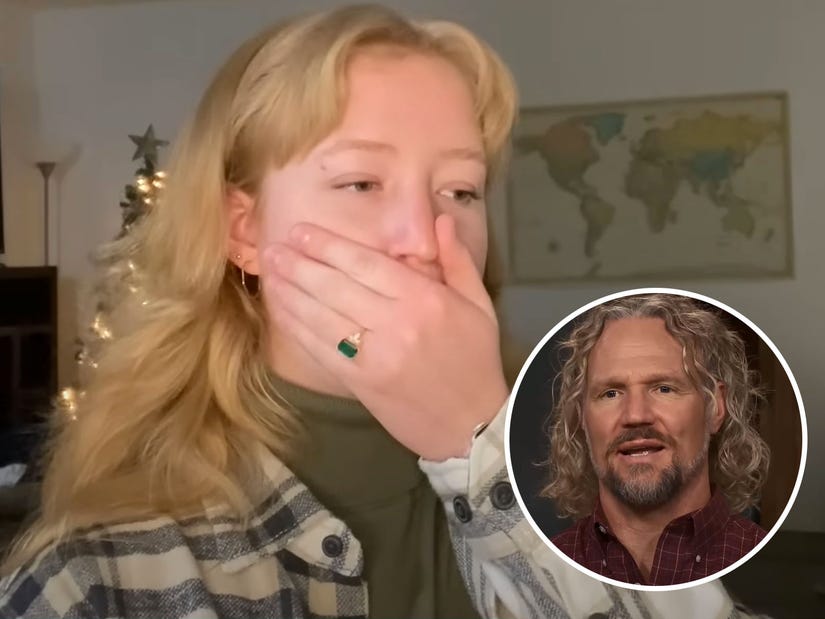 YouTube / TLC
The 21-year-old answered a fan question about a "disturbing" photo that appeared to involve her father, Kody, and her stepsister, Aurora.
"Sister Wives" star Gwendlyn Brown is setting the record straight about a "horrifying" rumor about her father Kody that has been circulating the internet.
In her latest episode recap video posted to her YouTube channel -- in which she shares her reactions to the most recent season of "Sister Wives" -- Gwendlyn, 21, answered a series of "burning questions" from fans, including one about a photo that appeared to feature Kody, 53, kissing daughter Aurora, 20.
Gwendlyn is the daughter of Kody and his ex Christine Brown, while Kody adopted Aurora and her siblings when he married his fourth wife Robyn in 2014.
Before she even shared the fan question, Gwendlyn revealed her immediate reaction, appearing to seem shocked, and possibly disgusted.
"Oh god! OK," she said with a laugh. "This is such a funny question, and like, horrifying,"
The TLC star then read the question from the fan, who asked if the "very disturbing" photo of Kody "making out with Aurora" is "real," which has circulated on social media.
Gwendlyn turned to look right into the camera as she answered firmly, denying the rumor. "No, my father does not kiss his children like that," she said.
"Obviously as kids we give him a little smooch because we're children," she added, "but no ... not at all. I'm so sorry you were tricked into thinking that. That's horrifying."
Gwendlyn is one of Kody's 18 children total and six with Christine, who announced in 2021 she was leaving him after 25 years together.
The episode in which Christine told Kody about her decision was the one Gwendlyn decided to highlight in her first video, which she posted late last month. In addition to sharing her unfiltered reaction to the episode, Gwendlyn responded to fan questions, with one of her followers wondering if watching the show has made her feel differently about her father or Robyn.
"I feel less about Robyn from watching this, but I feel like that's not very fair from me because I don't really like her as a person," she said, as the words "stepmothers and all" popped up on screen. "So it's probably not a completely valid response. But watching her makes me like her less, for sure."
She added that she did reach out to Robyn to wish her a Happy Birthday, but never got a similar message in return. That being said, she also added that, at a recent family event, Robyn "did specifically go up to my girlfriend and introduce herself and Beatrice does say she was kind and sweet, so I appreciate her at least making some sort of an attempt to reach out."