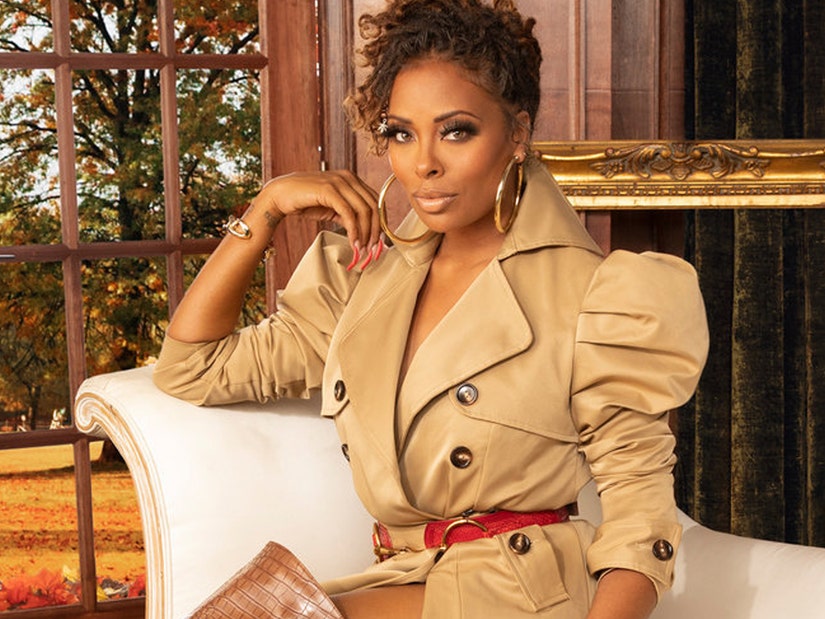 Peacock
The reality star opens up about smoking her joints on Ex-Wives Club, feeling more at ease on the show compared to RHOA and her thoughts on her new costars.
She'll join fellow "Ex-Wives Club" costars Brandi Glanville, Vicki Gunvalson and Phaedra Parks for RHUGT's fourth installment, alongside Camille Grammar, Caroline Manzo, Alex McCord and Gretchen Rossi. The season will start filming in Marrakesh very soon.
"I Googled everybody, because I don't know them," Eva admitted while speaking with TooFab. "Grammer was easy, that's Kelsey Grammer's ex-wife, but I don't know her, like if she was walking down the street I would not know her."
"Gretchen is friends with Phaedra, thank god, and Gretchen is a Scorpio. Phaedra, myself and Brandi are all Scorpios, we are that spitfire. Even though I don't know Gretchen, it's going to be great and work out really well because Phaedra, that's like her girl," she continued.
While Eva said she's not sure who Brandi -- who's always fighting with someone -- "gets along with or who she doesn't" in the new group, Marcille is happy to be going on another trip with her. "She's in the cookout, she's good," she added.
"The other ones I don't know. Alex, I don't know her, I heard that she was an actor. That's what I keep hearing," Marcille said of the former RHONY star, who did appear on eight episodes of "Once Life to Live" from 1999-2002 and had bit film roles until 2008, before moving to Australia.
"I Googled her, it said 'Actor' and I was like, yes, cool, I'm going to have a cool free spirit that's like open and usually not super judgmental. When you're an actor, you kinda gotta be open," added Eva. "But now I'm hearing maybe she's not an actor, so I don't know."
While Marcille already has a season under her belt with Vicki, she was pretty disappointed with Gunvalson's behavior on their first season together. Vicki's appearance came shortly after her nasty breakup with Steve Lodge and a battle with Covid ... and throughout the season, she wasn't exactly fun to be around. There was very little "Whooping it up" for the "Real Housewives of Orange County" alum.
"Nobody got the Vicki they wanted to get. Vicki didn't give the Vicki she wanted to give!" Eva said, looking forward to getting a different version of her this time around.
"Vicki was doing this thing called life and going through this tumultuous time, which a lot of us have dealt with. I think what made it difficult is a lot of us didn't know her personally and we didn't know what she was going through, so it felt a little standoffish and weird," Marcille continued. "Like, girl, what's the problem, we're just drinking rosé? But once we learned she just got over Covid, her boyfriend just broke up with her, she's still in love and still going through it. I was like, 'Oh, sis, you need a friend! Let's be friends.'"
"She finally came out of her shell and broke through, but by then the trip was over. Luckily, we keep a chat, we're in touch, very closely some of us, even closer than others. Vicki is one of those I talk to the most out of all the girls," Eva added. "She is in such a positive place right now, mentally. She looks gorgeous, she looks phenomenal ... she is in such a good place ... I said, 'Vicki, are you ready to whoop it up?' and she said, 'Girl, whoop it all the way up!' It's going to be a good time."
During her first "Ultimate Girls Trip," Eva's chill vibe was a welcome break from some of the other madness going on at Dorinda Medley's Blue Stone Manor -- where Brandi faced off against Taylor Armstrong and the group fought about vaccines.
"I'm sitting over there smoking a joint. That's what I wanted to be," said Eva, who was seen lighting up throughout the season and taking in the drama almost as if a viewer would at home.
"I didn't want to be what anyone wanted me to be, because that never lands and no one is always happy, so no matter what you do, someone is gonna say, 'I wish you would have done the opposite,'" she said of just being herself on the season. "In life, my little 38 years of living, of triumphant failures, I've learned to do what makes me happy and make sure what I'm doing that makes me happy doesn't harm anyone else in the process."
"So I would sometimes join in on what's going on, but if you guys are arguing and it does not serve me and there's a fresh spliff sitting right there, why would I argue with you?" she added. "A regular person wouldn't do that. You would go over, drink your wine and smoke your joint, right? So I just did what normal people do, that's all."
She added that she was much "more at ease" doing "Girl's Trip" compared to her years on RHOA.
"I think the biggest thing was the fact that I wasn't pregnant. I was pregnant the entire time I did Housewives. I either just had a baby and planning a wedding or having a baby. I was always pregnant," she said. "So there was no go on the balcony and smoke a doobie with Cynthia."
"There was no just go and have a night and get drunk with ... well, Kenya doesn't drink, but give Kenya a glass of wine and she is lit. Me and Cynthia need a couple margaritas, but Kenya is so much fun, you give her one glass and she's ready to dance and twirl her hair, but I could't do any of that because I had a big 'ol baby in my stomach," she continued. "Now you get the me, the only thing I'm protecting is my peace. I don't need to worry about protecting my baby in my stomach, my kids are at home, I can protect my husband, I got him. It's just me. Life is for the living and I'm here to live it."