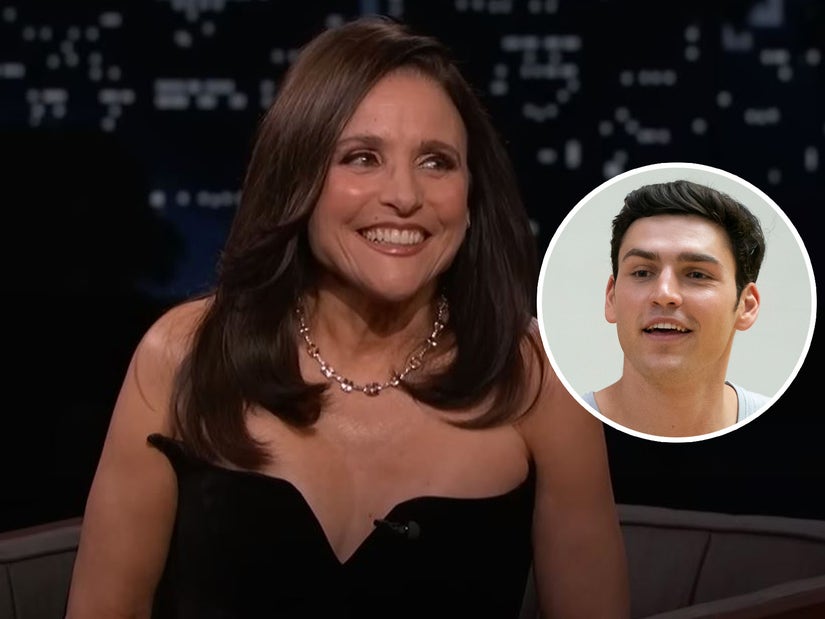 ABC/HBO Max
"He was f---ing some girl in the library," she said of her son, Charlie Hall, who stars in the HBO Max comedy.
There's no doubt that Julia Louis-Dreyfus is supportive of her son's acting career -- as she's just revealed that she's even watched him act in sex scenes!
While appearing on Tuesday's episode of "Jimmy Kimmel Live!" the actress admitted that she has seen the HBO Max comedy, "Sex Lives of College Girls," which stars her 25-year-old son, Charlie Hall, and shared her hilarious reaction to watching him on the small screen.
"It's a very racy show," Louis-Dreyfus, 62, said to Kimmel, who then jokingly asked the "Veep" star, "Do you watch the show in fear that you might see something you haven't seen for a while?"
In reply, Louis-Dreyfus said, "I mean, I did watch the show. I think he was really great, I mean, he was adorable."
"He was f---ing some girl in the library," she added with a laugh, "I thought it was dynamite!"
"The Sex Lives of College Girls," which is co-created by Mindy Kaling, follows four roommates -- Kimberly (Pauline Chalamet), Bela (Amrit Kaur), Leighton (Reneé Rapp) and Whitney (Alyah Chanelle Scott) -- and their adventures in college.
Hall had a recurring role in Season 2 as Whitney and Bela's biochemistry classmate, Andrew, who becomes the former's love interest. The two share a few intimate scenes, including one moment in the university's library, which was undoubtedly what Dreyfus was hilariously referring to.
Meanwhile, elsewhere during her interview with Kimmel, Louis-Dreyfus opened up about appearing in the Marvel Cinematic Universe as Contessa Valentina Allegra de Fontaine, sharing that Charlie and her eldest son, Henry, had been wanting her to be in a Marvel project for some time now.
"My adult sons are huge Marvel fanatics," said Louis-Dreyfus, "and for a long time, they were like, 'Mom! You should be in a Marvel movie! You've gotta be in a Marvel movie!' I'm like, 'Oh yeah, they're never gonna want me to be in a Marvel movie.' And then they did! ... Little did I know."
Louis-Dreyfus made her first appearance as Val in the MCU Disney+ series, "The Falcon and the Winter Soldier," and popped up in the post-credits scene of 2021's "Black Widow." She also reprised her role in the 2022 film, "Black Panther: Wakanda Forever," and will again return as Val in the upcoming film, "The Thunderbolts."
The Emmy winner said The Thunderbolts -- an antihero team -- are the "good guys who are doing bad. Bad guys who are doing good."
Louis-Dreyfus shared that Val "straddles both worlds of good and bad," before noting, "I think it's a little bit unclear. It's certainly unclear to me."
"The head honchos at Marvel, and they're all wonderful people, and they were explaining to me the character and who she's going to be dealing with and this universe and that universe and I'm listening and listening," she explained. "I had a similar experience as like when I'm listening to my accountant tell me about my taxes. I'm trying really hard to focus ... I just keep asking my boys: explain to me what this means."