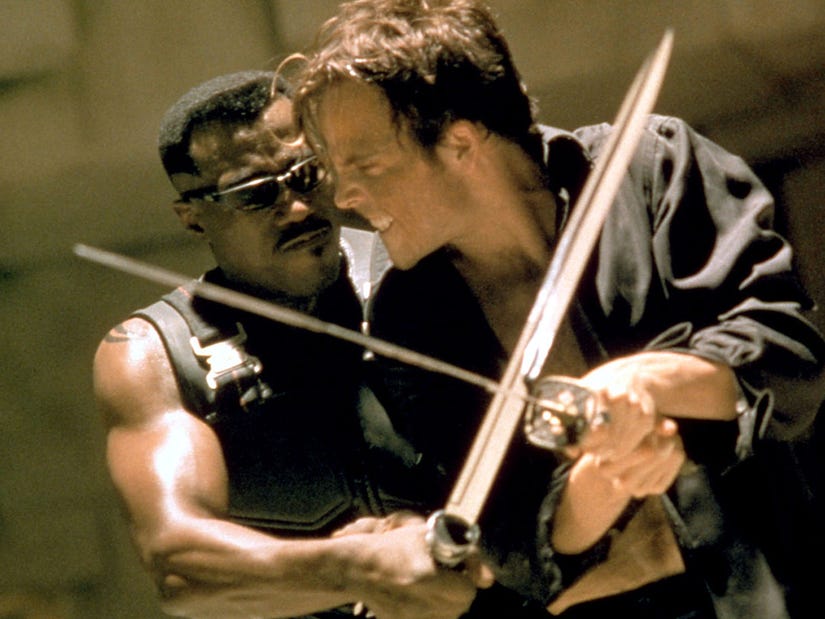 Everett
"Nobody's remembering Black Adam at the end of the day. I didn't even see that movie, it looked so bad."
Sounds like Stephen Dorff would love to return to comic book films ... if only they weren't so terrible.
Dorff, who played villain Deacon Frost in the first "Blade" movie with Wesley Snipes back in 1998, opened up about his overall disappointment in the genre today and expressed his skepticism about Marvel bringing the half-vampire vampire hunter into MCU proper with an upcoming film starring Mahershala Ali.
When asked whether there were any genres he'd like to either try or "revisit" by The Daily Beast, Dorff went straight to comic films.
"I love all kinds of movies. If comic-book movies were more like when I started when we made 'Blade,' or the few that have been decent over the years, like when Nolan did 'The Dark Knight' and reinvented Batman from Tim Burton, who's obviously a genius ... when they were interesting, like when [director Steve Norrington] did 'Blade,' and [Guillermo del Toro, who directed 'Blade 2'] was f---ing around in it," he told the outlet.
"But all this other garbage is just embarrassing, you know what I mean? I mean, God bless them, they're making a bunch of money, but their movies suck," he continued. "And nobody's going to remember them. Nobody's remembering 'Black Adam' at the end of the day. I didn't even see that movie, it looked so bad."
Noting that Marvel is "used to me trashing them," he then asked, "How's that PG 'Blade' movie going for you, that can't get a director?"
While there is no inclination the movie will be rated PG and, like most MCU films, will be PG-13, the film has hit a few rough patches in its production. The movie was first announced at Comic-Con back in 2019 and originally had Bassam Tariq attached to direct. He left the project in 2022, before Yann Demange took his place. The script has also had several writers attached at different times.
"Anybody who goes there is going to be laughed at by everyone, because we already did it and made it the best," added Dorff. "There's no Steve Norrington out there."
Dorff said he'd be more interested in "mainstream" movies in general "if they were good."
"But if the one or two a year that happen don't, for whatever reason, cast me in a role," he added, "I'm not going to lose sleep over it because I wasn't one of fifty people in 'Oppenheimer.' I mean, it looks cool, but to me, unless you're playing 'Oppenheimer,' I don''t want to be in that movie."