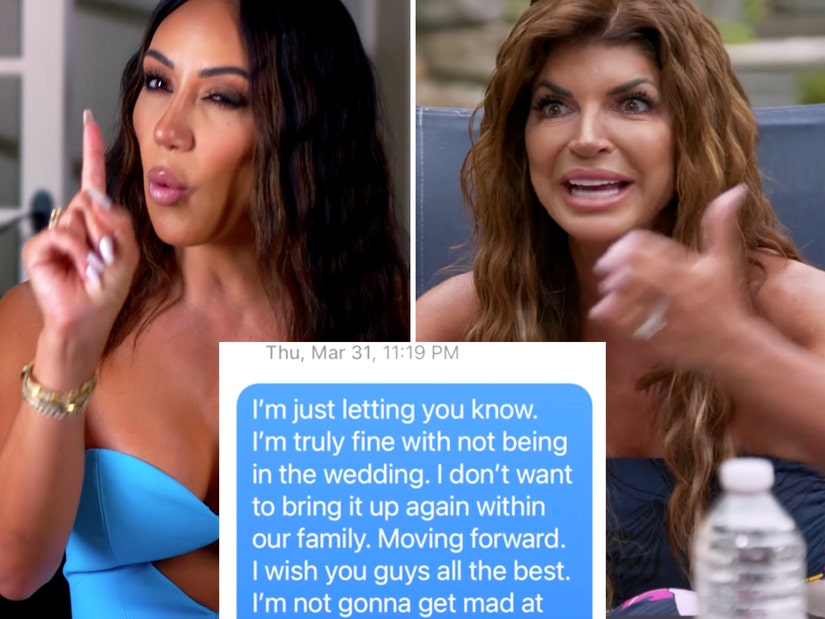 Bravo
"I texted you driving home from the reunion and you never answered back until now?"
While Teresa and both her brother Joe Gorga and sister-in-law have had issues with each other for years, they really exploded during the show's 12th season and subsequent reunion. Things between them got so bad, Teresa didn't even include Melissa in her wedding party -- and the Gogas wound up skipping her wedding to Luis Ruelas altogether.
The Season 13 premiere found Melissa planning a '80s-themed roller skating party and extending an invitation to Teresa to attend. "I don't want to leave anyone out," she said, as Joe reminded her that Teresa cut her out of the wedding. When they filmed this episode, the wedding hadn't happened yet -- it'll air later this season.
"Picking one person who is your only brother's wife and saying I'm going to exclude you is a big f--- you," he said, after the family went at it over the subject at the reunion. Melissa then showed off her text messages to and from Teresa following the reunion blowup, in which she appeared to try and smooth things over.
"I'm just letting you know I'm truly fine with not being in the wedding. I don't want to bring it up again within our family. Moving forward. I wish you guys all the best," she wrote. "I'm not gonna get mad at you for what Jennifer does and you shouldn't get mad at me for what Margaret does. Goodnight."
Gorga said Giudice never responded to the message, which she sent moments after the reunion. Instead, she said she heard from her "two months" later, when Teresa invited her to a birthday celebration. Melissa's response: "Teresa, I texted you driving home from the reunion and you never answered back until now."
They didn't attend the birthday party -- which Joe called "sad" -- but said they did send flowers.
Teresa, meanwhile, gushed over Louie's family, calling them a "dream" who all lift each other up -- before saying she thinks Melissa is the one who has a real problem with her and Joe is "just following along." In a confessional, she added, "What's been going on, it's been very tumultuous, very toxic. Now that I have Lou's family, it's filling that void that I didn't have before."
Despite the drama, Teresa and Louie did show up to Melissa's party, though the latter didn't dress up and things remained chilly between her and her family members. "I came to your party and you don't even speak to me. Why did you even invite me?" Teresa wondered in a confessional.
Later in the hour, Teresa also met up with Margaret Josephs to hash out some of their drama, after Margaret kept bringing up some unsavory stories about Luis all last season. During the conversation, Teresa said she iced Melissa out of her wedding because Melissa didn't stand up to Margaret throughout Season 12. "I felt like my brother and Melissa should have said to you, 'Nobody speaks badly about Louie,'" she said, "and that's why I didn't ask her to be in my wedding."
At one point last season, Teresa texted Melissa to "Please don't talk about Louie," before Gorga turned around and read that text on camera. That, Teresa told Margaret, was all a test ... and one Melissa failed, hard.
The episode ended with all the House Husbands showing up to film a sexy calendar, which Joe showed up to despite not really wanting to be that close to his sister.
"I clearly don't want to be around her. By X-ing my wife out of the wedding, it just shows she doesn't give a s---," he said in a confessional. "You don't care about this family, keeping us together, so what do I gotta say?"
At the shoot, Margaret filled both Joe and Melissa in on her meeting with Teresa and Luis, during which the latter said he felt Melissa was an "insecure" woman. Hearing that set Melissa off.
"That's f---ing insane. Me telling everybody, 'Hey guys, she doesn't want to talk about Louie,' makes me a very insecure woman?" she exclaimed. "It's like how about I don't give a f--- anymore, how 'bout that?"
The Gorgas, however, didn't confront Teresa or Louie ... yet anyway.
"Real Housewives of New Jersey" airs Tuesdays on Bravo.