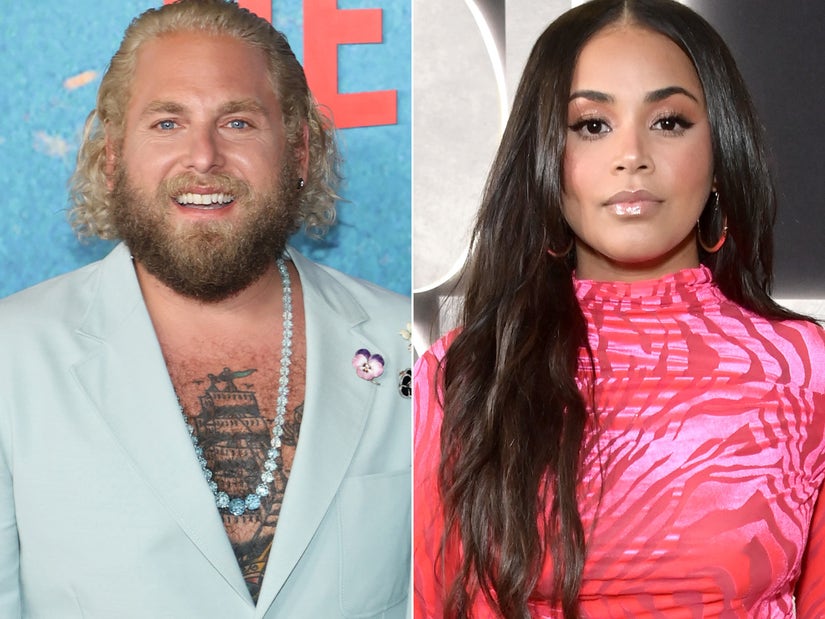 Getty
Comedian Andrew Schulz shares what he claims really happened on the set of the Netflix film.
One of the most challenging uses of CGI isn't epic space battles or supernatural monsters or even creating fantasy worlds. It's faking the world outside our windows. Or how about a kiss?
One of the stars of the Netflix film "You People" is alleging that this is exactly what happened in the climactic scene of the movie when Jonah Hill and Lauren London finally locked lips.
Only they didn't, according to comedian Andrew Schulz, who portrayed cousin Avi.
The comic broke it down during a discussion of the film's unexpected controversy on the latest episode of his podcast with Charlamagne Tha God, "The Brilliant Idiots."
Guest Nyla Symone jumped on the social media bandwagon asserting that the lead couple of the Kenya Barris film, played by Hill and London, just weren't believable as a couple. Fans (and Symone) just weren't buying their chemistry.
Maybe there's something to it, as Schulz said the filmmakers actually resorted to using special effects for their most intimate moment.
"There's a hilarious thing -- I don't even know if I should share this s---, but the final scene, they don't even kiss," Schulz claimed. "It's CGI. Swear to God."
In the film Ezra (Hill) and Amira (London) follow up their marriage vows with a kiss. This should, obviously, be a moment filled with visible love and chemistry. Could that be why fans just weren't seeing it?
Schulz went on to offer more detail when his co-host expressed incredulity that they would use special effects for a kiss, of all things. With all the expenses in the film, wouldn't it just be easiest to have the two stars lean in and, you know, actually kiss.
"I'm there, I'm watching the wedding, and I see them go in for the kiss, and their faces stop like this far," Schulz said, holding his hands about six inches apart. "I'm like, 'I wonder how they're gonna play that in the movie. Oh, they're probably just gonna cut right there.'"
In other words, Schulz had no idea that the filmmakers would go into post and add a kiss with special effects. As he described the final product, "You could see their faces come close, and then you could see their faces morph a little bit into a fake kiss."
As noted by The Hollywood Reporter, London herself had expressed concerns that this relationship wouldn't be believable to audiences. She was reluctant to sign on for just that reason, telling Harper's Bazaar, "I thought, 'Why would these two people really like each other?"
"We have to showcase a real connection," she continued. "They're from two totally different worlds, and if you see them, you would never think that they would meet or hang out, whatever the case is."
Upon its release, fans quickly started to criticize the film and, exactly as London predicted, they did not buy the chemistry between Hill and London. Is that because there wasn't any on the set, either? TooFab has reached out to Netflix for comment.