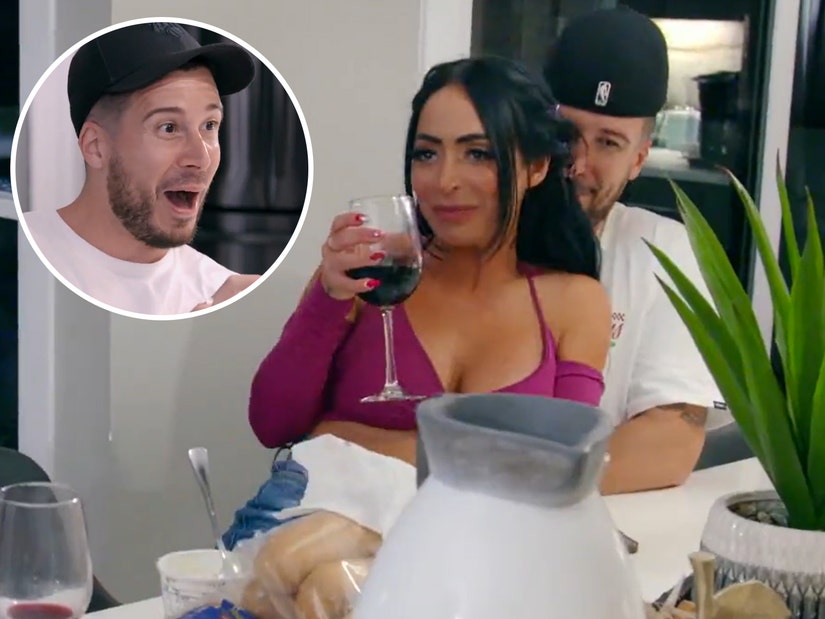 MTV / Twitter
"What do I do to make him not think I'm a joke?" she asks Pauly -- after giving one of the "most un-sexual" lap dances ever.
The two, of course, hooked up way back on Season 2 of the original series and have maintained a will-they-won't-they vibe ever since. Tonight, Angelina made it clear she's still interested in going there again with Vin ... but her approach left a lot to be desired.
After the group went to "The Carolinas" ahead of a cornhole competition for Mike "The Situation" Sorrentino, they started throwing back some drinks at their rental, leaving Angelina with some "beer goggles" that started to make Vinny "look pretty good" to her.
While the pair (playfully) flirted with each other, Vinny mock choked Angelina and started giving her orders around the house. "I need somebody that's going to put me in my place, in a sexy way, that makes me want to bang him," she said, before she started flashing her costars and asking Vinny to take her to the "Smush Room" in the basement.
"Angelina is trying to get me to go to the Smush Room but she's not sexy with it. She's too messy and aggressive," he said in a confessional, while also turning down her advances in person as well. He added: "She's just too rough. It's not sexy. If she ever gave me a reason to be attracted to her, I'm open to it."
Angelina then tried to prove she is sexy by giving Vin a lapdance while their costars watched. She failed miserably.
"Angelina is like literally stepping on my balls," exclaimed Vin, before Jenni "JWoww" Farley said, "This is the most un-sexual lap dance I have ever witnessed. That was vile."
As Vinny then retreated to his bedroom for a moment, Angelina went outside with Pauly D and asked him, in earnest, what she had to do "to make [Vinny] not think I'm a joke?" Pauly had no advice, before Nicole "Snooki" Polizzi told her, "He was waiting for you to be sexy and you weren't."
In a solo confessional, Angelina claimed that "when Vinny and I are alone, he's extra sweet to me and I actually enjoy his company." She added, "He makes me think, 'What if?'"
She was next seen in a sloppier confessional alongside JWoww, telling her costar that she "really" likes Vinny.
"What's Vinny's excuse? I don't understand. He was so in it for me in the beginning," said Angelina. "I've known Vinny for a long time, like junior high school, I know he doesn't take me seriously at all."
"You're gorgeous, you're beautiful," Jenni told her, before adding she thinks Vinny can't take her seriously because she acts like "a trucker."
In the episode's final moments, Angelina doubled-down on her true feelings. "I've always liked Vinny," she told Jenni, "If Vinny was gonna be hands on, full blown balls to the wall, all in, I would date Vinny full blown."
"Jersey Shore Family Vacation" airs Thursdays on MTV.