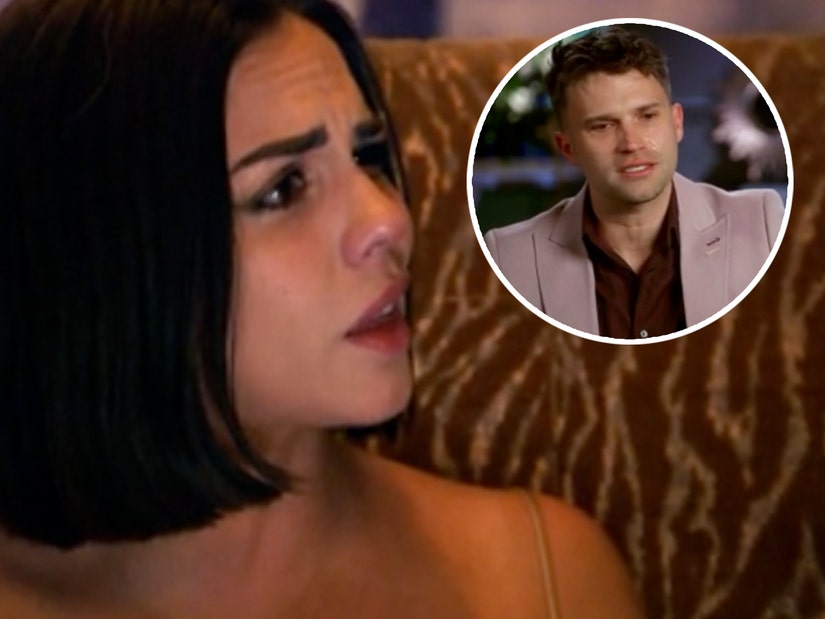 Bravo
Tom starts crying as he compares himself to Ryan Gosling in The Notebook.
Going into the opening, Maloney was feeling conflicted about the whole thing, as the bar was a source of conflict for the pair before they divorced.
"I'm trying to be excited for Tom, but this bar has a very complicated history. It put a massive strain on our relationship," Maloney explained in a confessional. "It just was a lot more of a presence in my life than I thought it would be, without me having say over it."
At the main event, the two sat down to do a shot together ... but the celebratory moment quickly became an emotional one as Katie started to vent her frustrations about not only the bar, but their relationship as a whole. After she said the place had a great "vibe" and told him he worked "really f---ing hard" to get it opened, he began to acknowledge just how distracted the whole process made him.
"There's no amount of success that could ever replace not being with my family when they needed me the most, not being there for you when you ... you didn't need me but, I just feel like I got sucked into a parallel universe," he told her. "And, of course, I let myself get sucked in."
"It nearly broke you and it nearly broke me. It broke us, kinda," she responded, before asking, "So, was it worth it?"
"Don't say that. Jesus, I don't know how to answer that. I just don't want you to think that I chose this place over you. I didn't," he said -- before she made it clear the bar wasn't the only thing that came between them.
"You chose a lot over me. You never chose me in any side, in any argument, even when it was me having your back in things. It made me feel like you don't like me," she said through tears. "A lot of things I was choosing to ignore and choosing to just try and live with and think that was okay and that wasn't okay."
"I'm sorry. I'm trying to move forward and not beat myself up too much, but I'm self aware," he said, before he said he wasn't even sure whether it was all worth it either. He was then seen in tears as well in his own confessional, as he reflected on what he could have done differently.
"I was watching 'The Notebook' the other day. I was watching that scene with [Ryan Gosling] and it's pouring rain and he's like, 'It was never over, it's still not over.' And I was like, maybe I should have had a little more of that, really fought for her," he said. "But I think I would have been prolonging the pain and make her suffer and just detracting from her happiness."
For Katie, the bar was just the personification of all their "marital issues and arguments" -- as she joked in her own confessional, "This bar was basically the other woman in our marriage and I'm standing inside of her now."
"Vanderpump Rules" airs Wednesdays on Bravo.