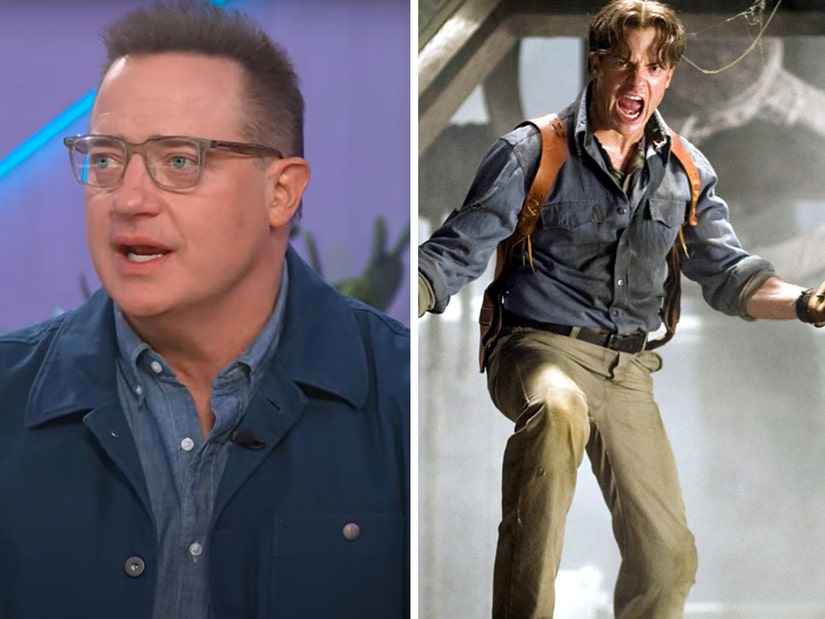 NBC/Everett Collection
"The next thing I knew, my elbow was in my ear, the world was sideways, there was gravel in my teeth, and everyone was really quiet," Fraser recalled of the near-death experience on the set of the 1999 film.
It's safe to say Brendan Fraser gave his performance in "The Mummy" his all -- as it almost cost him his life!
During an appearance on Tuesday's episode of "The Kelly Clarkson Show," the 54-year-old actor revealed he "nearly" died while shooting a scene for the 1999 flick in which she starred as Rick O'Connell.
When Clarkson brought up "The Mummy," asking if the movie was the one of where he "almost died" while filming a stunt, Fraser replied with a laugh, "Nearly. Well, I was choked out accidentally."
Noting that it went down while filming a "hanging sequence," Fraser recalled, "I was standing on my toes like this, with the rope [around my neck], and you only got so far [you can move]," he recalled. "And [director Stephen Sommers] ran over and he said, 'Hey, it doesn't really look like you're choking -- can you sell it?' And I was like, 'All right, fine.' So I thought, 'One more take, man.'"
"And the camera swooped around, and I went up on the toes, and the guy holding the rope above me, he pulled it up a little higher and I was stuck on my toes -- I had nowhere to go but down," he continued. "And so he was pulling up, and I was going down."
Fraser added, "The next thing I knew, my elbow was in my ear, the world was sideways, there was gravel in my teeth, and everyone was really quiet."
The Screen Actors Guild Award winner alluded that he essentially passed out, before the film's stunt coordinator then woke him up with a few claps. After Fraser came to, the stunt coordinator praised him for his dedication to performing the stunt.
"'Congratulations, you're in the club -- the same thing happened to Mel Gibson on Braveheart,'" Fraser told Clarkson, jokingly adding, "Thanks, I think?! I wanna go home!"
In an interview with The Telegraph last month, Fraser reflected back on the physically brutal early years of his film career and just how much damage it did to his impressive physique.
"I'm older now; I don't look the way I did in those days, and I don't necessarily want to," he said.
While Fraser was perhaps the most physically ripped he'd ever been at that time, it came at a tremendous cost -- that and his incredible physicality in those roles.
"I got a little banged up from years of doing my own stunts and needed a surgical fix on the spine and the hinges," he said, referring to a partial knee replacement and other surgeries including one to remove a portion of bone from his lower back and even vocal cord repair.
It got so bad that by the time he was filming the third film in the "Mummy" franchise in 2007, he was putting himself "together like a gladiator with muscle tape and ice packs, strapping on this Transformer-like exoskeleton just to get through the scene."
"Those physical performances, whether fighting, dancing or comedy, had an element of self-sacrifice," he said. "But it wasn't very clever of me at all."
Fraser has received critical acclaim for his performance in "The Whale," with the actor receiving 2023 Oscars, Golden Globes, Critics' Choice, BAFTA and SAG Awards nominations. He took home the SAG Awards on Sunday night, and won the Critics' Choice Award last month. As for whether Fraser will take home the Oscar? We'll have to see when the 95th Annual Academy Awards air live on ABC on March 12.