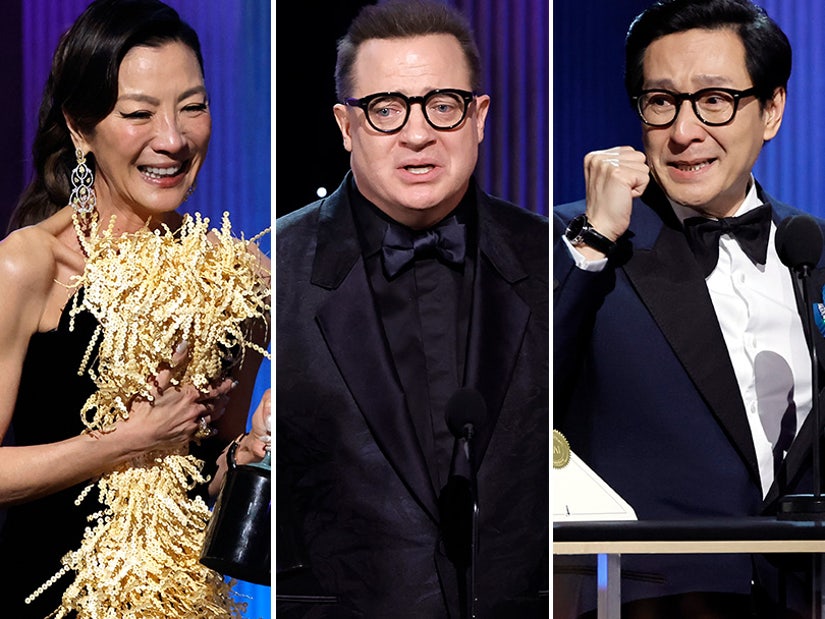 Getty
Fraser and Quan both celebrate their return to acting with big wins for "The Whale" and "Everything Everywhere All at Once," which also won for Yeoh, Jamie Lee Curtis and Motion Picture Cast.
Michelle Yeoh, Jamie Lee Curtis, and Ke Huy Quan all took home acting honors. It was the first for Quan, who had stepped away from acting since breaking out as a child star in "The Goodnies" and "Indiana Jones and the Temple of Doom" due to a lack of roles.
His performance in "Everything Everywhere" and all the awards and nominations he's been racking up have left the actor moved and humbled by the warm reception of his return to Hollywood and the spotlight.
It was a sentiment echoed almost exactly by Brendan Fraser's performance in "The Whale." The actor, who was a staple on the big screen in the 1990s, walked away from acting after an alleged incident involving the then-president of the Golden Globes (who denies it).
Both men returned to their craft in fine form, earning accolades and so much love. Sunday night's awards, in particular, carry extra weight for all the actors present because it is acknowledgement from their peers.
To get that type of acknowledgement after having stepped away from the industry for so long is more than just affirmation, it's a testament of love that left them both in tears as they accepted their trophies.
Fraser was affable and charming in his humility, opening his speech by reaffirming to himself, "I'm smiling, I'm breathing, that's half the job."
He talked about receiving his first SAG card in 1991 and finally feeling like he belonged before talking about how he felt a connection to his film character in "The Whale."
"He's someone who is on a raft of regrets but he is on a sea of hope," Fraser said. He went on to say that he's been on that same sea riding that same wave through highs and lows.
"All the actors out there who have been there and gone through that, I know how you feel," said Frasier. "Believe me, if you just stay in there and put one foot in front of the other you will get where you're going."
There was perhaps no winner more excited than Quan, who literally ran up to the stage. He shared that this win for him was even more poignant than the personal acceptance and accomplishments it represented.
"Recently, I was told that if I were to win tonight, I would become the very first Asian actor to win in this category. When I heard this, I quickly realized that this moment no longer belongs to just me. It also belongs to everyone who has asked for change."
He went on to say that he stepped away because there were "so few opportunities" for Asian actors. "The landscape looks so different now than before, so thank you so much to all of you in this room and everyone who contributed to these changes," he added.
Yeoh, who celebrated her own perseverance when she won her first Golden Globe after 40 years for this role, echoed the sentiment with her win.
"This is not just for me, this is for every little girl that looks like me.," she said. Yeoh went on to curse adorably in her enthusiasm and emphasize, "Thank you for giving me a seat at the table because so many of us need this, we want to be seen, we want to be heard."
When the film won for Best Cast, 94-year-old legend James Hong talked about the earliest days of his career when they would dress up white actors in yellowface because they didn't believe Asians could lead films or bring in box office money. "Look at us now!" he trumpeted, flanked by the film's cast.
He even dubbed Jamie Lee Curtis an honorary member of the community because "Lee is a good Chinese name."
For her part, Curtis proudly proclaimed both in her "I Am an Actor" intro and upon accepting her own SAG Award that she is a "nepo baby." She acknowledged the privilege while saying that she's so proud to love acting and actors like her parents and husband.
"I love the job we get to do, I love being a part of a crew I love being a part of a cast," she said. "I love what we do with each other; it's such a beautiful job."
"I know you look at me and think nepo baby, that's why she's there and I totally get it," she continued. "But the truth of the matter is I'm 64 years old and this is amazing."