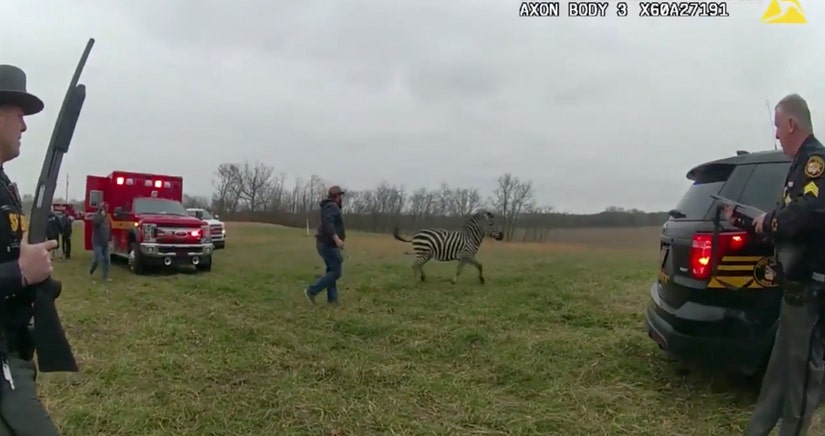 Fox News
"You got attacked by a what?" asked a stunned 9-1-1 operator, before police body cam footage showed the wild scene unfold.
A Zebra was put down by deputies in Pickaway County, Ohio this week after police responded to an extremely out of the ordinary call to a local farm.
On Sunday night, 9-1-1 operators received a call from 72-year-old Ronald Clifton, who reported he just "got attacked by a zebra." The operator was clearly stunned by the man's claim, asking, "You got attacked by a what?!" before asking if the animal bit his arm.
"Oh hell yes, I think he tore my arm off," said Clifton (via Fox News), who then asked for authorities to send a helicopter.
Deputies found Clifton on the ground, in pain, when they arrived. As police applied a tourniquet to the victim, the zebra reportedly charged the door of one of the cruisers and acted "very hostile." They momentarily scared it off with the siren.
On bodycam footage from the scene, the police are seen asking a farmhand if there's "a way for you to keep [the zebra] back," adding, "We're trying not to shoot him." The man chased it off again with a stick, but it wasn't long before the animal slowly started to make its way back toward the deputies.
Clifton's family warned the responding officers to "keep looking at" the zebra and instructed them not to turn their heads away from the animal. Per the police report, the family also said police could shoot the animal if it got too close. According to Sheriff Matthew O. Hafey (via ABC News), the officers were eventually forced to "put down the zebra because it became aggressive towards deputies and other people on the scene."
Clifton was rushed to the hospital and his family said he won't lose his arm.
According to ABC, the reason behind the animal's attack is unknown -- though officers speculated the male zebra was territorial of female zebras at the farm; it also could have been scared by ongoing work on the property.
FYI: Per Ohio law, zebras aren't classified as exotic animals and are categorized as horses. It's unlikely the remaining zebras will be removed from the farm.