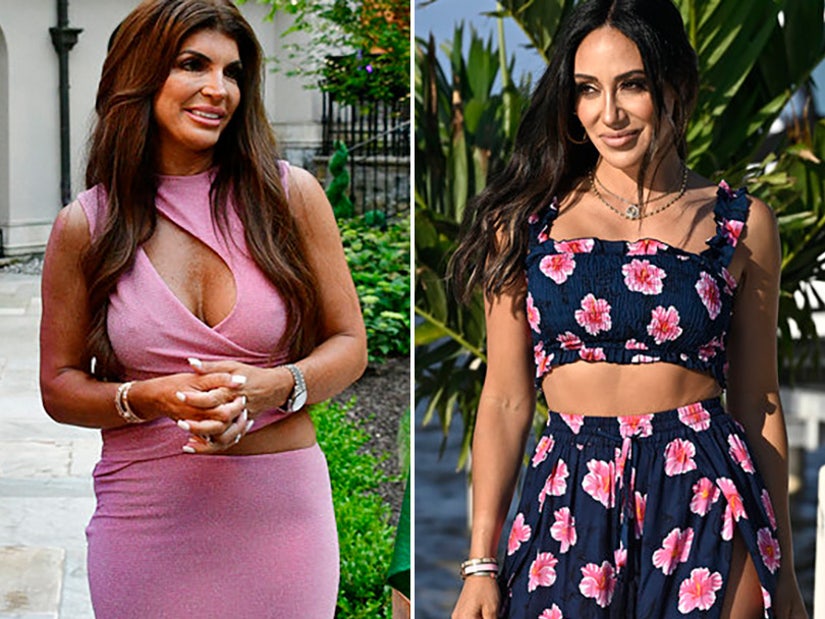 Bravo
"Are you gonna blame Antonia for something right now?" Melissa Gorga interrupts sister-in-law Teresa Giudice on "Real Housewives of New Jersey, "Don't even say her name if you're going to say something negative."
It all went down during a trip to Ireland on the latest episode where things had actually been going pretty smoothly for the ladies ... until Rachel Fuda asked about the ongoing feud between Teresa and Melissa Gorga's families.
Her question was whether or not the fallout between the parents had impacted the cousins, asking if they were still close despite everything. "Well, they were," Teresa began. "And then Antonia didn't come--"
At this point, Melissa's mama bear came out and she immediately interrupted her sister-in-law, shouting, "Are you gonna blame Antonia for something right now? Don't even say her name if you're going to say something negative.
Well, Teresa took that piece of advice and tucked it away in her pocket where she could promptly forget all about it. Instead, she went on to finish her thought, telling Rachel that her daughter Melania "was so hurt that Antonia didn't go to her Sweet 16."
Melissa explained that Antonia had a good reason for missing the event, as she had previously missed a cheer competition and if she missed this one, she'd be booted from the team.
She also pointed out that Teresa's daughter Gabriella had missed out on her son Gino's communion because she had to compete in a soccer tournament, and this was understood and accepted by everyone. So why the different reaction to Antonia's conflict?
Teresa instead accused Melissa of playing "tit for tat." She did, however, say that she wasn't trying to come down on Antonia for missing out; she just wanted the kids to stay close.
For Melissa, though, it was the fact that Teresa would bring up Antonia in this light after it was Teresa who got upset over Jackie Goldschneider making comments about her daughter, Gia.
Still fuming after lunch, Melissa filled her husband, Teresa's brother Joe Gorga, in on what had just gone down. "You talk about your own kids, don't you dare say my daughter's name or bring her up in a negative light," she said.
"That's where I draw the f---ing line," she continued. "I'm not playing the game, I'm not pulling in the next generation." Melissa called bringing the kids into their feud an "all-time low."
Joe agreed, calling Teresa a "hypocrite" and saying that he thinks she's trying to push them to "look bad" publicly. He urged his wife not to let Teresa win, but Melissa was too incensed in the moment.
"At this point I feel so far gone from her," Melissa said. "I swear for the first time ever it like ran through my body that I'm like, 'I'm not sure we belong at the wedding.'"
There is, of course, reason to believe things will only get worse from here -- or at the very least not improve -- as Melissa and Joe did in fact skip out on Teresa's August 2022 nuptials to Luis Ruelas.
Instead, the couple appeared to enjoy a day at the beach after Joe had posted to his Instagram Story the comment, "Blood doesn't make you family," per E! News.
Earlier in the episode, Teresa had opened up about the moment she realized she "was done" with her own Joe, ex-husband Joe Giudice. For her, the moment came when her mother died five months into Joe's prison sentence.
She said that despite having "such resentment" toward her husband at the time, she fought for him because of their kids.
"Then when he did get deported, I even said to myself, Let me see how I feel when I see him, and I felt nothing," she said. "That's when I knew it was over."
She did say that she and her ex in a "very good" place today as co-parents to their children, and that their relationship is great.