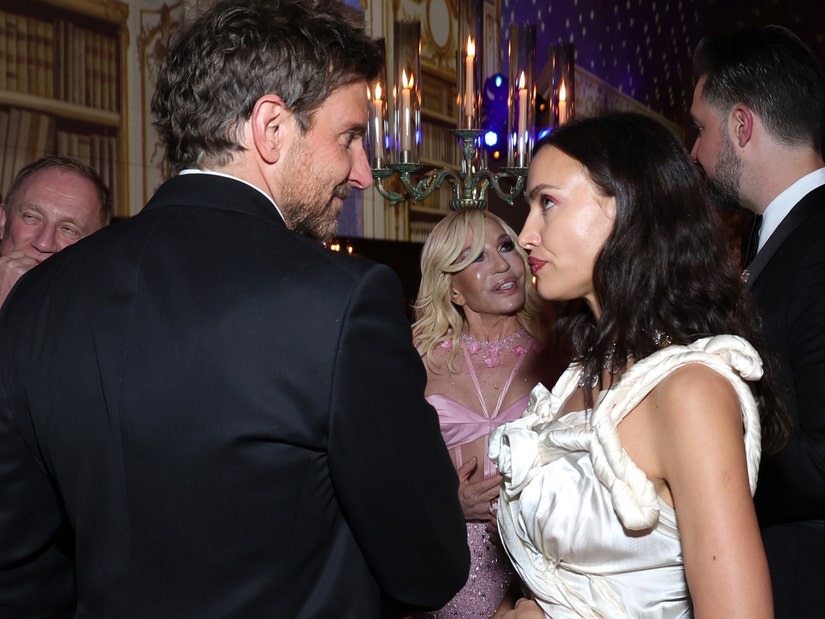 Getty
The former couple were pictured locked in conversation inside the Met Gala in a very candid moment
Despite walking the red carpet separately, they were pictured inside the Met Gala having a candid moment, and appeared locked in deep conversation.
The Met Gala held in New York City's Metropolitan Museum of Art, is the biggest event of the year for fashion. Cooper arrived in a classic black tuxedo, styled with a pair of aviator sunglasses. Shayk wore a silky white gown complete with a red lip.
While the two split in 2019 they clearly have remained very close as they coparent their 6-year-old daughter, Lea De Seine. The former couple, who began dating in 2015, still take family vacations and appear to have no issues running in the same social circles.
In 2021, Shayk spoke to Elle about parenting with Cooper and keeping her relationship under wraps.
"I never understood the term co-parenting," she said. "When I'm with my daughter, I'm 100 percent a mother, and when she's with her dad, he's 100 percent her dad. Co-parenting is parenting."
Shayk said she's hesitant to talk about Cooper publicly, noting that she likes to keep their relationship private.
"My past relationship, it's something that belongs to me, and it's private," she told the magazine. "It's just a piece of my inner self that I don't want to give away."
The theme for this year's Costume Institute exhibition is "Karl Lagerfeld: A Line of Beauty," dedicated to the late fashion designer. The dress code was both a simple prompt and a challenge to realize, asking guests to come dressed "in honor of Karl."
Lagerfeld headed his own eponymous brand as well as designed for Patou, Balmain, Chloé, Fendi, and Chanel.
Penélope Cruz, Michaela Coel, Roger Federer, Dua Lipa, and of course Vogue's Anna Wintour were co-chairs for the star-studded gala this year. Wintour has overseen the Met Gala since 1995.
Meanwhile, fans can experience the exhibit at The Metropolitan Museum of Art in New York City from May 5 to July 16.