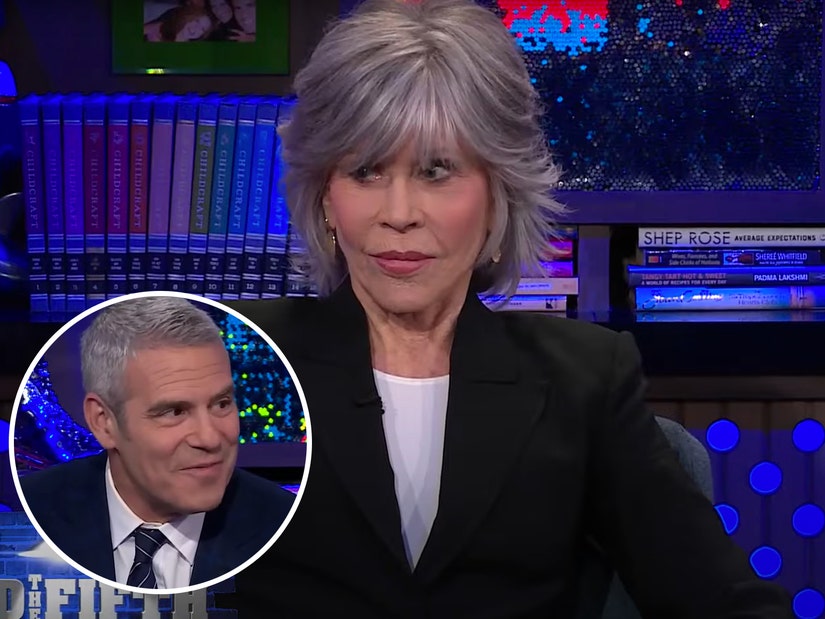 Bravo
"Are you kidding me?!" exclaimed Andy Cohen during a game of Plead the Fifth ... before Jane, unprompted, also spilled on seeing Michael Jackson naked.
The legendary actress was joined on the show by her "Book Club: The Next Chapter" costars Candice Bergen and Mary Steenburgen -- but it was Fonda who found herself in the hot seat after her name was chosen at random to play a staple of the show, the game finds Cohen asking three personal questions of his guests, who can only skip one of them.
He started things off pretty easily, first asking her which of her Oscar-nominated roles she felt was most deserving of a win. "On Golden Pond," she revealed.
Then came the juicier question, as he tasked her with naming "One man in Hollywood who tried to pick you up once that you turned down."
Without hesitation, she said, "The French director René Clément." When Cohen asked whether he made "a sloppy pass" at her, she then claimed, "Well, he wanted to go to bed with me because he said that the character had to have an orgasm in the movie and he needed to see what my orgasms were like."
"Are you kidding me?!" exclaimed Cohen.
"But he said it in French and I pretended like I didn't understand," Fonda added of the late "Joy House" director, who died in 1996.
"I have stories for you kid, we don't have time!" the actress then told Cohen ... before launching into one of those stories totally unprompted. "I saw Michael Jackson naked," she blurted out. "You know who else I saw naked? Greta Garbo."
Of Michael, she claimed he visited her while she was staying in a "little cottage right on the lake" during filming of "On Golden Pond." She added, "it was a beautiful moonlit night," claiming he suggested they go skinny-dipping. "I think he knew that he was going to die young and I would talk about him being naked," she joked, "He was skinny!"
She also called out Cohen for not asking her any followup questions about Garbo, before sharing that she saw her nude body during another swimming session -- and commenting on her "athletic" figure.
Cohen then brought it back to the game at hand, asking his final question.
"After your decades working in the entertainment industry, who do you think is the biggest misogynist in Hollywood?" he asked, but it was clear Fonda didn't want to name names this time around. Luckily, Steenburgen reminded her that she could still "Plead the Fifth" ... so she did just that.
"Book Club: The Next Chapter" is in theaters now.