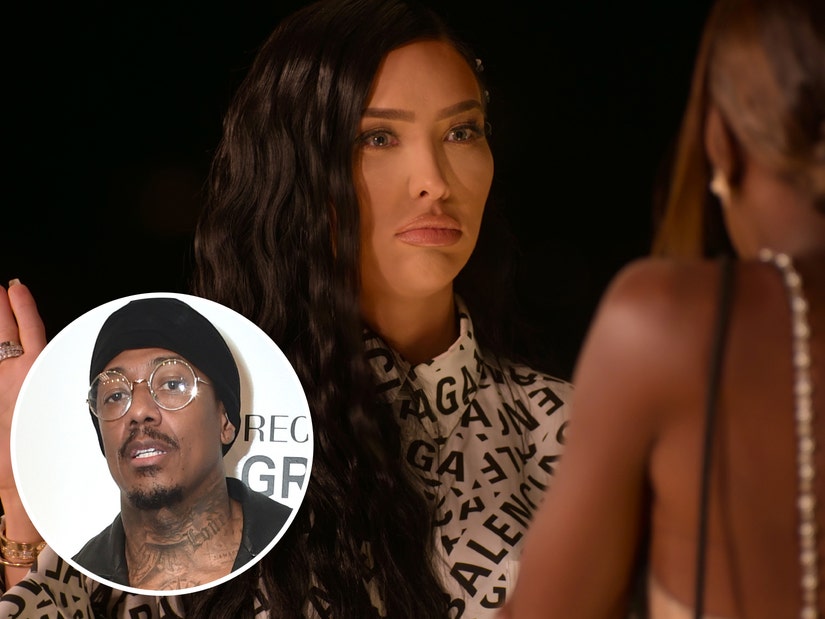 Netflix / Getty
The real estate agent -- who shares 10-month-old son Legendary with Cannon -- discussed her relationship on Season 6 of the Netflix series, stressing that Cannon is "not [her] sugar daddy" and that she "take[s] care" of herself and her son financially.
On Season 6 Episode 7, Tiesi -- who welcomed son Legendary with Cannon last June, not long before she started filming the Netflix series -- claimed to a co-star that a parent -- such as Cannon -- isn't required to pay child support after having 10 children.
While having drinks with her co-star and fellow real estate agent Amanza Smith, the two discussed her relationship with Cannon.
At one point, Smith asked Tiesi if it's a "myth" or "true" that "after 10 kids you don't have to pay child support."
"That's true," Tiesi, 32, replied, before explaining, "The way it works is like, after 10, the court can basically say he can't afford to pay child support. Or because he is who he is, they could say, 'We know you can afford X amount for each household.'"
Smith reacted in a confessional, saying, "Seriously. Like, what the f---? That explains a lot, I guess. I'd keep going too." It should be noted there's no evidence to support Tiesi's claim.
Tiesi opened up about her financial arrangement with Cannon -- or lack thereof -- noting that she supports herself and her son for the most part.
"There's no legal agreement," she told Smith. "There's no, 'You have to do X, Y, and Z. You me this. You owe me whatever.' We don't have any of that."
"I take care of myself, and if my son needs something, or we do, I ask," she added. "That's all I have to do. I know he's a good dad, and Nick is not my sugar daddy. Nick is not my reason that I'm where I'm at. He's none of these things."
In a confessional, Tiesi explained, "I definitely strive to be the best at everything, to the point where I drive myself insane, but I've worked my ass off to be where I'm at. I did this all myself, and of course, my son is even more of a motivation. I want to give him everything from me. Not from my partner."
Tiesi's unique relationship and co-parenting situation with Cannon was questioned by her fellow Oppenheim Group agents throughout the season. Chelsea Lazkan, in particular, continuously voiced her issues, at one point admitting that she finds Tiesi and Cannon's relationship "rather off-putting."
Cannon, 42, is a dad to 12 children with six different women, including Tiesi and their son Legendary.
He also shares 12-year-old twins Moroccan and Monroe with ex-wife Mariah Carey. Cannon is also dad to sons Golden, 6, and Rise, 7, as well as daughter Powerful, 2, with Brittany Bell, 8-month-old daughter Onyx with LaNisha Cole, and three children -- daughter Beautiful, 6 months, and 11-month-old twin boys Zion and Zillion -- with Abby De La Rosa.
Cannon most recently welcomed his 12th child, daughter Halo, with Alyssa Scott in December. He and the model were also parents to son Zen, who passed away at five months from a brain tumor in 2021.
Season 6 of "Selling Sunset" is available now on Netflix.