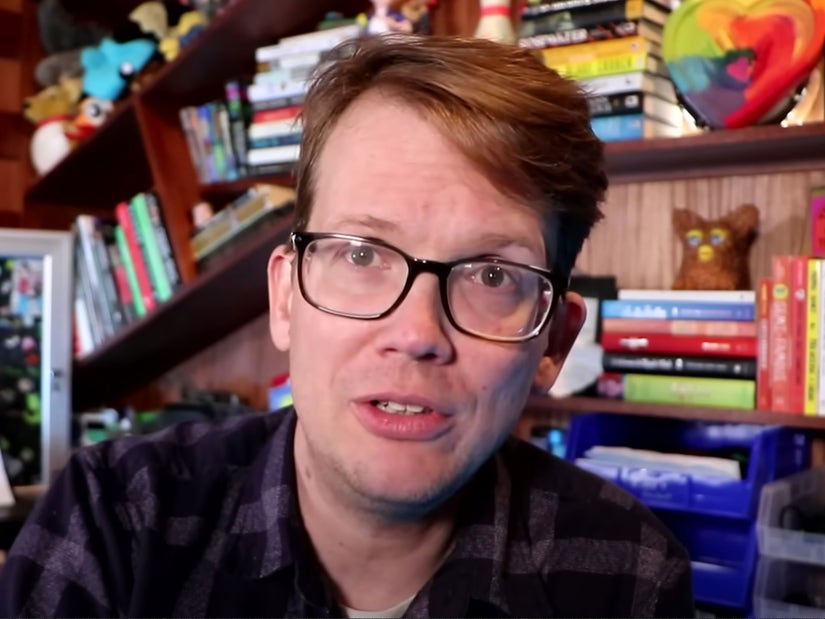 YouTube
"Prognosis is very good for people with Hodgkin's lymphoma. It seems likely that we caught mine early," said the science educator and vlogger, while also admitting that chemotherapy is "gonna be really unpleasant."
YouTuber Hank Green has revealed he's been diagnosed with Hodgkin's lymphoma.
On Friday, the vlogger shared a 13-minute video on his and his brother John Green's YouTube channel, in which he opened up about his cancer diagnosis, his treatment plans and how he's currently feeling.
According to Mayo Clinic, Hodgkin's lymphoma "is a type of cancer that affects the lymphatic system, which is part of the body's germ-fighting immune system. In Hodgkin's lymphoma, white blood cells called lymphocytes grow out of control, causing swollen lymph nodes and growths throughout the body."
"So there have been a bunch of times over the last few weeks where this has become more and more real," Green said. "This is the big one."
"I noticed that my lymph nodes were big. I talked to my doctor," he recalled. "She said, 'It's probably nothing. We'll send you in for an ultrasound.' I got an ultrasound, and the tech in the ultrasound room was like, 'I'm going to go get a doctor.' That's not what you want to have happen."
The 43-year-old said he was told his ultrasound looked "suspicious for lymphoma" and he was scheduled for a biopsy the next day.
"When you're in the American health care system, you don't expect things to move quick," he explained. "That's not what it does. That's not what it looks like. When it starts to get a little bit efficient, it's actually quite disconcerting."
Green said the biopsy results revealed his Hodgkin's lymphoma diagnosis, and noted that the "good news" is that the particular disease is "one of the treatable cancers" and "responds well to treatment."
The science educator added that he has a friend who battled Hodgkin's lymphoma, and has been in remission for 10 years.
As for treatment, Green shared that he's going to start chemotherapy "very soon."
"[I'm] not really looking forward to it, but I'm looking forward to starting on the path," he said.
"Prognosis is very good for people with Hodgkin's lymphoma. It seems likely that we caught mine early," he added. "I'm still waiting on a scan to sort of confirm that. But even when it's not super early, even when it's in multiple parts of the body, Hodgkin's is super treatable."
The podcast host revealed that he had been "looking out for" Hogkin's lymphoma as he had "a bunch of risk factors" for the disease.
When it comes to his career and work following his diagnosis, Green said he's going to take it day by day.
"Even though I don't feel bad at all right now except for some soreness because of the biopsy and maybe because my lymph nodes are big," he shared. "I don't feel any symptoms of this. I feel fine. I don't even really feel fatigued. It's hard to tell."
"I feel stressed," he added with a laugh. "[That's] my main symptom."
However, the author noted that he's definitely going to experience symptoms when he starts chemotherapy, and is unsure how it'll affect his work obligations, noting that he's going to "play it by ear."
"I know that I'm gonna feel like garbage. Like, it's gonna be really unpleasant," he said of chemo.
Green went on to express his gratitude for the support of his loved ones.
"All of the time that I have spent investing in friendships, and even when they have been hard, to try and keep them strong, and even when I have been busy, to try and spend time with them, has been joyful in the moment and wise in the long term," he shared. "I've really needed friends in the last few weeks, and I've been very grateful to have them."