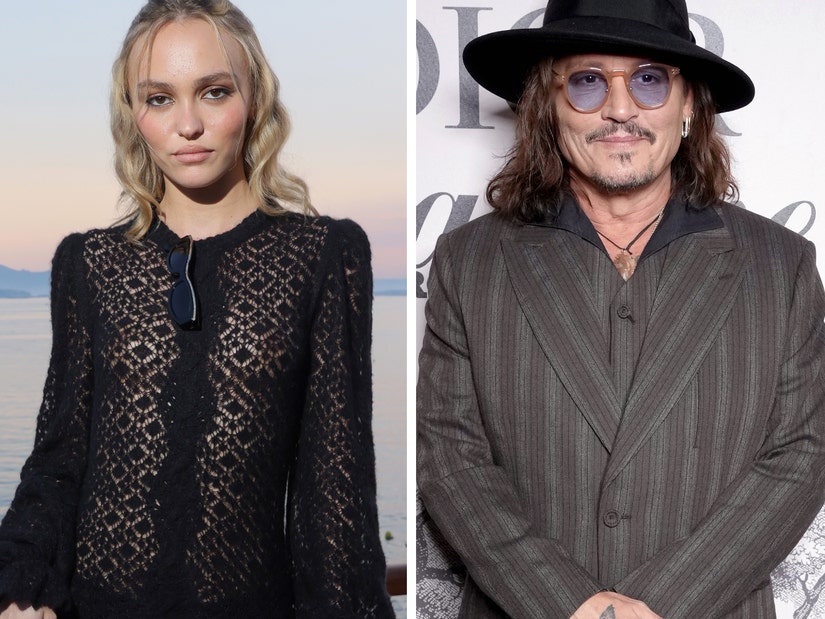 Getty
The 23-year-old actress said she's "super excited" for her father, who received a seven-minute standing ovation following a screening of his film, "Jeanne du Barry."
In an interview with Entertainment Tonight on Tuesday, the 23-year-old actress shared her thoughts after her dad was showered with applause at the Cannes premiere of the historical drama, "Jeanne du Barry," last week.
"I'm super happy for him. I'm super excited," Lily-Rose told ET. "And it's so awesome that we get to do projects that we're super proud of."
Following the screening of "Jeanne du Barry," in which Johnny stars as former King of France Louis XV, the 59-year-old actor appeared deeply moved as the film received a seven-minute standing ovation, per a video posted by Variety.
The festival is one of the first major events he's attended since his defamation trial against ex-wife Amber Heard last year, with his film serving as the opening movie for the week's events.
Last week, when asked during the presser whether he still felt "boycotted by Hollywood" after making a similar claim speaking with the Sunday Times in 2021, Johnny said he didn't -- because he doesn't "think about Hollywood" anymore.
Meanwhile, Lily-Rose also appeared at Cannes Film Festival for the premiere of her upcoming HBO series, "The Idol," in which she stars opposite The Weeknd -- whose real name is Abel Tesfaye -- and an ensemble cast. The drama is co-created and directed by "Euphoria's" Sam Levinson.
The actress opened up to ET about experiencing the special moment.
"It was the first time that I had watched it with an audience outside of like, myself and Sam and Ashley and Abel, which is just kind of how I watched the first couple episodes," she said. "But it was incredible. It felt like such a beautiful celebration and a culmination of everything that we've been through together, and just kind of a beautiful process that was in the show, and creating this little family together, and it just felt really, really nice."
"Especially to get to celebrate together, and we're just so happy for the response from the room," she added. "It felt really nice to watch the reaction and everything, and finally get to share something with the world that we're all so proud of."