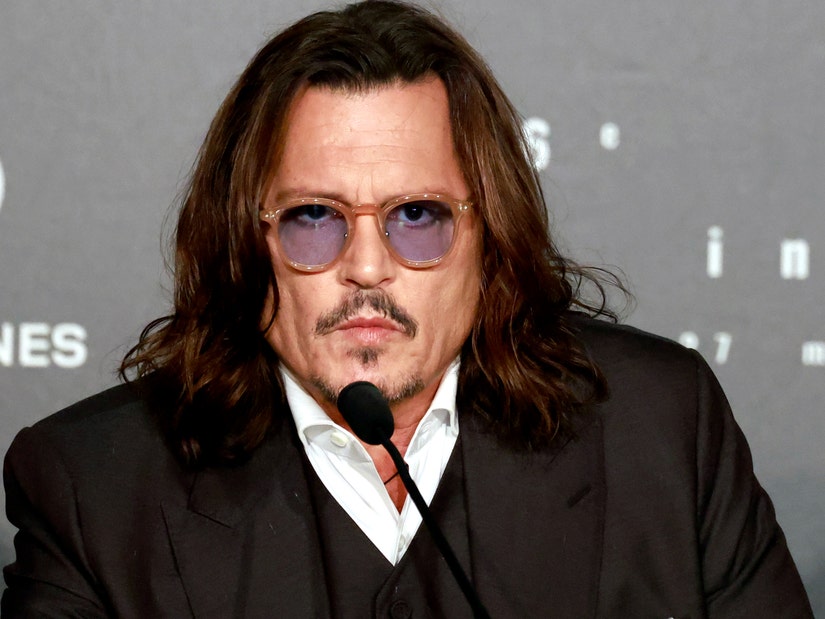 Getty
Depp calls most of what's been said about him in recent years "fantastically, horrifically written fiction," following his defamation battle against ex-wife Amber Heard.
After arriving 15 minutes late, Johnny Depp took center stage at a press conference for his new film "Jeanne du Barry" at Cannes on Wednesday -- and spent a lot of the Q&A fielding questions about his controversial appearance at the film festival.
The festival is one of the first major events he's attended since his defamation trial against ex-wife Amber Heard last year, with his film -- in which he plays King Louis XV -- serving as the opening movie for the week's events.
When asked during the presser whether he still felt "boycotted by Hollywood" after making a similar claim speaking with the Sunday Times in 2021, he claimed he didn't anymore -- because he doesn't "think about Hollywood" anymore.
"Did I feel a boycott by Hollywood? Well, you'd have to not have a pulse to feel at that point, 'None of this is happening, this is actually just a weird joke, you've been asleep for 35 years, so just let the weirdness commence,'" he began. "Of course, when you're asked to resign from a film you're doing, because of something that is merely a bunch of vowels and consonants floating in the air, you feel a bit boycotted."
"Do I feel boycotted now? No, not at all. But I don't feel boycotted by Hollywood because I don't think about it. I don't think about Hollywood. I don't have much further need for Hollywood myself," he continued. "It's a very strange, funny time where everybody would love to be themselves but they can't because they must fall in line with the person in front of them. You wanna live that kind of life, I wish you the best. I'll be on the other side somewhere."
That question was followed up by another reporter asking how it feels to be promoting a film at such a big event, surrounded by "a lot of controversy" and not as much of a focus on the movie itself.
"The circus part is the weirdest part because it's sort of like ... you believe what you believe, the truth is the truth. We're all here because we made a film, not because we have a product to sell. Everything that the majority of you have been reading for the 5-6 years -- with regard to me and my life -- the majority of what you've read is fantastically, horrifically written fiction," he responded.
"We're here to talk about a film, but it's like asking a question, 'How are you doing?' But what's underneath in the subtext is, 'God I hate you,' do you know what I mean?" he continued. "That's the sort of media thing. The focus should simply be on the fact that it's a miracle to get a film made that you care about in the first place. You win there."
Another reporter brought up the controversy surrounding his appearance again, asking Depp what he'd tell anyone who believes he shouldn't be at the festival at all.
"We're talking theoretically about what would I do if there were people who didn't want me at the Cannes Film Festival?" he first asked, before making an abstract comparison minimizing the negative noise.
"What if one day they did not allow me, under no circumstances, no matter what, I cannot go to McDonald's for life because somewhere, if you got them all in one room, there'd be 39 angry people watching me eat a Big Mac on a loop just for fun?" Depp continued. "Who are they? Why do they care? Some kind of species, some tower of mashed potatoes, covering the light of a computer screen, anonymous with apparently a lot of spare time. I don't think I'm the one who should be worried. I think people should really think about what it's all about really."
Lastly, when asked how it felt to be mounting an apparent "comeback," Depp expressed some confusion over the term.
"I've seen or heard the word comeback exchanged by folks and using that as a catchphrase ... I've had about 17 comebacks, apparently," he said. "I keep wondering about the word comeback because I never went anywhere. Matter of fact, I live about 45 minutes away."
"So yeah, maybe people stopped calling out of whatever their fear was at the time," he continued, alluding to his legal battle, "But no, I didn't go nowhere. I've been sitting around."
"So 'comeback,' it's almost like I'm going to come out and do a tap dance or some kind of spectacular feat on the table and dance my best for you guys, and hope that you will approve," he concluded. "The notion of something like that is a bizarre mystery."
Last June, following six weeks of testimony and wall-to-wall media coverage, a verdict was reached in the defamation trial -- and the jury mostly sided with Depp, ruling that Heard had defamed Depp in a 2018 Washington Post op-ed. They awarded $10 million dollars to Depp in compensatory damages, plus $5 million in punitive damages. Heard did score a minor victory herself, with the jury deciding statements made by Depp's lawyer Adam Waldman were defamatory -- and awarded her $2 million in compensatory damages.