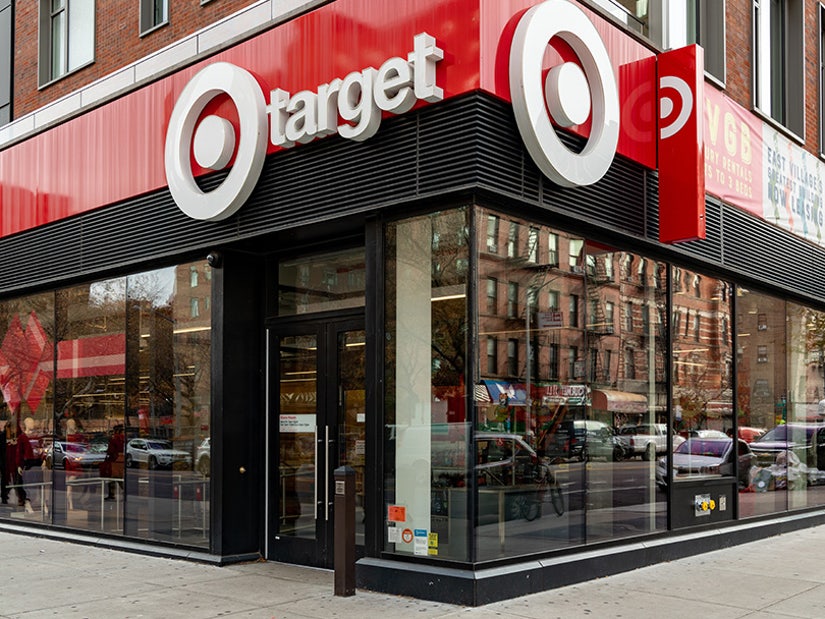 Getty
Target said in a written statement that the company is receiving threats and even facing in-store "confrontational behavior" over certain LGBTQ+ products, some based on misinformation , so in response they are pulling some of those items from store shelves -- advocates say they shouldn't be backing down.
It may be less than a week before Pride month kicks off in June, but Target is prioritizing the safety and well-being of its employees over carrying its full line of LGBTQ+ products.
The big box retailer announced that it will be pulling some of the items from this year's collection in response to threatening and aggressive behavior from some customers in response to the products existing in the stores.
"Since introducing this year's collection, we've experienced threats impacting our team members' sense of safety and wellbeing while at work," the company said in a written statement received by The Associated Press. "Given these volatile circumstances, we are making adjustments to our plans."
There are videos online of people knocking down the Pride displays and getting aggressive with store employees over the items, per The Wall Street Journal. There are also threatening posts on social media over the displays and calls for a boycott of the retailer.
The company is not puling the entire collection, but rather targeting certain items that are eliciting the strongest reactions. In many southern stores, the collection -- which is usually placed at the front of the story for maximum visibility -- has been moved to the back.
They didn't specify which items were being pulled, but one of the products targeted most aggressively is its line of "tuck friendly" women's swimsuits. These suits are designed to allow trans women who've not had gender-affirming surgery to conceal their private parts.
Conservative media targeted the retailer last week over this year's collection, with some videos even falsely claiming that this particular swimsuit design was designed for kids and available in the children's clothing section of the store.
Pride collections are nothing new at many retailers, including Target, but negative reactions to them are on the rise at the same time more than 500 anti-LGBTQ+ bills are being presented in states across the nation, according to the American Civil Liberties Union. Gender-affirming health care for transgender youth is a particular focus of many of these bills, as well as attempts to ban discussing gender and sexuality in schools.
While Target maintains that it remains a staunch ally of the LGBTQ+ community, some advocacy groups aren't having it.
"Target should put the products back on the shelves and ensure their Pride displays are visible on the floors, not pushed into the proverbial closet," said Kelley Robinson, president of The Human Rights Campaign, in a statement. "That's what the bullies want. Target must be better."
She went on to emphasize, "Extremist groups and individuals work to divide us and ultimately don't just want rainbow products to disappear, they want us to disappear." Robinson called for Target to "double-down on their commitment" to the LGBTQ+ community by restoring the products to their shelves.
Sarah Kate Eliis, president and CEO of GLAAD echoed Robinson's sentiment, saying via a statement posted to her Twitter, "Anti-LGBTQ violence and hate should not be winning in America, but it will continue to until corporate leaders step up as heroes for their LGBTQ employees and consumers and do not cave to fringe activists calling for censorship."
Californa Governor Gavin Newsom weighed in on the decision by Target, saying that this isn't just an issue with a couple of stores in the South, and it doesn't stop here. "There is a systematic attack on the gay community happening across the country," he tweeted. "Wake up America. This doesn't stop here. You're black? You're Asian? You're Jewish? You're a woman? You're next."
Target is just the latest major company to find itself on the front line, so to speak, of this new conservative war on the LGBTQ+ community. Disney has been in a battle of its own against Florida governor Ron DeSantis ever since it publicly (eventually) denounced his "Don't Say Gay" bill.
Meanwhile, Anheuser-Busch InBev became the target of a boycott and a lot of online hate over a single custom can the company made and sent to transgender TikTok personality Dylan Mulvaney to celebrate the first anniversary of her transition. Advocates have also blasted A-B for its handling of the conservative backlash.