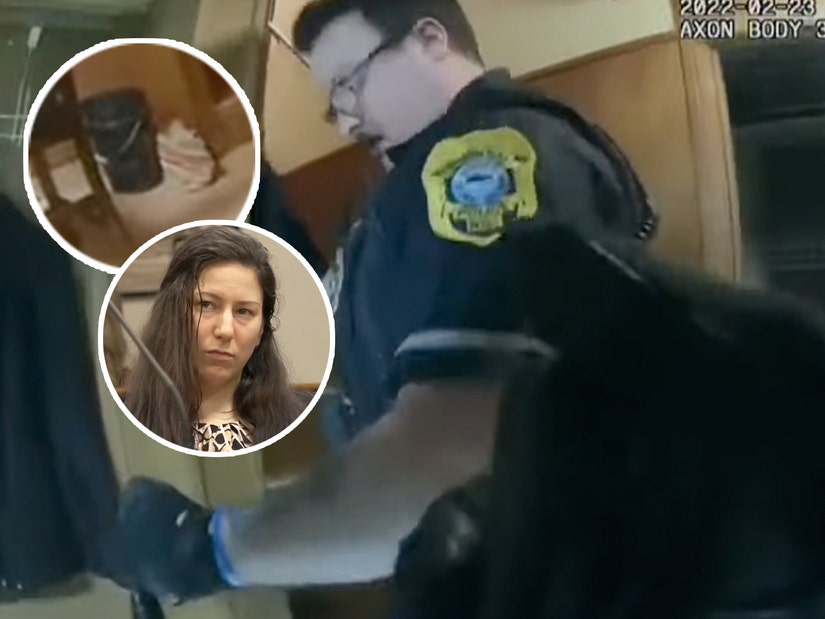 Law&Crime
The victim's mother is heard saying she's "pretty positive" she just found her "son's head in a bucket," before responding officers are seen investigating the grisly discovery as the murder trial for Taylor Schabusiness gets underway.
25-year-old Taylor Schabusiness is charged with first-degree intentional homicide, mutilating a corpse, and third-degree sexual assault 24-year-old Shad Thyrion, whose remains were discovered by his own mother on February 23, 2022.
During opening statements, the prosecution said Thyrion's mom, Tara Pakanich, experienced what was "essentially a mother's worst nightmare" on the night in question, after making a grisly discovery in her basement: her son's head in a bucket.
As the prosecution called their first witness -- a 911 dispatcher -- to the stand on Monday, the 911 call to authorities from Pakanich and her boyfriend was played for the jury. In it, the mother's boyfriend says she had just woken him up, swearing she "found the severed head of her son in the basement."
"I have no idea what's happening," the boyfriend continued, saying he went to look for himself but because he can't see well, he "can't tell what the f--- it is." He was adamant, however, that "there's something in the god damn bucket" -- and, when asked whether he thought she was possibly hallucinating, said he didn't think so.
Pakanich then got on the line and said she was "pretty positive my son's head is in a bucket. I looked in the bucket." She told dispatch that she had "no idea" where the rest of his body was, before saying her son had been staying with her and was hanging out with the suspect in the days leading up to the discovery. She said she heard a door close and a vehicle start, waking her up, before noticing the downstairs lights were on and investigating. It was then she found the bucket.
"You're sure it couldn't be like a fake head or something?" dispatch asked, before the victim's mother said she was "not touching it" and "not looking at it again."
Authorities then responded to the scene, with Green Bay Police Department Officer Alex Wanish testifying Monday that "there was in fact a severed human head in the bucket." His bodycam was then shown to the jury, showing himself and Officer Ethan Plonke arriving at the home, where the victim's mother pointed them toward the bucket in the basement.
In the footage (below), the two are seen looking into the bucket with a flashlight and determining that the blood was real, before calling for backup. When Wanish requested additional units, he added, "we've got quite a bit of blood down here."
He then testified that while he didn't see any other body parts at the scene, he did see blood and "small chunks of human flesh" during an initial sweep of the basement. He added that while he did move the towel off the bucket, he was wearing gloves while doing so.
Day one of the trial is ongoing.
Officers were told Schabusiness may have been the last person to see him alive. When they went to her home, they said her clothes were covered in dried blood. Searching a minivan, they found a crock pot box containing "additional human body parts including legs." Police asked Schabusiness what happened; she replied: "That is a good question."
According to the complaint, she told investigators she had spent the day with the victim smoking meth. After arriving at his mother's home, they started having sex, and incorporated chains.
Authorities say she told them she blacked out at some stage and just went "crazy" and started strangling him with the chain, him facedown and her on top of him. She insisted she didn't mean to kill him, but since she enjoyed choking him she continued to do it. She said he began coughing up blood and noticed he was turning purple, but since she was "already this far" she kept going, according to the complaint. She reportedly asked detectives "if they knew what it was like to love something so much that you kill it."
"Schabusiness responded that the police were going to have fun trying to find all of the organs as she dismembered the body," the complaint states.
Authorities claim she initially told them all the body parts should be in the basement, but then added there should be a foot or a leg in the minivan; When they asked her what she did with the head, she said she put it in a bucket and threw a blanket over it. She also allegedly told detectives she continued to play with his body in a sexual manner after his death.
According to Law&Crime, Schabusiness' previous lawyer, Quinn Jolly, claimed she had previously been diagnosed with bipolar disorder and has been receiving mental health treatment since she was in the seventh grade.
Schabusiness went on to attack Jolly in court back in February (video above). After the incident, Jolly withdrew from the case and Christopher Froelich came on board.