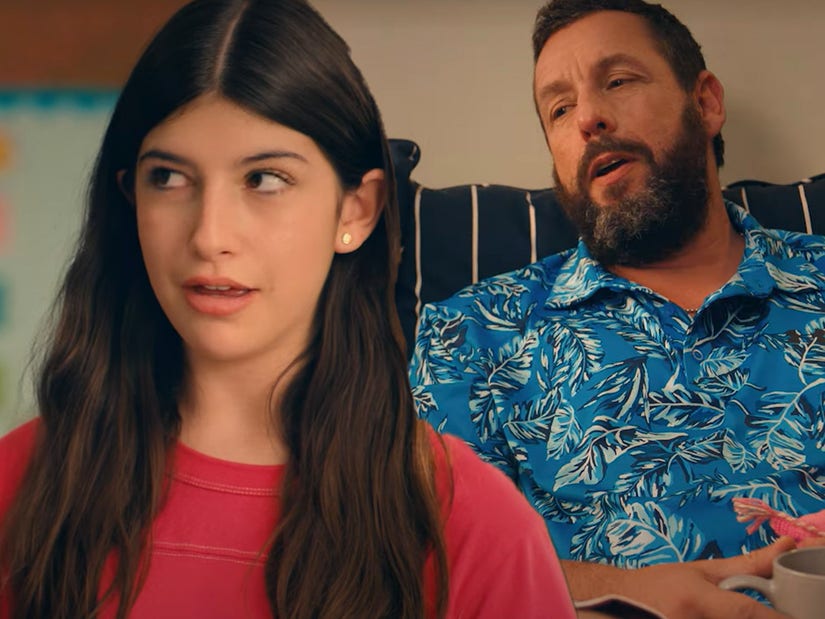 Netflix
Adam's 14-year-old daughter, Sunny, plays the lead in the Netflix film, while his 17-year-old daughter, Sadie, his wife, Jackie, and Idina Menzel also star in the comedy.
Get ready -- The Sandlers are coming to Netflix.
On Thursday, the streamer dropped the hilarious first trailer for the upcoming comedy, You Are So Not Invited to My Bat Mitzvah, which stars Adam Sandler, his wife Jackie, and their two daughters. And it's clear from the trailer alone that Sunny and Sadie have inherited their father's comedic talent.
Per Netflix, the synopsis for You Are So Not Invited to My Bat Mitzvah reads: "Lifelong best friends Stacy (Sunny Sandler) and Lydia (Samantha Lorraine) have long dreamt of epic bat mitzvahs but when popular boy Andy Goldfarb (Dylan Hoffman) and Hebrew school drama come between them, their perfect plans go comically awry."
As shown in the film's trailer, above, Adam and Jackie's 14-year-old daughter Sunny plays the lead, while their 17-year-old daughter Sadie also stars in the comedy. The two portray Adam's on-screen daughters, but their mom is played by Idina Menzel. Jackie appears to play the mother of Stacy's frenemy, Lydia.
You Are So Not Invited to My Bat Mitzvah -- which is based on Fiona Rosenbloom's book of the same name -- is directed by Sammi Cohen and produced by Sandler's Happy Madison Productions and Alloy Entertainment.
The film premieres on Netflix on August 25.