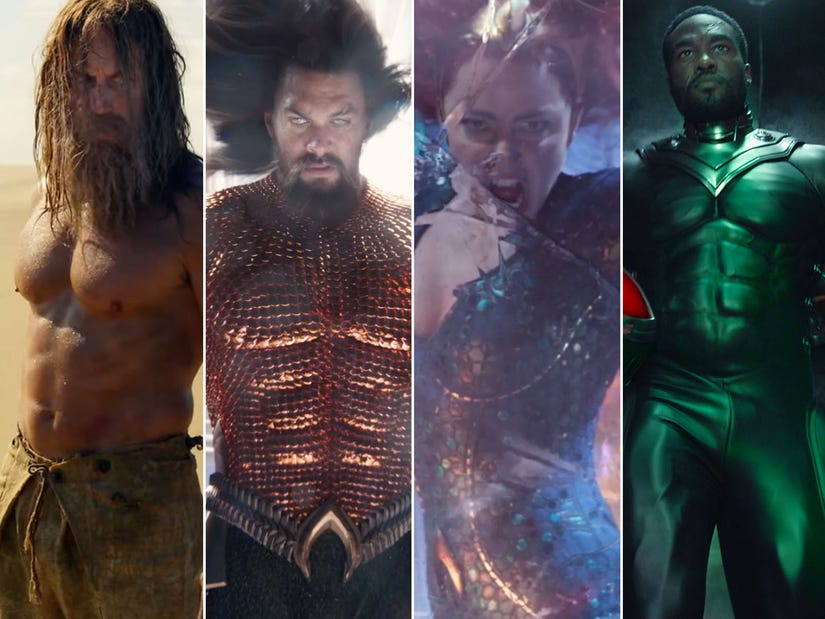 Warner Bros.
While Jason Momoa, Patrick Wilson, Yahya Abdul-Mateen II and Nicole Kidman are all over the new footage, Heard's Mera can only be spotted in two extremely brief moments.
In the nearly 3-minute clip, the Atlantean queen only appears twice -- once in the distance as she, Jason Momoa's Arthur Curry and Nicole Kidman's Atlanna run around the family's burnt down home and again attempting to break through the glass of what appears to be an underwater ship.
This comes after Heard testified during her defamation trial with ex Johnny Depp that her role in the film was "very pared down," claiming she "fought really hard to stay in the movie" and said "they didn't want to include me in the film."
Director James Wan seemingly confirmed her reduced presence in the sequel, telling EW in a recent cover story that the film was "always going to be about" Aquaman and his brother, Patrick Wilson's Orm.
While he said the first movie was "Arthur and Mera's journey" and a "romance action-adventure movie," this one was meant to be a "bromance" -- before concluding, "We'll leave it at that."
The sequel finds Mera and Arthur raising a newborn child together, before Yahya Abdul-Mateen II's Black Manta returns wielding the mythical Black Trident, hellbent on revenge. Aquaman teams up with his brother to fight back against the antagonist.
Check out the official synopsis below. The movie hits theaters December 20, 2023.
Having failed to defeat Aquaman the first time, Black Manta, still driven by the need to avenge his father's death, will stop at nothing to take Aquaman down once and for all. This time Black Manta is more formidable than ever before, wielding the power of the mythic Black Trident, which unleashes an ancient and malevolent force. To defeat him, Aquaman will turn to his imprisoned brother Orm, the former King of Atlantis, to forge an unlikely alliance. Together, they must set aside their differences in order to protect their kingdom and save Aquaman's family, and the world, from irreversible destruction.
All returning to the roles they originated, Jason Momoa plays Arthur Curry/Aquaman, now balancing his duties as both the King of Atlantis and a new father; Patrick Wilson is Orm, Aquaman's half-brother and his nemesis, who must now step into a new role as his brother's reluctant ally; Amber Heard is Mera, Atlantis' Queen and mother of the heir to the throne; Yahya Abdul-Mateen II is Black Manta, committed more than ever to avenge his father's death by destroying Aquaman, his family and Atlantis; and Nicole Kidman as Atlanna, a fierce leader and mother with the heart of a warrior. Also reprising their roles are Dolph Lundgren as King Nereus and Randall Park as Dr. Stephen Shin.