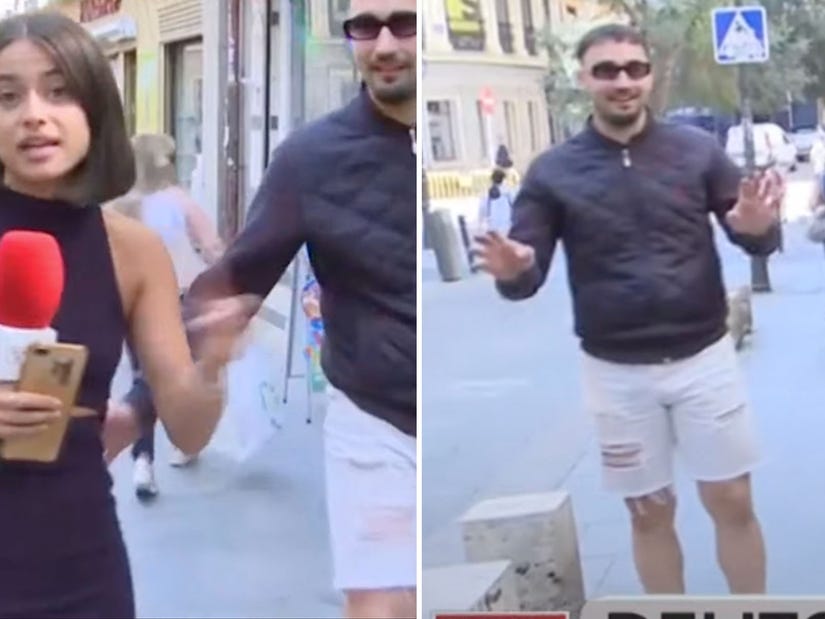 Cuatro
When confronted by her on-camera, he denied groping her and walked away, before approaching her again later in the broadcast.
The arrest came after the unnamed man appeared to touch reporter Isa Balado's backside while she was doing a live broadcast for Spanish broadcaster Cuatro on Tuesday. As she was reporting from the sidewalk for the program En Boca de Todos, a man was seen approaching her from behind and seemingly touching her on her backside before asking which network she was with.
She pushed him off before continuing with her report, before Nacho Abad -- the anchor back in the studio -- interrupted and asked whether he just touched her butt. She said he had, before Abad asked whether he could speak with the "stupid guy" who had just touched her.
She proceeded to confront the man on camera, asking him whether it was necessary for him to touch her backside. He, however, denied it -- and then attempted to pat her on the head before walking away.
The video of their initial interaction has been viewed more than 4 million times on the program's official account on X.
Later in the same program, Balado and another woman on the street said it was common behavior for men in the area, claiming he continued to do it to other women nearby. As she spoke about him, he walked back toward her -- making a "hands off" gesture as he approached. He then asked her to "tell the truth" about what happened earlier, before she said she didn't want to give him anymore attention.
Abad said on-air that they called the police and later that day, Spain's National Police tweeted out footage of the man in handcuffs (below). In the caption, they explained the man was arrested for "sexually assaulting a reporter while she was doing a television live shot."
That video has been viewed nearly 10 million times since it was posted on Tuesday.
Following the incident, the company which owns Cuatro said they "fully support" Balado after the "intolerable situation she suffered" on camera.
Spain's Labour Minister Yolanda Díaz, meanwhile, addressed the altercation on X -- saying "It is machismo that makes journalists suffer sexual assaults like this, and the aggressors are unrepentant in front of the camera."