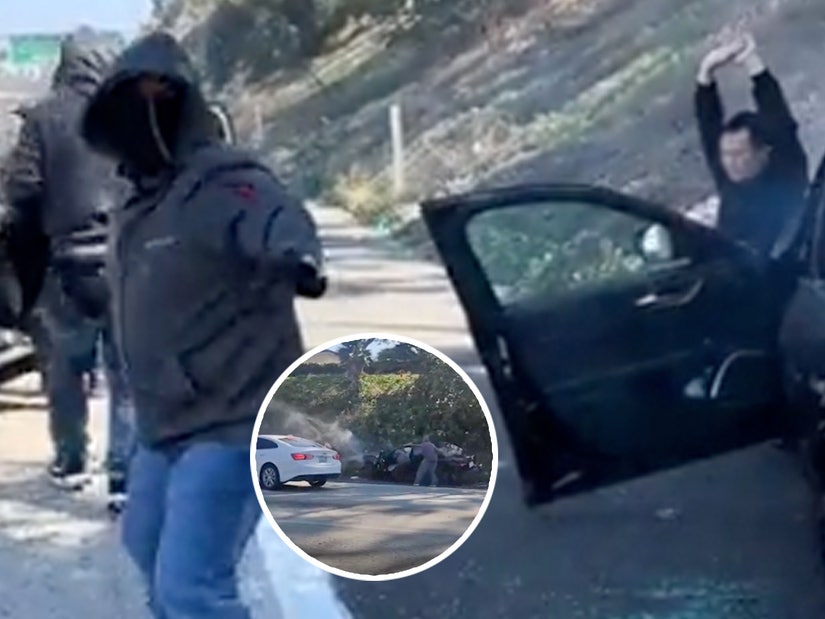 TikTok
The robbery -- which happened in the middle of the day in Los Angeles -- was recorded by a witness who jumped out of their car to film it in action.
Footage of a robbery on a Los Angeles freeway is shocking the internet this week, after a band of thieves "intentionally crashed" into a vehicle only to loot it, according to authorities.
The incident went down on Tuesday on the 10 Freeway in the middle of the day, shortly around 1:30 pm. Video from the scene was filmed by both someone driving by as it happened, as well as another driver who pulled over and got out of their car to record the robbery in action.
The footage shows four people with their faces covered run out of a minivan they allegedly used to crash into a luxury vehicle. According to the California Highway Patrol, they were armed with hammers and crowbars.
With the driver on their knees with their hands over their head, the robbers rifled through the Alfa Romero, while yelling at both the victim and witness to not move. They then all took off in the same white Chevrolet Malibu; it's unclear at this time what, if anything, was stolen.
"I think what caught more people's attention is the time of day it happened, it was the middle of daylight at 1:30," CHP Officer Roberto Gomez told ABC 7, adding that they considered occurrences like this very rare.
Gomez also warned against confronting perpetrators like this.
"It's the safety, right? It could have definitely gone a different way," Gomez said. "Be safe in your own vehicle as well. That's why we tell the public to keep those doors locked, and of course, just be aware of your surroundings."
"I don't have anything further regarding it due to the fact that we don't want to jeopardize the investigation," Gomez added.