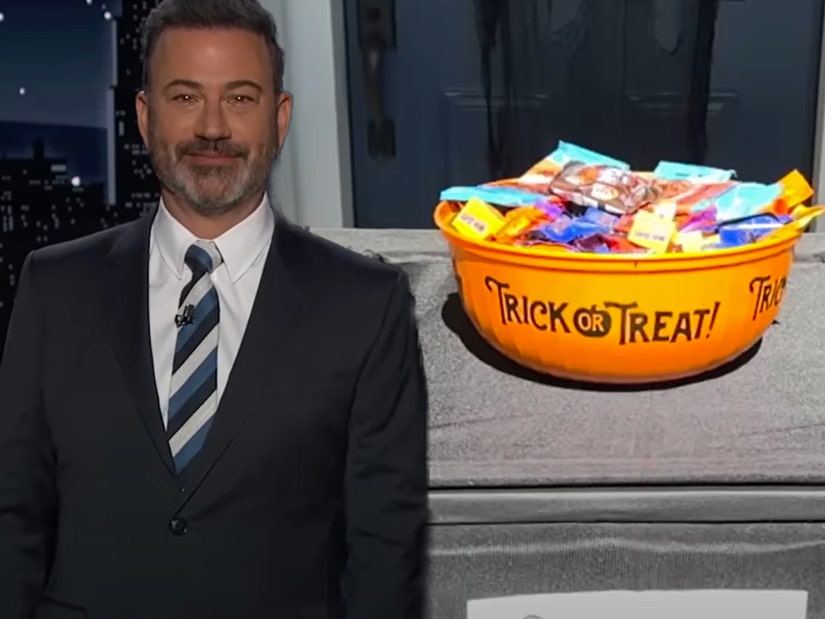 NBC / YouTube
With the help of former NASA engineer, Mark Rober, Jimmy Kimmel devised an epic prank to discourage greedy trick-or-treaters from taking more than their fair share of candy.
In a clip from Wednesday night's all-new Jimmy Kimmel Live Kimmel teamed up with Crunch Labs founder and former NASA engineer, Mark Rober, to devise a few devices aimed at discouraging gluttonous kids from taking more than one piece of candy from the Halloween candy bowl.
After much trial and error, and some time spent in the lab, the pair came up with a couple contraptions to scare off the kids who tried to take more than their fair share -- including switching out the bowl of candy with toothbrushes, making the table the candy was on collapse and sounding off an alarm when too much candy was taken from the bowl.
A departure from Kimmel's usual candy challenge, the clip sees countless kids and teens -- on 35 porches across America -- fall victim to the hilarious prank, with many truly perplexed when they can't grab what they want from the oh-so-tempting selection of candy.
Waiting for your permission to load the Instagram Media.
In several instances, Kimmel and Rober gave the kids a real fright, when Rober, dressed as "the mulch man," and jumped out to scare some of the trick-or-treaters. They even had some believing their heinous acts had made the evening news, thanks to a deep fake projected on the TV of a home the kids were trick-or-treating at.
"If kids taking the whole bowl of candy bothers you, watch the evil genius @MarkRober & me swing the Halloween hammer of justice!" Kimmel teased alongside a clip of the segment uploaded to social media.
Not everyone was a fan of Kimmel's Halloween antics, however, with fans taking to the comments to sound off on the prank.
"I miss the telling your kids you ate their candy TBH," one admitted in the comments.
"Please bring back the 'Jimmy Kimmel told me to take your Halloween candy' segment next year… nothing beats those reactions! 😂," another pleaded.
One commenter was distraught by the change, writing, "the only reason I had kids was to steal their Halloween candy…what am I supposed to do now?"
See the full video below: