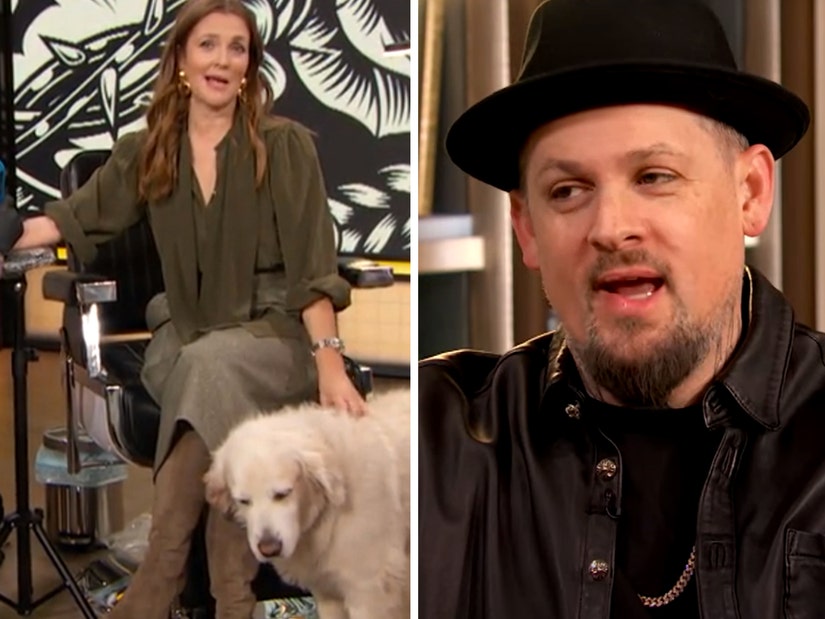 YouTube / CBS
"All of you just are really powerful, strong, amazing women, and I think we're better men because we're around all of you," the Good Charlotte singer said of Barrymore, his wife, and his sister-in-law.
On Wednesday's episode of The Drew Barrymore Show, the actress and Good Charlotte member both got tattooed by Ink Master contestant, Jon Mesa, on the daytime talk show, While getting inked, the two engaged in a heartwarming conversation about Madden's family, talking about his wife Nicole Richie, and his sister-in-law -- and Barrymore's longtime BFF -- Cameron Diaz.
Barrymore, 48, had the words "I am human" inked on the inside of her wrist. As she sat while getting her tattoo, she introduced Madden, 44, who came out on stage, and praised the talk show host's new ink.
"I love, 'I am human," said the musician, who hosts the current season of Ink Masters. "Of course, we all talk bad to ourselves. We're the meanest to ourselves. If someone talked to ourselves the way we talk to ourselves we'd kick them out of the room. But we talk to ourselves that way."
Madden got his dogs' names -- Roki and Xavi -- tattooed on his hand, with Barrymore bringing up their connection, noting that although they're not technically "related," she "feels like [they] are" because Diaz is married to Madden's twin brother Benji.
"You guys are this whole family now," Barrymore said, before gushing over Madden's wife. "Nicole is the most extraordinary woman. I got to know her through Cameron, and I was like, 'This is the coolest woman ever.'"
Madden and Richie, 42, have been together for 17 years, and married for nearly 13 of them. The couple shares daughter Harlow, 15, and son Sparrow, 13.
Responding to Barrymore, Madden praised his wife, saying, "I think Nicole is a real -- the more you know her, the more you love her. It takes time to get to know her, but she's just classy. Lionel and Brenda did a good job. They raised someone with a lot of integrity, and a lot of class."
Barrymore said how Richie's dad, Lionel Richie, has joked on the show about "how all of us made him almost lose his hair growing up, with all of us girls being girls who had to figure their way out."
"And I'm like, 'But aren't you proud now? We all turned out good, right? We're good girls," she said, to which Madden replied with a sweet response. "You all turned out better than good. I have a lot of respect for women who have had to work in a really tough industry for women to work in. All of you just are really powerful, strong, amazing women, and I think we're better men because we're around all of you."
Madden added how he's been with Richie for 17 years. After Barrymore expressed her surprised that it's been that long, the singer said, "It's crazy, don't ask me how!"
Madden then gushed over his and Richie's two children, saying, "Our kids are great. ... we got lucky with our kids. They're easy. I always tell my kids, 'You make it so easy to be a dad.' They're just good kids. They really are. They're great, and I think they're like their mom."
However, the Veeps founder stressed that his family is not "perfect" nor do they "pretend to be."
"I think we're all human. That's why I love your tattoo," Madden told Barrymore. "I was lucky to have my brother, and then to meet Cam. They have a beautiful relationship. To have this growing family of good people that also are imperfect and not trying to present [as if] we have it all figured out."
When Barrymore then noted how "we all work on ourselves," Madden replied, "We go to therapy. ... Lots of therapy!"