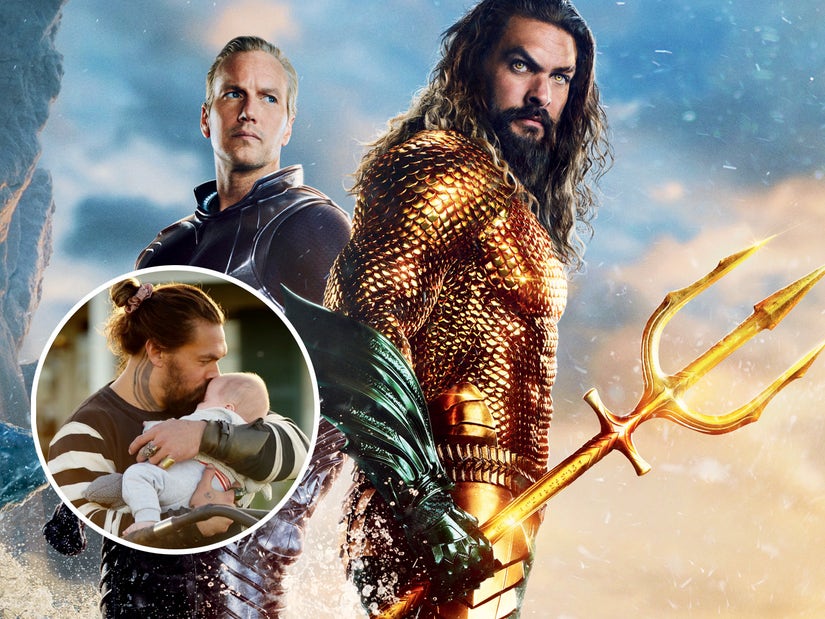 Warner Bros.
The trailer bills the film as Aquaman's "last stand," amid a major shakeup at DC and Warner Bros. when it comes to their superhero films.
Much of the focus in the new footage is on the bond Jason Momoa's Arthur Curry has with his baby boy, referred to as Junior. The trailer begins with the pair looking at fish in a fish tank, while Aquaman tells his son they have "special" powers which allow them to communicate with the ocean world.
The baby is also the key Black Manta (Yahya Abdul-Mateen II) needs to get another big bad out of prison, as part of his ongoing mission to "Kill Aquaman."
"Having failed to defeat Aquaman the first time, Black Manta, still driven by the need to avenge his father's death, will stop at nothing to take Aquaman down once and for all. This time Black Manta is more formidable than ever before, wielding the power of the mythic Black Trident, which unleashes an ancient and malevolent force," reads the official synopsis. "To defeat him, Aquaman will turn to his imprisoned brother Orm, the former King of Atlantis, to forge an unlikely alliance. Together, they must set aside their differences in order to protect their kingdom and save Aquaman's family, and the world, from irreversible destruction."
Despite so much focus about family, Aquaman's partner Mera is almost entirely MIA from the trailer. Only the eagle-eyed will notice her running toward their burning home in a far shot; otherwise, she doesn't appear and isn't referenced at all.
This comes after Heard testified during her defamation trial with ex Johnny Depp that her role in the film was "very pared down," claiming she "fought really hard to stay in the movie" and said "they didn't want to include me in the film."
Director James Wan seemingly confirmed her reduced presence in the sequel, telling EW in a recent cover story that the film was "always going to be about" Aquaman and his brother, Patrick Wilson's Orm.
While he said the first movie was "Arthur and Mera's journey" and a "romance action-adventure movie," this one was meant to be a "bromance" -- before concluding, "We'll leave it at that."
The movie -- which the trailer also refers to as "Aquaman's last stand" -- hits theaters December 20, 2023.