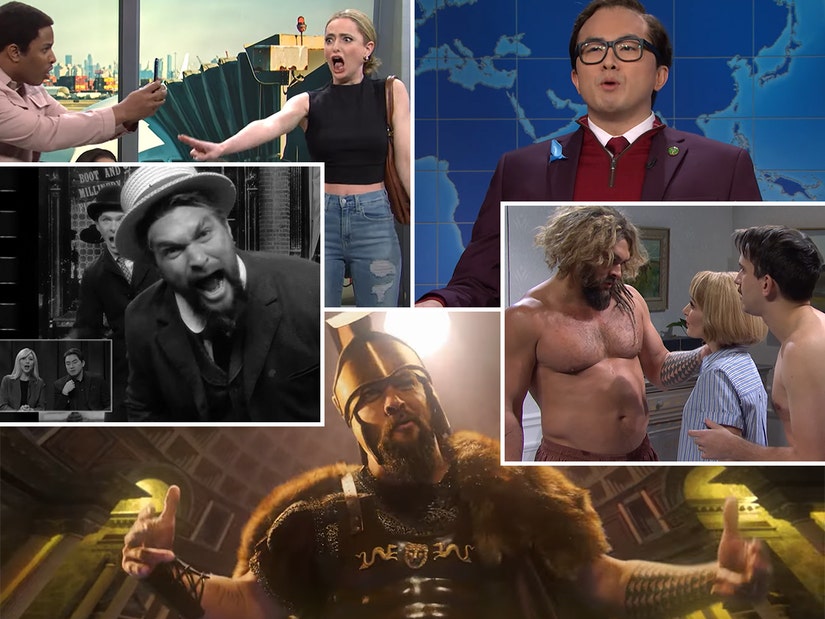 NBC
The Thanksgiving episode of Saturday Night Live takes a look at an airport parade -- complete with the "not real" viral woman -- Draymond Green not-apologizes, and Jason Momoa proves he can steal any man's woman, and any sketch with sheer willpower and enthusiasm.
For the first time this season, Saturday Night Live didn't bring in any ringers or guest stars to help out the host, Jason Momoa. The Aquaman star didn't really need the help, though, as he tackled the show with incredible gusto, sometimes elevating a sketch by his mere presence.
The night itself was hit-or-miss, growing stronger as it went along. Maybe we just have a more warped sense of humor, but so much of the early parts of the show just feel safe compared to the more avant garde, bizarre, and edgy material that shows up deeper in the night.
The lane that Kyle Mooney dominated for so long seems to now be sliding toward the absurdist humor of Sarah Sherman, who fits perfectly in that lane. She dropped an oddball one late in the show this week and we loved every moment of it. She also took on the viral "not real" airplane woman in a brilliantly appropriate Thanksgiving airport parade sketch.
The pre-taped bits were particularly strong this week, including a return to form (and in the office) video from Please Don't Destroy, as well as a brilliant big-budget music video that takes on the question that everyone has been asking the men in their lives these past few months … how often do you think about the Roman Empire?
As usual, we're ranking all the sketches from worst to first, including the Monologue, Cold Open, "Weekend Update" and any sketches that were cut for time but made their way online. We'll skip the musical guests, because they're not usually funny -- unless Ashlee Simpson shows up. We wrap up with a look at the cast-member who had the strongest week.
Well, this was an unexpected approach to the monologue. Jason was full of upbeat energy, but he didn't really try to do much besides tell his story -- did you know he wanted to be a marine biologist while growing up in Iowa? He was pretty proud of his "B-hole" joke after talking about landing the gig on Baywatch that launched his career. He talked about returning to Hawai'i and his more recent work in conservation, including his company launched to combat single-use plastic water bottles. It was very passionate and very energetic, which shows he's pumped to do this, but it seemed a little odd to be getting this introduction to who he is his second time hosting and when most people know. He even mentioned Aquaman only in that he loves playing him. So … ultimately, this just kind of sits there. He came across likable and enthusiastic, so it definitely could have been much worse.
Cold Open: Biden's Address
The energy felt off in this one, poking fun at Biden's press conference following his meeting with Chinese President Xi. Bowen, of course, comes out playing some kind of crazy animal or character (though he usually does these on "Update") this time as panda Tian Tian, headed back to China. Even his commitment, though, seemed to be somewhat lacking. It almost felt like they had their concept but ran out of time coming up with really tight jokes and moments. A perfect example is James Austin Johnson's reporter noting the panda had already called on him when Biden said he thought he got to call on people. Was that a joke? Was it supposed to be? As it was, it just fell flat. And it wasn't the only line. We appreciated the schtick of Biden wanting to avoid real topics or discussions, but we didn't get enough edge on this to really dig into it. They barely even touched on his real, and controversial, "dictator" comment.
It took a little too long to get to the individual moments of funny, but they were solid enough when we got there. We'd have preferred a faster delivery from both Marcello Hernandez and Jason Momoa in rejecting the people waiting in line so we could maybe get more than two or three interactions. This was a great idea, but it needed a little bit more momentum and perhaps more exaggerated reactions to when Jason would really put it to the would-be patrons. Even the ending drug out the inevitable. We liked the potential of this one more than the actual execution.
This was probably a hoot and a half for the players involved, getting to act like they're part of an old-timey sped-up film reel. The conceit of the film being a rare shot of L. Frank Baum possibly working on The Wizard of Oz is a charming addition, and we definitely appreciated the snark-casm of Bowen Yang as the professor showing this footage on PBS. Those little details in character enhance the overall experience. The antics of Mikey Day and his "large friend" Jason Momoa were pretty funny throughout, but we appreciated that the photo bomb was alive and well back in 1900, as well, and that people immediately knew what to do when a camera was running and that's to get in front of it and be stupid.
We always enjoy Andrew Dismukes when he takes on these sad sack characters with outsized confidence -- and absolutely nothing to back that up. This time, he portrays Chloe Fineman's husband who has to deal with her ex-fiance's return after five years trapped on a deserted island. Jason Momoa comes in as wild as he can look and be, ripping his shirt off and even agreeing to a push-up contest for Chloe's heart. Andrew is so committed in these roles, while you never quite root for him, you do feel for his fragile ego and ultimate failures. Especially when, as in this case, he's absolutely right to feel so threatened.
Colin Jost and Michael Che went in harder on Joe Biden than the Cold Open did, but were even more savage on Donald Trump Jr., while Che actually predicted that the guy who attacked Nancy Pelosi's husband with a hammer will only be behind bars until Trump's first day of office, quipping, "He gonna win." Or was it a joke?
Jost set up this segment by introducing the scientist who recently discovered a new moon around Saturn only for it to be Bowen Yang as George Santos, as sullen, despondent and difficult as ever even as a resolution has been introduced to expel him from Congress. As much fun as it is watching Bowen immerse himself in these characters, the fact that he broke a couple times this week actually enhanced our enjoyment. But even better was Jost trying to stick with the script and read (without breaking), "But George, I do have a perfect body." The line is great, as was his faltering delivery.
For their second segment, the boys introduced a heretofore unknown Murdoch son, Darth Murdoch, while Che got boos for his explanation for why men now die on average six years before women (a growing disparity) and Jost got introspective about Fraud Awareness Week. While last week's bizarre segment felt disjointed and as if the boys weren't really feeling it, this one felt back to form, which was good to see as we're too early in the season for fatigue and burnout. Plus, we will never be able to think of "criss-cross applesauce" the same way again … so thanks for that!
Devon Walker was unapologetic and enthusiastic about his violent reputation in his portrayal of Golden State Warriors' Draymond Green. The banter between him and Che was pretty funny and Devon did a solid job of staying in character, hardly flubbing any of his lines. It was a fun characterization as he reveled in violent thoughts and suggested he even has a hit list. His advice to young kids looking up to him was also perfectly within character. Green is a fascinating personality and SNL spoofed it perfectly.
This final segment could have been skipped altogether. Sure, there was something slightly humorous about James Austin Johnson and Andrew Dismukes as Imagine Dragons wannabes Remember Lizards, but all of their songs were basically identical. The best part was Andrew's full commitment to his wailing. But the banter between songs wasn't great, the songs themselves weren't funny, so the whole segment just felt unnecessary and dragged down an otherwise strong "Update."
A disturbingly violent sketch, this was absolutely perfect for Sarah Sherman. The only thing we were missing would have been for her and Jason Momoa to shake hands before their tennis match so we could see them side-by-side to really understand the size disparity before the carnage began. It was all inspired by Billie Jean King defeating Bobby Riggs back in 1973, with the narrative being that Sarah's character took on a man first. Her story, though, ended quite differently. The shock humor was effective here, as was the continuing ridiculousness, reminding us of the chaos that ensued when Steve Martin and Martin Short recreated "A Christmas Story" for SNL.
Please Don't Destroy: Ramen Order
The boys were back in fine form this week with a great in-office piece built on simplicity. When John Higgins is dumped by his girlfriend Sofia just as their about to order ramen, Ben Marshall and Martin Herlihy struggle to console him while still finalizing their order. The subtle chaos and manipulation of dialogue to confirm orders and even get John to pay was played off brilliantly. The writing was so clever on this one and, as always, they knew right when to pull the plug and end the sketch.
A fun two-person play with Ego Nwodim playing a third on the phone. The premise is simple enough as this is a sketch designed to give us classic Kenan Thompson reactions as Jason Momoa gets the results of various tests he's given. The results range from medically concerning to medically … impossible? There's a nice escalation to the absurdity and Kenan's reactions, as well as Jason keeping it together and playing the straight man role despite how crazy some of the things said are. The ending, too, was pretty unexpected and funny, so props to SNL for wrapping this one up well.
Just fantastic, every bit of this. Chloe Troast's singing ability again comes in handy in this pre-taped music video all about the latest viral sensation about how often men think about the Roman Empire. The smart cuts in the video from the wives singing about life and the guys dropping raps about Rome are going to have us thinking about Rome, now, too. On top of that, the fun twist reveal with Jason Momoa and Ego Nwodim's son was pretty funny, but nothing beats the final beat when the women got their chance. Ego slayed on this one.
Thanksgiving Week Airport Parade
There's nothing like people watching at the airport during the holidays, so SNL turned it into a parade and boy did this work perfectly! Everything from Ego Nwodim's aggressive flirting with Jason Momoa's increasingly drunk captain to the various ridiculous individuals commonly seen at the airport worked. Ego's commitment to her role from start to finish was fantastic, as was Bowen Yang as her announcer counterpart, while the cast was clearly having a blast in their over-the-top bit roles like Punkie Johnson as the woman who refuses to check any luggage and Sarah Sherman as the woman who really did go viral for saying someone (or something) was "not real" on a flight over the summer. Everything about this sketch worked from start to finish.
Ego was giving us everything as the parade announcer next to Bowen Yang, while she also brought huge laughs opposite Jason Momoa in the Roman Empire music video. Even her voiceover work on the phone in the 10-to-1 taxi sketch was on point. She was in the running for us tonight, as we felt she really showed strong leadership for this ensemble.
But we couldn't deny the tour de force that was Bowen, who dominated the first half of the night. He didn't even show up after "Update," but by then it didn't matter. His extra sass as the professor in the PBS skit added so much to that performance, while he helped Ego carry that parade sketch and his panda was the highlight of an otherwise tepid Cold Open.
But it was his commitment to the nonsense spewing out of his George Santos on "Update" that clinched it for us. It was a night that saw a lot of great moments from several members of the cast, including Sarah Sherman's doomed tennis pro and Andrew Dismukes' outclassed husband. Bowen just had more opportunities to shine and took advantage of all of them this week!
"Saturday Night Live" returns December 2 with host Emma Stone (who joins the 5-Timers Club) and musical guest Noah Kahan.