Celebrities love to party--especially when it comes to ringing in a new year! So it comes as no surprise that there's a slew of celeb-hosted parties slated for New Year's Eve across the country. Check out TooFab's ultimate party guide below!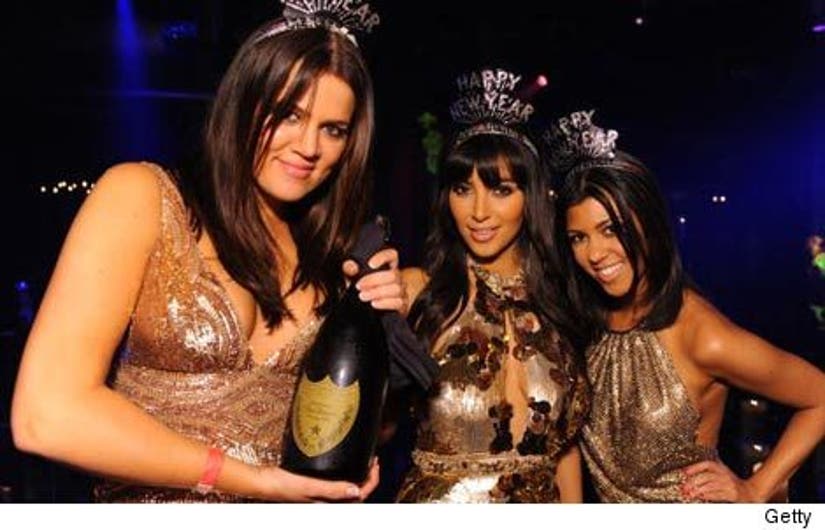 Who: Rihanna
Where: PURE Nightclub inside Caesar's Palace, Las Vegas
What To Expect: "The sexy songstress will let loose in Sin City as she rocks the packed house and leads the countdown to midnight," says PURE/

Who: Kim Kardashian
Where: Tao, Las Vegas
What To Expect: For $200, clubgoers get to bask in the glow of Kim (and enjoy an open bar and midnight champagne toast) at The Venetian's nightclub. "So excited for New Year's Eve in Vegas," Kim recently tweeted.

Who: Jay-Z, Coldplay
Where: Cosmopolitan of Las Vegas
What To Expect: The celebration, officially called "Viva La Hov" and marking the opening of this new hotel and casino, will be a very exclusive and very VIP event. Why? It's invite only!

Who: Holly Madison
Where: Lavo, Las Vegas
What To Expect: Breathtaking views of fireworks from The Palazzo nightclub's terrace.
Who: Sean "Diddy" Combs
Where: LAX Nightclub, Las Vegas
What To Expect: "Clubgoers are invited to let all inhibitions go at Las Vegas' sexiest New Year's Eve weekend bash," says the party's promoter. "Decked out in full party decor, the Sin City hotspot will surround the beautiful crowd in a sea of confetti and balloons."

Who: Nelly
Where: HAZE Nightclub at ARIA Resort & Casino, Las Vegas
What To Expect: "A special live performance by Nelly and an unparalleled sensory experience thanks to HAZE's cutting edge light and sound technology," says the party's promoter.
Who: B.o.B
Where: JET Nightclub at The Mirage, Las Vegas
What To Expect: The hip-hop superstar will perform his hit songs "Nothing On You," "Magic" and "Airplanes."
Who: Jay Sean
Where: The Bank Nightclub at Bellagio, Las Vegas
What To Expect: The hip-hop star will perform after leading the countdown at midnight along with a champagne toast.

Who: Taryn Manning
Where: Bol, Vail, Colorado
What To Expect: Manning herself will take over the turntables and spin tracks! Plus, she's created her own cocktail, "The Midnight Unicorn," which consists of Ciroc vodka, champagne and pineapple juice!

Who: Pete Wentz
Where: Hard Rock Hotel, Chicago
What To Expect: Wentz returns to his hometown for the bash, and has created a special cocktail for the evening called "The Ciroc Countdown," which he will also sell at his Angels & Kings bars in New York, L.A. and Chicago.

Who: Jamie Foxx
Where: LIV nightclub at the Fontainebleau Hotel, Miami
What To Expect: Young Hollywood types are expected at this bash, at which DJ Tiesto will spin tunes.

Who: Kourtney Kardashain
Where: Hotel Gansevoort's The Rooftop At Gansevoort, Miami
What To Expect: Amazing dance tracks spun by DJ Reach at this Ciroc vodka-sponsored bash.

Who: Drake
Where: W South Beach, Miami
What To Expect: Sounds by 4am deejays Sinatra, Phresh and Jacomino at this poolside bash, which one of the promoters is proclaiming "one of the premier and most luxurious New Year's Eve events in the country."

Who: Jason Derulo
Where: Eden Roc, Miami
What To Expect: A blockbuster performance by Derulo will be accompanied by the sounds of DJ Derek Walin at this party, also being thrown by Joonbug.com, at this newly-renovated hotel.
Who: Bruno Mars
Where: R Lounge at the Renaissance New York Times Square, New York City
What To Expect: This bash, which features an intimate performance by Bruno Mars, is the only soiree that has a direct indoor view of the Times Square ball drop! Plus, Reverend Run will be deejaying!
Who: Danielle Staub
Where: Touch, New York City
What To Expect: "The Real Housewives of New Jersey" star will get her groove on at this Joonbug.com party, which will include a five-hour open bar!
Who: Singer Wynter Gordon
Where: BLVD, New York City
What To Expect: At this Joonbug.com-sponsored bash, Gordon will perform, while party-goers will "mix and mingle along the impressive arched 45" glazed oak bar," say the party's promoters.