Carrie Underwood and Brad Paisley opened up the 29th Annual CMA Awards by joking about everything that's "Cray Cray" in Hollywood -- including some big splits, Caitlyn Jenner and Josh Duggar's cheating scandal!
"Things are cray crazy, this world has gone bat boop cray cray," Paisley song at the top of their medley. "McDonald's breakfasts all day now, Bruce Jenner's a babe now and Trump's leading in the polls."
"You know what else is cray cray, how many couples have broken up this year! From Ben Affleck to Jennifer Garner, to Halle Berry and what's his name," Paisley continued.
"Of course, we can't ignore the breakup that really rocked our world, the one that's on everybody's mind, two people in this very room whom we all know and love ... Splittsville," Underwood added -- before the camera panned to Kermit and Miss Piggy in the audience.
"We love you both and just want you to be happy," Carrie continued. "On a completely unrelated topic: Howdy Blake!" joked Paisley. Blake Shelton then gave a wave to the hosts with a laugh and a grin.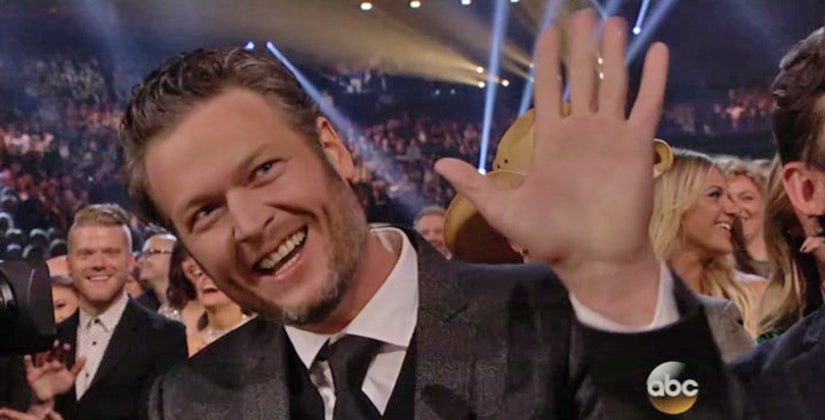 ABC
"Have you heard that duet that Blake did with Ashley Madison," he then joked ... confusing the cheaters website with singer Ashley Monroe.
The two then sang a single about Ashley Madison to the tune of "Your Cheatin' Heart," ending the tune with the lyrics, "Your cheatin' site will tell on you, Josh Duggar!"
To his credit, Shelton knew there would be jokes at his expense tonight.
"Brad Paisley is not doing his job if he doesn't look down there and go 'Ha ha!'" Shelton said before the show, adding, "We've had the conversations like, 'Okay, dude. I'll sit there and let you kick me in the face a few times.' I know it's coming."
It's worth noting the camera never cut to his ex, Miranda Lambert, who hit the red carpet looking absolutely AMAZING before the ceremony. Blake skipped the carpet altogether -- though he is expected to attend some of the wild after-parties with new girlfriend Gwen Stefani.