"The Ellen DeGeneres Show" just reached a major milestone!
Ellen DeGeneres celebrates her 2000th episode on Thursday, in a show filled with surprise guests, hilarious flashbacks and a very special honor.
The talk showed aired its first episode back in 2003 and a lot has changed over the 12 year run. The 57-year-old, who has entertained us with pranks, jokes and dance moves for 13 seasons, reflected on the huge accomplishment in her opening monologue.
"It is our 2,000th show today! That's right. Congratulations to me, huh?" she began. "Well, it's hard to believe it's our 2,000th show. It feels like just yesterday I walked out here excited to start this show, all bright eyed and bushy tailed. If someone had told me I was gonna make 2,000 shows, first of all, I would've asked for a lot more money, but ... I would have said, 'You're crazy. Two thousand is a lot.'"
The "Finding Dory" star did a little research on her show's history over the past 2,000 episodes and came back with some interesting findings.
"There have been, in 2,000 shows, 859,200 people in my audience. You're my favorite 400 though. Don't tell anybody, don't want to make the others feel bad," she joked. "We've had 8,302 guests and 1,145 bands and together they've gone through 4 million barrels of whiskey. And this is crazy I've danced 136 miles," she continued. "Which is the length of 5 marathons, but I go up steps, so that's like 10 marathons. No wonder I have the legs of a goddess. It's a shame you don't see them."
The star is known for her love of surprises, but for the special day she relinquished control and allowed her crew to surprise her with a series of mystery guests. First up, Ellen's very first guest on her show, Jennifer Aniston, who brought the very same rug she gifted the host on her first show!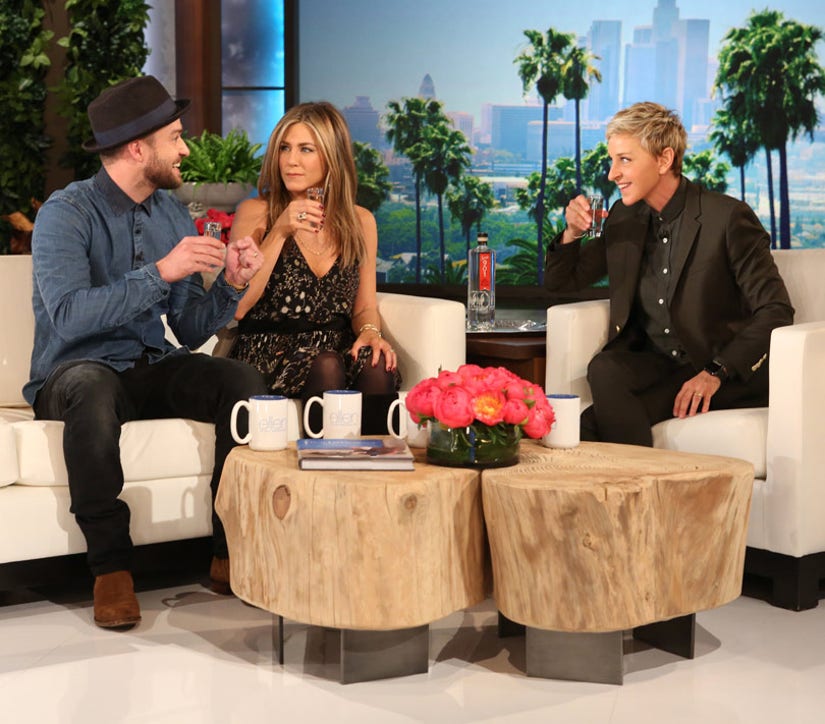 The Ellen DeGeneres Show
"Do you know how hard that is to surprise that person? It's very hard," the actress admitted. "That mat, I brought it on the first show and then it kept going missing for some reason. I think I bolted it down for one show, then you moved stages ... So, there it is again!"
Aniston then introduced Ellen's guest from her second show ever, Justin Timberlake! After some fun banter and a celebratory shot of tequila, the "Sexy Back" singer teased another surprise for Ellen, one she really was not expecting.
In a touching moment, the President and CCO of Warner Bros. Television Group, Peter Roth, presented the funny lady with a historical honor that made her tear up!
"Ellen, for only the 4th time in the 90 year history of Warner Brothers and in recognition of this the 2,000th show, I am so pleased and so personally privileged to be able to officially dedicate Stage 1," he told the star while presenting her with a special plaque. "Which forever more will be now known as "The Ellen Stage.'"
What do you think of the special honor? Sound off below then watch highlights from the special episode in the clips above!