What a difference a few years makes!
Honey Boo Boo (aka Alana Thompson) looked so different on the red carpet for "Marriage Boot Camp: Reality Stars" on Thursday evening, the first time she's ever appeared on a red carpet for a premiere.
The 10-year-old tot, who rose to fame on "Toddlers & Tiaras" before getting her own TLC spinoff "Here Comes Honey Boo Boo," looked adorable in a black and white dress with white strappy shoes and a beaded necklace. She sported a full face of makeup and fake lashes -- something the beauty pageant alum is no stranger to -- and wore her hair straight.
She was joined at the event by parents Mama June and Sugar Bear, as well as sister Pumpkin. Both Mama June and Sugar appear on the new season of the WE tv, as they try to move past his infidelities.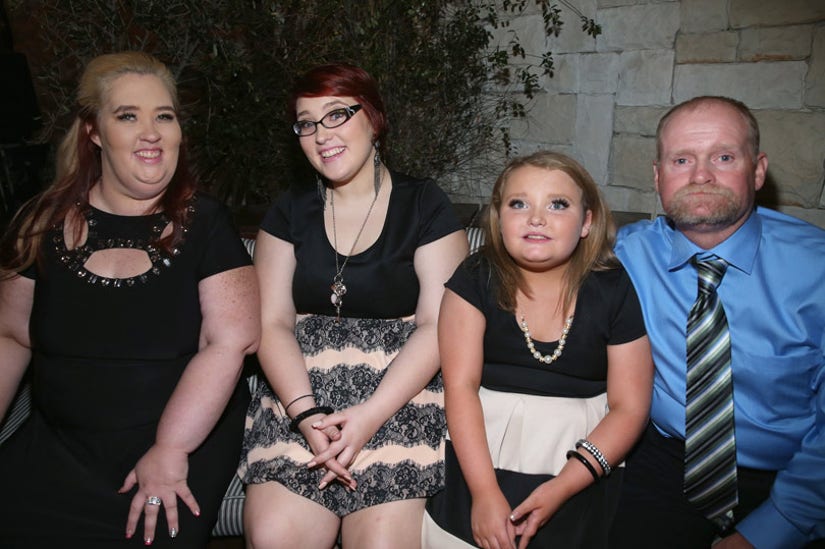 Getty
We haven't seen much of Alana since the TLC series was canceled last year, amid allegations June was dating a sex offender following a split from Sugar Bear.
Honey Boo Boo's parents recently spoke with toofab about the network's decision to can the show, where they were asked if they still had raw feelings about how it all ended.
"In a way I do, in a way I don't," June tells us. "I still think TLC was wrong for what they're doing. They're giving Jessa and Jill [Duggar] another chance, they protected them for weeks and I was kind of dropped within a couple hours. Don't tell me Jill and Jessa are going to be the only two that's gonna be on there, bull crap, they're slowly weening them back in."
"There's stuff that TLC still has of ours that we can't get back, like our pictures, the girls' trophies, crowns, stuff we gave them for our interview house that we have not gotten back from the production company or TLC," she continues. "It is what it is, we've moved on."
Alana recently released a music video, with more songs planned. Mama June also teases "some big things" in the works for the family.
"A lot of people have asked about the family, our Facebook is still there, our fans are still there, they're still wanting to know when will ['Here Comes Honey Boo Boo'] come back," she adds. "There will not be another 'Here Comes Honey Boo Boo,' but there is a possibility of another show."
Do you still want to keep up with the Thompsons? Sound off below!
We'll have more with Mama June and Sugar Bear next week on toofab, as they open up about Sugar's shocking infidelities.