Jennifer Garner is opening up like never before in Vanity Fair -- and this interview is equal parts heartbreaking and refreshingly honest.
The "Alias" star gets incredibly candid about her split from husband of ten years, Ben Affleck, a marriage that ended after the two had three children together; Violet, Seraphina and Sam.
"It was a real marriage," Garner says in the March issue. "It wasn't for the cameras. And it was a huge priority for me to stay in it. And that did not work."
Shortly after they announced their separation, Affleck was linked to the family's beautiful nanny, Christine Ouzounian. His people denied it at the time -- and Jen claims the she wasn't the reason for the split.
"Let me just tell you something. We had been separated for months before I ever heard about the nanny," says Garner. "She had nothing to do with our decision to divorce. She was not a part of the equation. Bad judgment? Yes. It's not great for your kids for [a nanny] to disappear from their lives. I have had to have conversations about the meaning of 'scandal' [with her children]."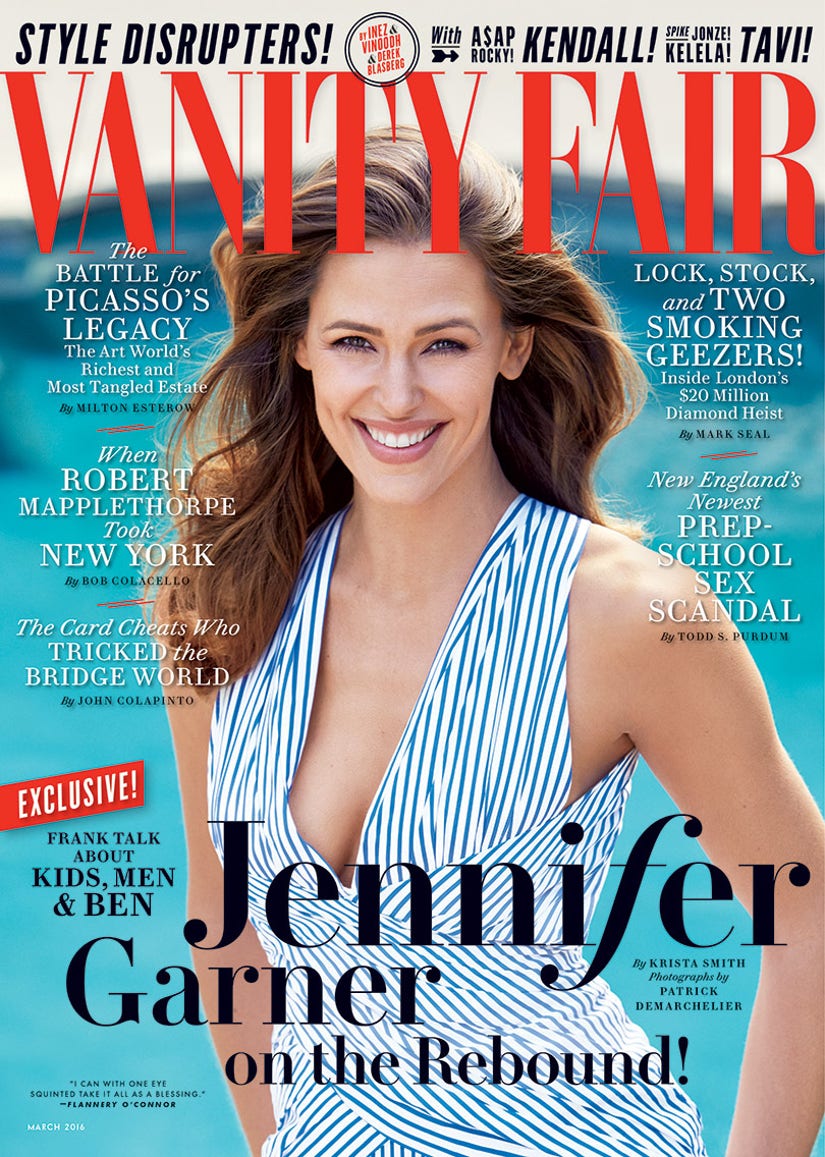 Patrick Demarchelier exclusively for Vanity Fair
After their faces started popping up on tabloids, online and, yes, even on CNN, she says she took a break from the Internet in an attempt to clear her head. She admits she gets the fascination -- "When Jen Aniston and Brad Pitt broke up, I was dying to see something that said they were getting back together," she says -- but wanted to get away from it all.
"Ben says, 'Oh, you just don't care,' and I say, 'No, it's the opposite.' It hurts me so much, and I care so much," she said of trying to drown out the media attention. "I cannot be driven by the optics of this. I cannot let anger or hurt be my engine. I need to move with the big picture always on my mind, and the kids first and foremost."
"I didn't marry the big fat movie star; I married him," she adds. "And I would go back and remake that decision. I ran down the beach to him, and I would again. You can't have these three babies and so much of what we had. He's the love of my life ... He's just a complicated guy. I always say, 'When his sun shines on you, you feel it.' But when the sun is shining elsewhere, it's cold. He can cast quite a shadow."
While she admits it hurts to think she won't be "dancing with my husband at my daughter's wedding," Garner adds that he's still a great father -- and their children still love him wholeheartedly. "You should see their faces when he walks through the door," she explains. "If you see your kids love someone so purely and wholly, then you're going to be friends with that person."
Her thoughts? "You know what we would say in my hometown about that? 'Bless his heart.' A phoenix rising from the ashes. Am I the ashes in this scenario? I take umbrage. I refuse to be the ashes."