This is anything but predictable!
Bob Saget sent fans into a frenzy when he popped up on-stage at Carly Rae Jepsen's concert in Milwaukee on Friday night. To add even more excitement, the actor sang the "Fuller House" theme song with the pop star.
In a clip, the 59-year-old comedian joined the "Grease" star in an epic rendition of her 2016 version of "Everywhere You Look." The crowd went wild!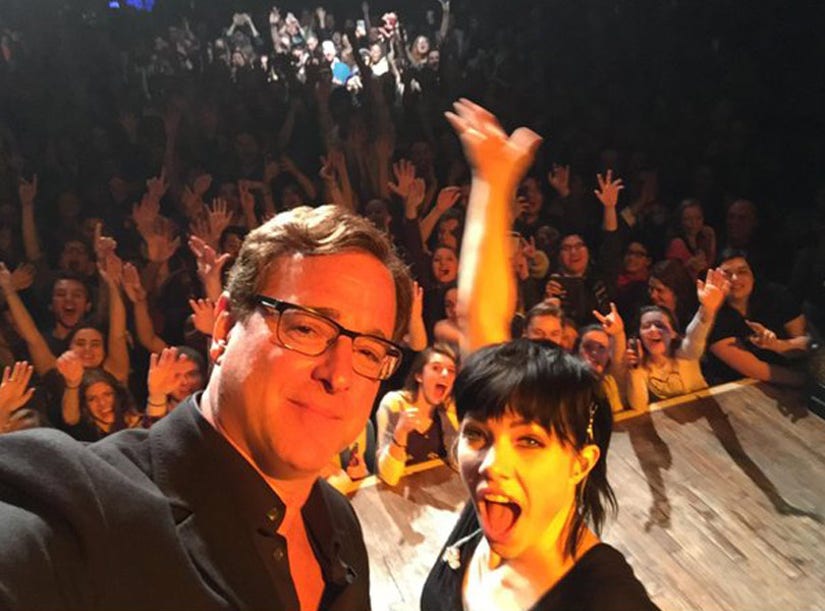 Twitter
The "Full House" alum was thrilled about meeting Jepsen as well -- and he took to Twitter to share a selfie with the singer.
"Great night in Milwaukee hopping onstage after my show w/the amazing @CarlyRaeJepsen singin her #FullerHouse theme," he captioned the cute candid.
Carly was just as excited to be singing with one of her childhood favorites. "This was one of those moments where I was like, 'hold the phone!'" she told E! News. "Full House was my childhood….so we made it happen."
Jepsen can get another "Fuller House" fix soon -- the Netflix series was just picked up for a second season.
Saget, Candace Cameron Bure, Jodie Sweetin, Andrea Barber, John Stamos, Dave Coulier and Lori Loughlin are all expected to return. The only cast members who did not come back for the initial season were Mary-Kate and Ashley Olsen.
Could a second season mean we'll maaaaybe get the Olsen twins this time around? Show creator Jeff Franklin told Variety earlier this year, "I tried. We all tried to persuade them to come and play. They decided not to at this time. We're hopeful at some point in the future, they may change their minds and reprise Michelle. We only need one of them!"
Do you think Michelle Tanner will be back next season? Sound off with your predictions below!
For more of today's hottest headlines, check out the video below: